Album of The Year #15 : Revocation – Great Is Our Sin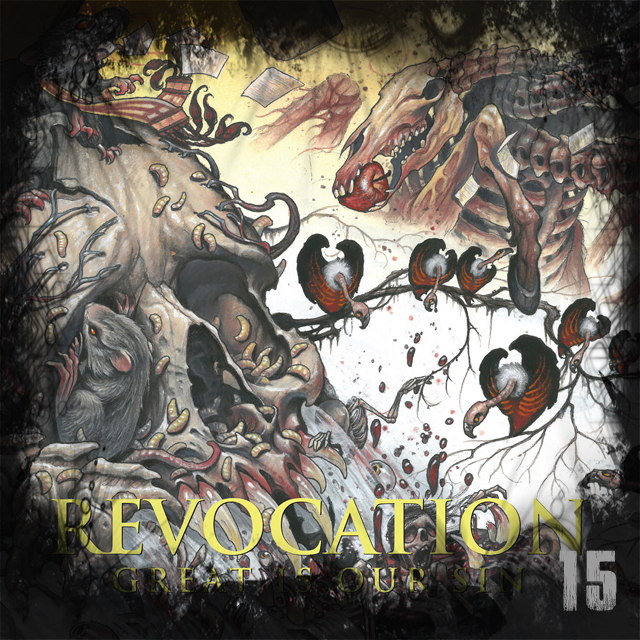 Now having gone further than the halfway line in our Christmas Album of The Year Countdown we continue with a new breed of Death Metal pedigree in the form of Revocation. Check out the list to see a more in depth analysis of why we chose each below!
Returning back to the vanguard of Death Metal, Revocation wasted no time this year in delivering their calculated masterstroke of Metal once again. Like clockwork the band put out albums every two years. Deciding instead go for a more well rounded approach this time, Dave Davidson decided that thematically the record would center around humanity and its varying degrees of idiocy in its idea of humanity in itself. However this was also the first record not to feature long time drummer Phil Dubois-Coyne. Enlisting the help of one Ash Pearson of previous 3 Inches of Blood fame, the drummer in a word totally floored everyone. From the fluttering Jazz style beats to the all out blasting that Revocation are known for Pearson truly stepped up his game.
Musically, Great Is Our Sin is perhaps the most accomplished material the band have put out to date. Understanding their ever evolving identity of Black Metal / Thrash Metal / Death Metal to create a truly unique conglomerate that would only sound like Revocation. Experimenting more with clean vocals the band aimed to expand their sound even more with the likes of "Cleaving Giants Of Ice" whilst maintaining their fierce technical reputation with their fastest song recorded "Communion" at 250 BPM. Particularly given their relentless touring schedule as well as their maddening work ethic, Revocation have once again proven their worth in the leading of the new wave of Metal charge and Great Is Our Sin, will hopefully begin to propel the band to the heights that they so sorely deserve.
If you fancy having a sinful Christmas then why not pick up Revocation's latest offering here!