An Interview With: Unleash The Archers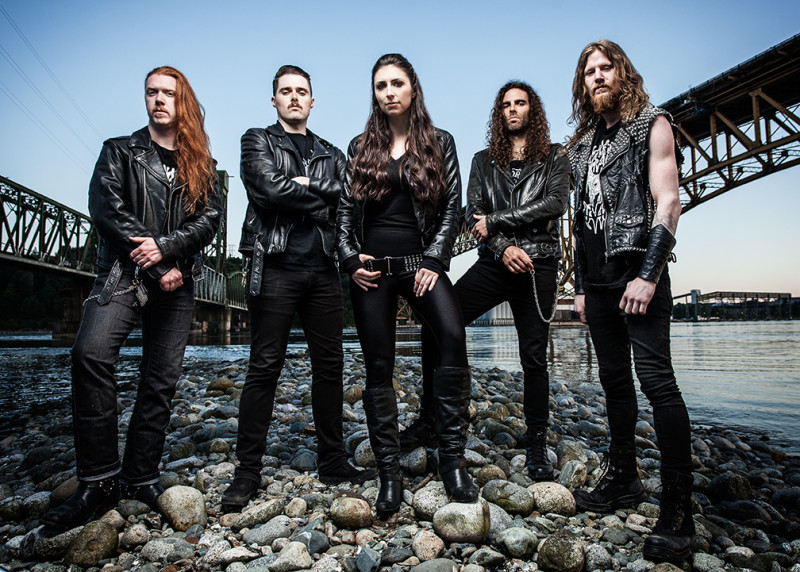 The archers have been unleashed. And it's about damn time. The heavy metal Canadian quintet have had to wait some time to bring their presence to European shores despite their very fitting sound to the continent. It's now almost mutually agreed they belong in this part of the world, and we catch up with the band to see just how they are going to expand their influence.
It's taken the band a couple of albums and almost a decade to reach Europe, even though their brand of power metal is almost too perfectly suited for the market. Unleash The Archers finally managed a tour of the continent bringing their heavy metal riffing with a sublime death and vibrato vocal flurry, after proving their worth with a brilliant recorded effort in 'Time Stands Still'.
It seems the band aren't just going to stop there though. We caught them at a busy time in there career, right when they are finishing a month's tour of Europe they headed straight into the studio to build on their already established European power metal sound. There's a lot to look forward to in Unleash The Archers, and we caught up with Scott, Andrew and Nikko from the band to get some idea on how they will march forward.
Read an extract from the interview or listen to it in it's entirety below:
So I know it's been a while since 'Time Stands Still' now, are you guys thinking about another Archers album?
We start in two days! We finish the last show tonight, deal with our airplane shit and then fly to Denmark to Hansen studios.
Oh so you're recording in Europe?
Yea, we tried to lump it all in so we could save on the flights and all that. Like we're here so let's do it while we're here!
Wow, it seems you guys have been touring so much to. Where did you find the time to write a new album?
Quickly! We new we were going to do it this way though, so about a month and a half ago before we left we were pre-producing…recording and all that. We had the album about 80% ready. It's kind of cool as we are working with someone we really trust. We have faith in his abilities and his studio, we're not worried about approaching him with a half finished song. We can trust that at the end of the day the album is going to be a full production and sound great.
That's awesome. I know Jacob Hansen is a great. Can you give us an idea of what the new album is going to sound like? Any interesting experiments or anything?
Well we kind of dialled back the speed a little bit. The last one was like, full blast and intense…there's going to be a couple of tracks that reach that kind of speed but otherwise I'd say it's heavier…a little darker and moodier kind of. It's a concept album again and this one is kind of literal hearing Britt's lyrics so far. There's dialogue in this one – it kind of sounds like musical theatre at times, like stage acting as she's playing the role of a character…
Listen to the full audio interview above.