Wrexham, Meet Black Star Riders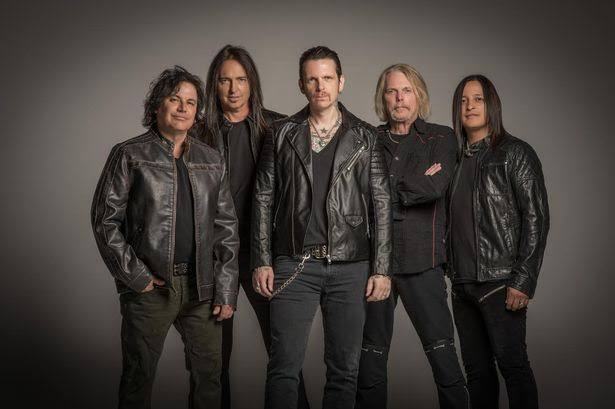 Changing scenery, tonight we forgo the smog of London for a trip to the Welsh countryside. Normally a hall for all sorts of occasions from ballet to recitals, tonight William Aston Hall has been modified for Rock 'n' Roll. Currently on their Heavy Fire tour, Black Star Riders shall be tonight's curators. Cue the crowds coming out, slicked back (greying) hair, just a touch of booze and that true spirit of Rock 'n' Roll.
However before that there's the small matter of support. Joining the Riders for the stint are all female fronted The Amorettes. Given the task of warming up our oldies on an early slot without the plying of alcohol is a tricky affair. With a lot of their crowd interaction sometimes falling flat. Nevertheless the band deliver their own brand of Rock 'n' Roll but it doesn't seem to be enough to get all of our folk dancing the night away.
After a brief respite the baton is handed over to Gun. Hailing from Glasgow, they won't soon let you forget it, the band perform a blend of their own material and covers, making for a slightly botched set list. Throwing in covers of all sorts of bands along with their own original material, it's warmed up our spectators slightly but only to a luke warm temperature.
Finishing almost every piece with the grand finale style band performance expected in stadiums, the band need somewhat of a reality check here. Either way their cover of Beastie Boys' "Fight For Your Right" is a good warm up for the main event of tonight.
As a last ditch run to the bar finishes up, murmuring begins to quieten as anticipation looms. Lights out, air raid siren on and guitars well and truly turned up, our Black Star Riders burst onto the stage. With frontman Ricky Warwick in full Rock 'n' Roll regalia, complete with leather biker jacket the band belt out opener "Heavy Fire" . Immediately it's apparent just what sets this band apart from the nondescript pack. With the combination of legendary guitarists Damon Johnson whose position as gun slinger with one Alice Cooper for a number of years and the hall of fame, Thin Lizzy harmony monger Scott Gorham the two absolutely set the place alight.
Delivering hit after hit from new record Heavy Fire, the band perform the material as though they had been for years. The swagger of the band is not only preset but only enhanced in a live setting "Thinking About You Could Get Me Killed" in particular seeing all our classic Lizzy fans getting well and truly down. With a band as professional as Black Star Riders, simply put they make it look easy. Performing together as an air tight unit with drummer Jimmy DeGrasso smashing cymbals bringing that the thumping bass drive home to create those real driving classics that give no doubt most of our audience here the odd speed ticket.
Feeling the need to mention here, with the rise of social media the generational gap here is evident. No one is on their phones! Finally. An entire crowd drinking in the atmosphere, making the likes of "Dancing With The Wrong Girl" Get people actually dancing, particularly with Gorham's incredible lead tone delivering those Lizzy-esque leads that still make those hairs prick up brilliantly, instantly breathing in the haze of nostalgia. Of course however it's the appearance of "The Boys Are Back In Town" that has our more mature audience, along with yours truly, absolutely lose it. This is history right here. One of the most important bands in Heavy Metal, playing one of the biggest songs of all time. Not to mention frontman Ricky Warwick absolutely nailing vocal lines. The presence of a frontman in a group like the Riders, is so important and tonight Warwick has the fried eating out of the palm of his hand. Blasting out Killer Instinct hits "Bound For Glory" and "Hey Judas" the band do slow it down for the love letter that is "Cold War Love" a real highlight of the night. Ending on a raucous "Finest Hour" the days of Lizzy may have been rightly laid to rest but here Black Star Riders are absolutely, positively still the embodiment of Rock 'n' Roll and for a brief moment tonight have made all of our slightly older generation feel just as they would have when you wouldn't watch a show through a phone, cigarette smoke would cloud the stage but what remains constant is the sheer spirit of rock n roll, which as long as our Riders are around, will never die.