Whitechapel, Cattle Decapitation, Goatwhore And Allegaeon Announce Tour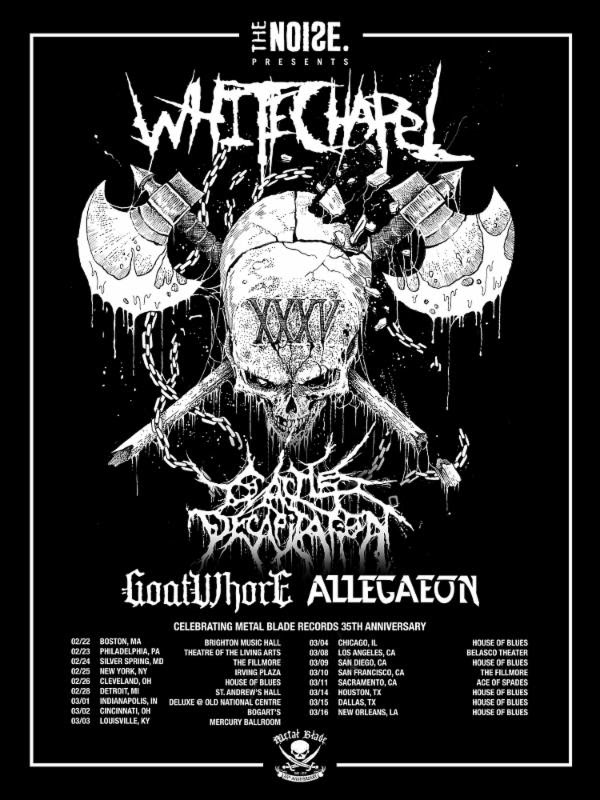 What a way to celebrate Metal Blade's 35th anniversary.
One of the best record labels in the world, Metal Blade have been consistently finding out new talent from the more extreme reaches of the world. Signing up the Deathcore dudes in Whitechapel from their This Is Exile beginnings right up to their latest release Mark of The Blade, it seems only fitting that the band would headline this commemorative 35 year anniversary tour.
Main support coming from once again, another fantastic signing of Cattle Decapitation, who despite their name are actually not hellbent on destruction but actually carving their own wonderfully depraved niche and knocked it out of the park with last years The Anthropocene Extinction.
Rounding the line up off will be both Goatwhore and Allegaeon. Two bands who have of course been excelling in Metal Blade's roster. Being signed fairly recently, Allegaeon have been kicking up a fuss over in the more Progressively slanted sections of the Metal world and Goatwhore will be doing what Goatwhore do best absolutely dominating the live stage. Not to mention the fact that the band have been working on material for a new album too!
The American tour will be kicking off in Boston on February 22nd and rolling all the way up to March 16th where it culminates in New Orleans. Trust us, if we lived over in the states we would be on this like Donkey Kong, however sadly we can't get out there so all you fans should instead! What a line up.
Feb. 22 – Brighton Music Hall – Boston, MA
Feb. 23 – Theatre of Living Arts – Philadelphia, PA
Feb. 24 – The Fillmore – Silver Spring, MD
Feb. 25 – Irving Plaza – New York, NY
Feb. 26 – House of Blues – Cleveland, OH
Feb. 28 – St. Andrew's Hall – Detroit, MI
Mar. 1 – Deluxe @ Old National Centre – Indianapolis, IN
Mar. 2 – Bogart's – Cincinnati, OH
Mar. 3 – Mercury Ballroom – Louisville, KY
Mar. 4 – House of Blues – Chicago, IL
Mar. 8 – Belasco Theater – Los Angeles, CA
Mar. 9 – House of Blues – San Diego, CA
Mar. 10 – The Fillmore – San Francisco, CA
Mar. 11 – Ace of Spades – Sacramento, CA
Mar. 14 – House of Blues – Houston, TX
Mar. 15 – House of Blues – Dallas, TX
Mar. 16 – House of Blues – New Orleans, LA