All You Need To Check Out At Download 2017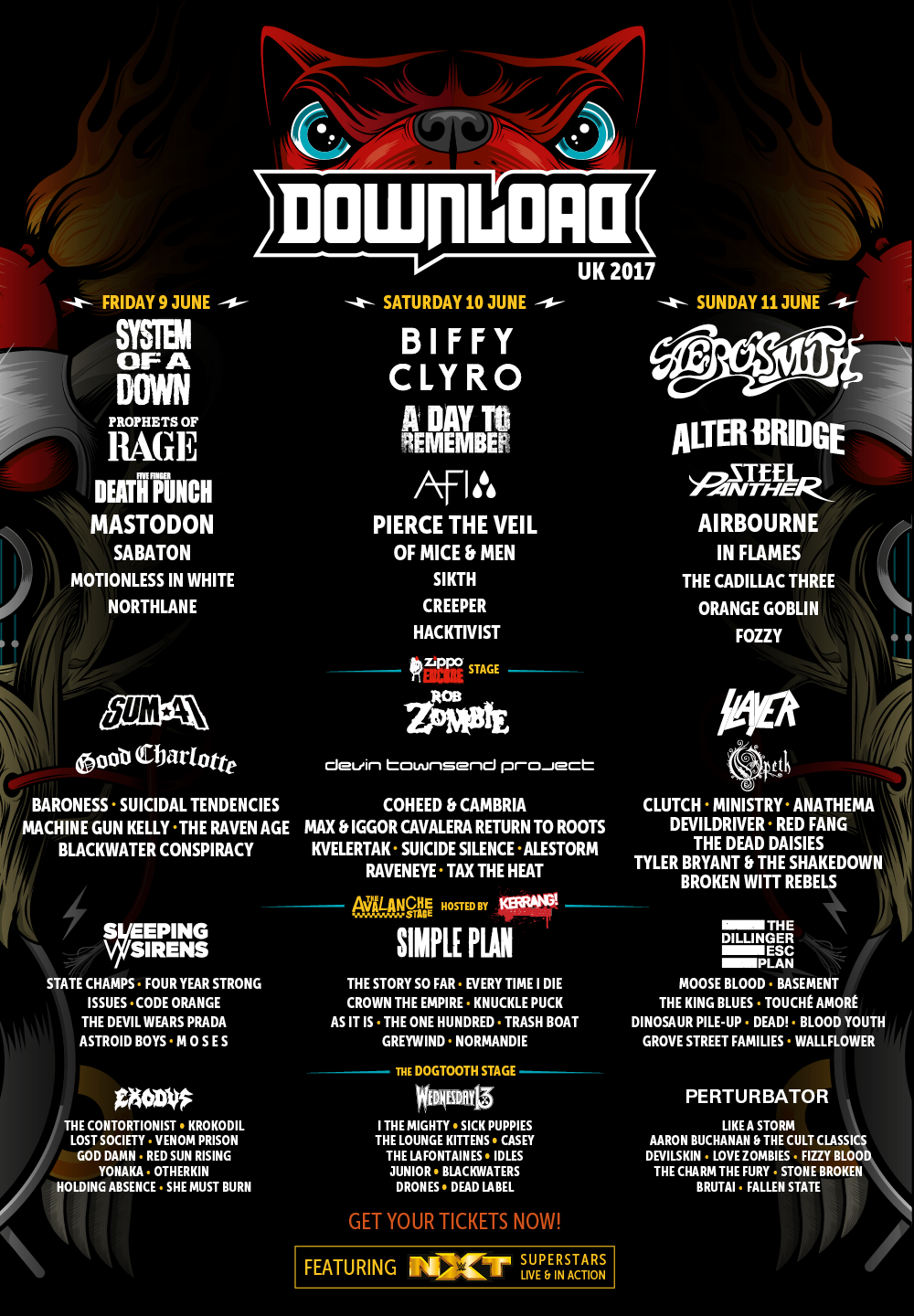 Hard to believe that we are now six months into the year of 2017. Thus far we've had the great orange tango monster up to his usual tricks once more, a divided English parliament that has called for a snap election and far more importantly some brilliant releases. Yet as we hit the halfway mark its also indicative of yet another mainstay of the year, Download Festival 2017.
Now a mere week away, Download alumni are getting ready to be in the spirit of the festival. With four stages across three days, its going to be a veritable smorgasbord of entertainment. Ranging from niche to absolutely stadium huge names in the form of our three headliners, theres something for everyone here at Download Festival so why not be a part of it!
System of a Down – Main Stage 
An essential part of the Download experience is of course its headliners. Kicking things off on the Friday sees the Armenian Metallers System of A Down return to Download for the first time since their 2011 performance. Having grown up with the likes of Toxicity and their now classic Mezmerize / Hypnotize combo, prior to 2011 I had never seen the band live. After I had, I cannot mention just how much of a treat it was to see this band in action. Working on all fronts the band delivered and then some, not to mention the rumours of new material perhaps surfacing and a festival performance would be a fantastic way to kick off a new album cycle… I'm just saying'.
Wednesday 13 | Saturday – Dogtooth Stage
For those who might not want to see the headline act of Biffy Clyro. On the other side of the spectrum lies the more spectacular of acts, releasing his brand new album a mere week before Download, Wednesday 13 is welcome back into the fray. Closing up Saturday's stage we're incredibly intrigued to see what the man will have up his sleeve. Particularly when it will consist of performing material from his excellent Condolences record. What a perfect way to end Saturday evening or if you're more like us just get it started!
The Dillinger Escape Plan | Sunday – The Dogtooth Stage
Saying farewell back in January at their final ever London performance at Kentish Town's The Forum, if you missed them, now is your chance to redeem yourself. Closing out the Dogtooth Stage on Sunday evening are none other than the masters of madness themselves, The Dillinger Escape Plan. Known for there absolutely bonkers stage presence, I doubt the fact that the band will be performing outside will dampen their spirits. Particularly as this is part of a farewell, grand finale tour. You can bet that Ben Weinman will be scaling amps, Greg Puciato leaping from rafters all the while able to pull off the incredibly intricate material the band are known for. Don't miss it.
Mastodon | Friday – Main Stage
Having wiped their metaphorical tears, it seems that Mastodon are ready to take on the world with their latest record Emperor of Sand. Returning back to the style that was synonymous with the likes of Crack The Skye or Blood Mountain, the record has been a massive hit amongst fans. After touring the US in support of the album already, we will at last get a taste of hearing new material in all its glory! I for one cannot wait and it'll be one of the highlights of the festival.
Creeper | Saturday – Main Stage
Fast becoming one of the hottest properties in the Alternative world, Creeper released their brand new album Eternity, In Your Arms in March. Following an incredibly successful headline mini run the band are now edging closer than ever with their performance on the main stage this Saturday. With the band working their theatrical hand, I doubt that this would be one to miss, particularly with the way their fans show such loyal support, maybe then I might understand this Creeper fever going on!
Aerosmith | Sunday – Main Stage
Playing Donington for what they have promised is the final time, Aerosmith will close out Sunday on the main stage. I doubt that the band will do a "Scorpions" and announce their final tour about ten different times so with that in mind, this could be the final one ladies and gentlemen. With many of the classic bands that our dads and mums would have gotten into slowly shuffling off the Metal mortal coil, you will want to make the best of this appearance. Plus imagine a huge crowd of people singing "Walk This Way" now THAT would be cool.
Prophets of Rage | Friday – Main Stage
Another newcomer in some forms are Prophets of Rage. Formed of Rage Against The Machine members from Public Enemy and Cypress Hill to boot. Making their UK debut this will be a truly brilliant experience for fans all over and will get the festival off to a rip-roaring start. Not to mention acting as a brilliant warm up to their August headline run at one Brixton Academy.
Every Time I Die | Saturday – The Avalanche Stage
In keeping with the aesthetics of ripping your head clean off Every Time I Die released what could be arguably one of their most ferocious yet divisive records last year in the form of Low Teens. Having come back to the UK a couple of times now, this one is for all those who might have missed them at their headline UK dates. If you've ever been to an Every Time I Die show, then you'll know that these boys know how to party. Seems fitting that they would be playing the Avalanche Stage then on a Saturday night!
The Contortionist | Friday – The Dogtooth Stage
Returning to the slightly smaller but no less mighty stage will be The Contortionist. Coming out of hibernation since their album of the year worthy Language was released, the band have now begun to get people hyped for their as of yet untitled new album. This is just my speculation however, merely from the fact that they have completed recording and mixing with Jamie King. Having just performed with Periphery, they're sure attract new fans with a platform the likes of Download whilst capitalising on their already well stacked fan base.
Suicide Silence | Saturday – Zippo Encore Stage
For those who criminally missed out on their KOKO set back in February, now is the time to redeem yourself. Performing on Saturday at the Zippo Encore Stage, Suicide Silence will be performing new material. Though the internet trolls might disagree with me when I say this, you couldn't be more wrong about the bands new album. Now, given the stage that they do deserve, perhaps they can sway people with the sheer power of these songs in a live presence. Don't believe me? Read my review of their show!
Alter Bridge | Sunday – Main Stage
After performing what could be seen as their biggest show to date back in November with Gojira and Volbeat as support, Alter Bridge will be returning to Download as Sunday's main support and I for one am proud! It wasn't long ago that the band were midday slots at best but now they have pulled themselves right up to be the main support for the Sunday Download closer! Well done lads, to be fair, The Last Hero was a brilliant release from last year!
Holding Absence | Friday – The Dogtooth Stage
Coming down from the Welsh lands, no doubt another band to make sure you show up early on Friday for will be Holding Absence, recently supporting Blood Youth on their UK tour, the band are set to bring an interesting take on the British Metal sound that the likes of While She Sleeps et al have been pioneering.
Anathema | Sunday – Zippo Encore Stage
Timing is everything when it comes to music so it would be apt that Anathema would aim to release their brand new album The Optimist on June 9th two days before their Sunday Zippo Encore Stage performance is due. For those who might have seen them perform with Prog counterparts Opeth last November, you'll know that the level of talented exhibited by these bunch is not to be sneered at.
Devin Townsend Project | Saturday – Zippo Encore Stage
And finally for those searching for a higher meaning look no further than the Zippo Encore appetiser to Rob Zombie that is Devin Townsend Project. Releasing his critically acclaimed Trasncendence album last year, trust me, its absolutely brilliant and following his sold out performance at Hammersmith Apollo, wherein he would play Ocean Machine in its entirety, the man is known for his prestigious appearances. Now he will be able to add yet another fantastic show to his ever growing list.
These are just some of the bands that you will be able to find at this years Download Festival. Of course there will always be the same good time rides that you can make sure you force your friends on until they're sick. With a plethora of shops available both inside the arena and out in the Village, you'll be able to find everything from vinyl to some of the hottest band t-shirts. Impericon even usually do a t-shirt mystery bag and visiting the Earache stand is always a good idea for some good Death Metal picks!
Whatever the weather (I would recommend taking wellies as my pair of New Balance died a death at Download 2016 RIP) you'll enjoy yourself to no end at this years festival, even if there might not be a band that you like on every hour of the day. Catering to all different walks of Metal fan, there is no elitist idiots here. You don't have to only own the first pressing of a limited run of an album that was recorded using only wheat. Here everyone is accepted, which in the current climate that world is in, should never be overlooked. If we can't all agree on politics or more pressing matters, then maybe just for one weekend, we can all agree on Metal. The vibe at Donington is simply like no other making it truly a hallowed place in the Metal book. I can also recommend from my own experience before even starting The Metalist, that Download is an absolute riot, having been there ever year almost since 2010. So pack that tent up, bring a brolly and sun cream and get ready for Download 2017!
Download Festival is held this year from June 9th to June 11th in Donington, tickets are available here!