Ten Bands To Watch At Bloodstock 2016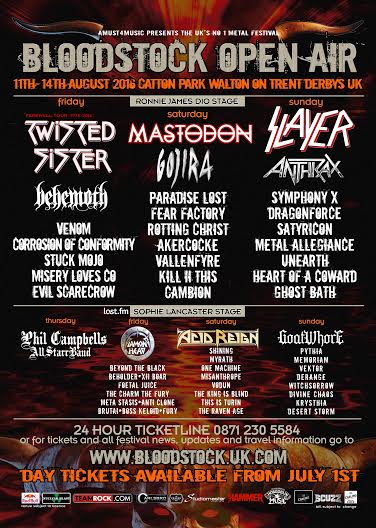 Ah the days of summer, the ability to be confident that leaving the house with a (black) t-shirt is a good idea, the (black) ice creams shared and of course the abundance of (black?) sunshine. Though nothing says Summer quite like Bloodstock, attending our first ever festival last year we are incredibly excited to be getting back to real matters here. Knocking together a truly phenomenal line up this year we've got full performances of The Satanist, last ever performances, Space age Thrash and Mastodon to enjoy. We've picked ten out of the plethora of bands that will get any Metalhead moshing for good reason. Come with us through the rabbit hole and check out the ten bands that we think are unmissable at this year's Bloodstock 2016!
Twister Sister :
Following the sad revelation of the death of drummer A.J. Pero, which came as a shock to all of us the band have decided that indeed enough is enough. Not without one final hurrah though, appearing exclusively at Bloodstock, Twisted Sister will be performing their last ever UK show to Catton Park. No doubt set to be a fantastic show from the energy alone, a last ever show is something that quite simply put no one should miss out on. Make sure you get your drinks in early because you wouldn't want to miss this spectacle.
Mastodon :
On the other side of the coin, Mastodon will be performing potentially their biggest festival appearance yet. Having released their absolutely stonking Once More 'Round The Sun back in 2014 the band have been slowly but surely working on new material. Comprised of two separate albums, one written by the band and one solely by Hinds it will make for an interesting performance to see if the band bring out any new songs that could make for a worldwide debut! Not to mention the band are absolutely flawless live and renditions of both "Crack The Skye", "Colony of Birchmen" and of course "Sleeping Giant" maybe if we're lucky "Hearts Alive" are always welcome.
Behemoth :
After releasing their 2014 tour de force that was The Satanist, Behemoth have since exponentionally sky rocketed into the stratosphere of the Metal world. Touring the world over with some absolutely inspired bills Behemoth are Friday's main support and will be playing their now seminal album in its entirety. Dealing with front man Nergal's battle with cancer each performance has seen the band revitalised and truly some of their best live shows ever.
Akercocke :
Breaking the silence after the small teasers online Akercocke announced that they have indeed returned this year. Making their official return at this year's Bloodstock Festival the band will be hitting up various venues on a small UK tour later this year but to see Jason Mendoca and co in Catton Park will be a sight to behold treated to cuts from Antichrist and Words That Go Unspoke, Deeds That Go Undone along with perhaps even a new track as the band will be releasing their album if not this year the next.
Metal Allegiance :
Formed of Mike Portnoy, Alex Skolnick, Dave Ellefsson and Mark Menghi Metal Allegiance really need no introductions. Though these four might be the brain child's behind the bands beginnings the vocal sections are rotating with various different singers, some present in person at the festival taking part. Regardless their appearance will I would imagine be one of the more talked about slots of the festival simply out of sheer curiosity. Add the fact that the band will be releasing somewhat of a tribute EP to David Bowie, Lemmy and Frey soon too.
Gojira :
Releasing their earth shattering album Magma back in June, Download Festival shunted these French tyrants into one of their smaller tents. Thankfully the band will be performing in a slot that they are more than worthy of. With the new record having been out for slightly longer now we might get a surprise addition of new material along with the classics of "Backbone", "Vacuity" and "L'Enfant Sauvage". One of the tightest bands around, you will not want to miss potentially their biggest slot yet.
Vektor :
Carving their very own Sci-Fi tinged concept niche for themselves Vektor have released one of the year's most overlooked albums in my opinion. Terminal Redux is a monstrous epic, flitting from Schuldiner esque vocals, all out Thrash assault and even in some places Soul, Vektor are set for big things. With this being the bands first Bloodstock appearance make sure that you take this opportunity to experience the sheer talent presented by these guys in person because you sure won't regret it.
Anthrax :
After releasing their brand new album Repentless last year Anthrax was enlisted as somewhat co-headliners on their tour with Slayer and sometimes stealing the show altogether. Now having released their new full length For All Kings after a five year silence since Worship Music we can safely say that Anthrax are indeed back. Gaining momentum most young bands wouldn't even have now, Joey Belladonna is a sight to behold and a beaming ball of energy, anchored with the steadfast riffing of Scott Ian and the shredding of new blood Jonathan Donais don't miss them.
Symphony X :
Yet another band who have bounced back with the release of Underworld last year, Symphony X are somewhat of an anomaly in the world of Metal. Sporadically visiting the UK, any appearance should be made the most of by these American shredders. Ripping out cuts from Underworld, Paradise Lost and the like seeing Michael Romeo's intimidating fret work in person is a sight to behold no less.
Goatwhore :
Buzzsaw guitar riffing aplenty Goatwhore are purveyors of caustic tones with frontman Ben Falghoust stalking the stage. Last playing the UK at their support slot last year at The Underworld with Skeletonwitch, the band are good on record but live become an entirely different entity altogether. Feeding off the crowd's atmosphere the band are simply excellent live and will no doubt be a perfect way to end the festival's proceedings and get us excited for the next year ahead at Bloodstock 2017.
Bloodstock is held from August 11th to 14th at Catton Park.