Soulfly And Suffocation To Tour US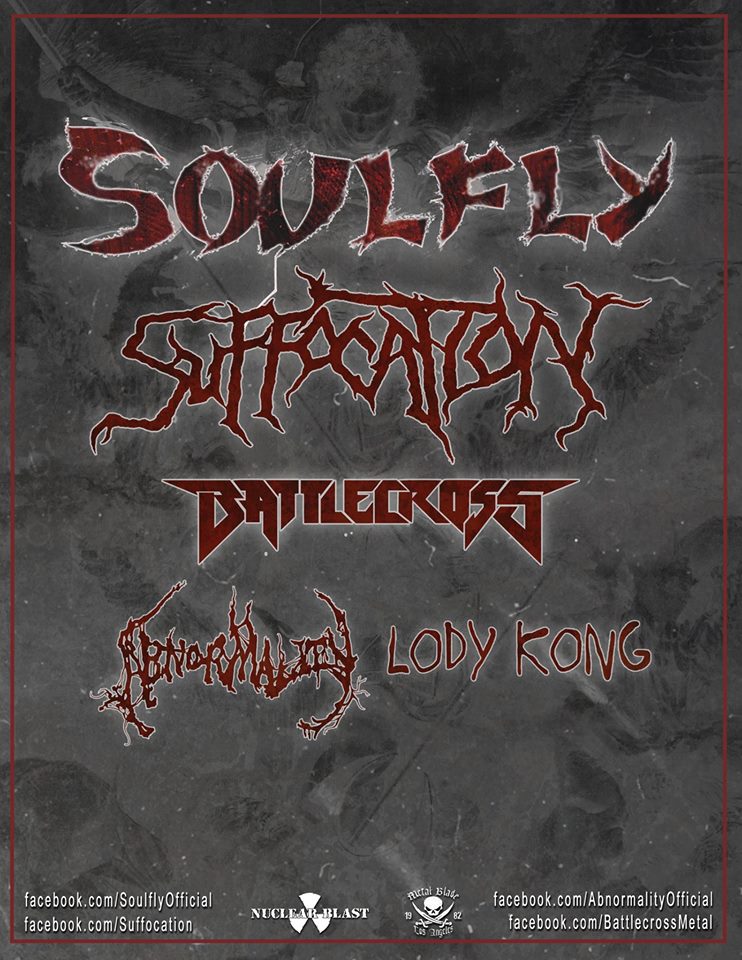 Imminently heading out with Cattle Decapitation it seems that Suffocation are not as easily pigeon holed as you might have thought…
As I have mentioned before, more unusual pairings are making for more interesting shows. With a varied line up there is really something for everyone and now announcing that Suffocation and Soulfly will be teaming up to spread the gospel over the US its still the case!
Acting as direct support headliners Soulfly will have not only Suffocation in tow but also Battlecross, Abnormality and Lody Kong joining them for the month long tour.
Check the dates out below and see if you can squeeze in yet another night fantastic touring this April!
4/22/2016 San Antonio, TX – Korova…
4/23/2016 McAllen, TX Cine – El Rey
4/24/2016 Dallas, TX – Gas Monkey*
4/25/2016 New Orleans, LA – Southport Hall
4/26/2016 Atlanta, GA – Masquerade
4/27/2016 Fayetteville, NC – Rock Shop
4/28/2016 Baltimore, MD – Soundstage
4/29/2016 Long Island, NY – Revolution
4/30/2016 Providence, RI – Fete Ballroom
5/1/2016 Lowell, MA – Mill City Ballroom
5/3/2016 Rochester, NY – Water Street Music Hall
5/4/2016 Joliet, IL – Bada Brew
5/5/2016 Valparaiso, IN – Big Shots
5/6/2016 Cleveland, OH – Agora Ballroom
5/7/2016 Dayton, OH – Oddbody's
5/8/2016 Indianapolis, IN – 5th Quarter
5/10/2016 Kansas City, MO – Riot Room
5/11/2016 Colorado Springs, CO – Black Sheep
5/12/2016 Denver, CO – Marquis Theater
5/14/2016 Walla Walla, WA – Main Street Studios
5/15/2016 Seattle, WA – Studio Seven
5/17/2016 Portland, OR – Dantes
5/18/2016 Orangevale, CA – Boardwalk
5/19/2016 Oakland, CA – Oakland Metro
5/20/2016 Los Angeles, CA – Whisky A Go Go
*no Suffocation