Knotfest Details Announced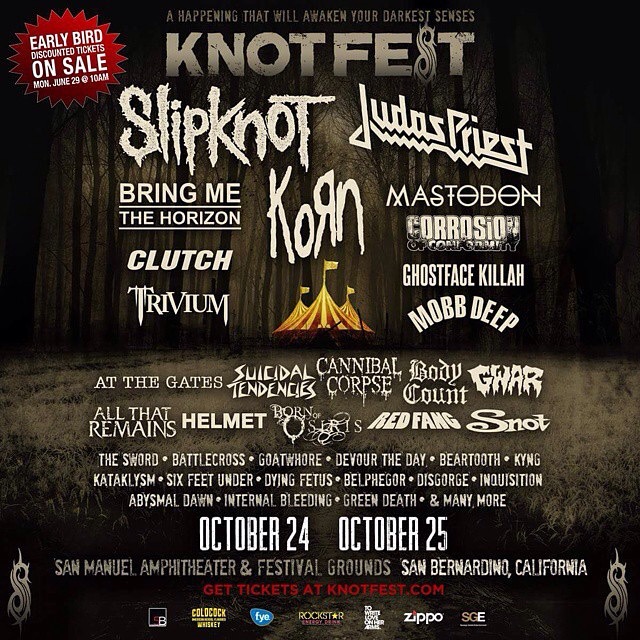 Fresh from wowing all of us U.K. fans after their performance at this year's Download Festival, Slipknot have now announced what the second instalment of Knotfest will be including.
Returning this year Knotfest will be held at San Manuel Amphiteater in San Bernadino, being looked after by the nine themselves the festival will feature some of the premier metal bands of modern day. Spanning over two days the festival will be having performances from the likes of Bring Me The Horizon to Cannibal Corpse.
The absolutely phenomenal looking line up will no doubt satisfy each strand of metal head's appetite. Here is the full comprehensive list of all the bands performing at the festival.
Main Stage
Judas Priest
Korn
Mastodon
Trivium
Corrosion Of Conformity
Slipknot
Bring Me The Horizon
Clutch
Ghostface Killa
Mobb Deep
Second Stage
At The Gates
Body Count
Red Fang
Battlecross
Suicidal Tendencies
All That Remains
Kyng
Beartooth
Third Stage
GWAR
Born Of Osiris
The Sword
Goatwhore
Cannibal Corpse
Helmet
Snot
Devour The Day
Fourth Stage
Kataklysm
Belphegor
Inquisition
Abysmal Dawn
Six Feet Under
Dying Fetus
Disgorge
Internal Bleeding
Green Death
What a fantastic eclectic list of bands that we can see from just the one festival. It's also worth noting that Cannibal Corpse and Six Feet Under are going to be performing on the same day, could there perhaps be a Barnes one off? Who knows!
I would imagine this would be one Knot to miss!