What Happened When Kreator And Sepultura Rolled Into London?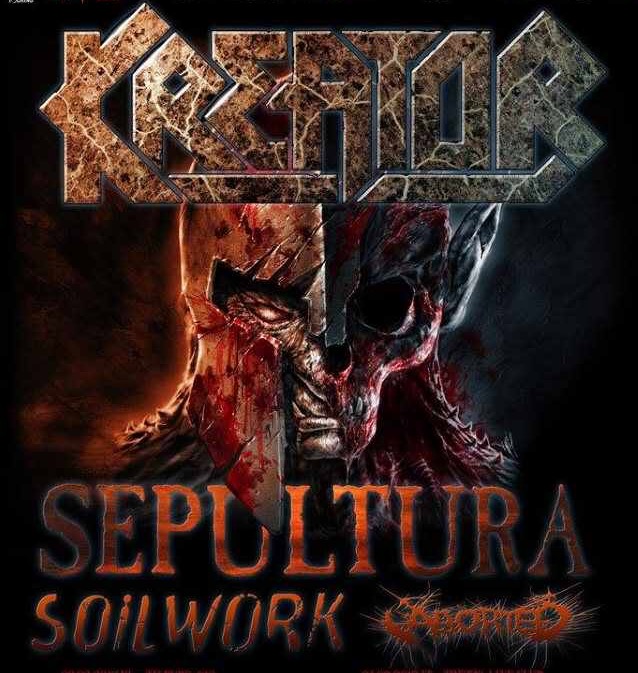 With terror being rife throughout the world, bands are increasing their reaction to the worlds current events. Ranging from all sorts of formats, one well rehearsed in the ways of battle are the German leaders st the vanguard of Thrash Kreator. Having returned after their five year material absence, the band have reasserted themselves firmly at the top of the second wave of Thrash Metal table. However it would seem that not only Kreator are born anew, as Brazilian counterparts Sepultura also unveiled their latest semi political statement Machine Messiah. Teaming up along with some help from both Soilwork and Aborted, the four band would match over Europe in a defiant conquering of venues far and wide. This time their march was headed toward Kentish Town's Forum.
Sadly missing Aborted's destructive force hit the Forum we can only imagine that Belgian troupe went down an absolute treat ripping heads left right and centre from their brand new record Retrogore. Coming to the end of their Ride Majestic, Soilwork come out for one final appearance here in London before wrapping things up on their current album cycle. Blending their signature style of Melodic Death Metal come Thrash the band are delivering a fantastic performance here tonight. On a slightly tight stage set up owing to Kreator's back lights the band make good use of the smaller amount of space they have. Running through material that ranges from the band's classics to newer material Soilwork are well versed in the art of the live show.
Generating a welcome element of melody in tonight's arguably Thrash oriented bill, Björn "Speed" Strid delivers his signature chorus conjuring vocal lines that prove tonight that when it comes to ability and sheer power, the man is very hard to match. Currently performing with stand in drummer the band do a stellar job of breathing life into the classic Soilwork numbers "Bastard Chain" as well as newer numbers "The Ride Majestic". Predominantly covering material from their The Panic Broadcast it's, for the amount of time the band have a well curated set list here tonight. Going up against the likes of both Sepultura and Kreator is no doubt a big challenge but Soilwork are more than up to the task at hand.
As the stage temporarily quietens we welcome the arrival of our next set of multinationals. Hailing from Brazil the Machine Messiah's, Sepultura open the stage with a relatively simple set up, dwarfed by the imposing backline of Kreator. Kicking things off with the fearsome riffer of "I Am The Enemy" igniting a circle out or two as the band get straight to it. Before the symphonic swelling of the technology enslaved quasi Bond theme of "Phantom Self" again has the rafters shaking.
With a sporadic appearance of their classic Death Metal ensemble on "Inner Self" it's a classic that hits hard. For those still whinging about the original band, it's painfully obvious that this , I hesitate, new breed of Sepultura are a different entity entirely to that of the Cavalera "uno, dos, très" stomp that we all know and love. Keeping material fresh with "Alethea" the real star of tonight's performance comes from drummer Eloy Casagrande. Rooted well in rhythm a lot of Sepultura's power, particularly live relies on a strong skins man. Casagrande positively knocks it out of the park with an absolutely brilliant understanding of what the band are in need of both being a perfect accompaniment to Kisser's searing leads, temporarily floating off in a flurry of fills before mechanizing with Derrick Green's ear bursting screams to make the likes of "Arise" and even classic "Roots" truly earth shaking. Despite the mix being perhaps a little slightly too loud overall, every instrument is able to speak its mind yet retains a mentality of unity when needed. For those who might be bad mouthing this incarnation of the band, well, get over it. With a performance as brilliant as tonight's you need only see the band live to understand not only do the band perform brilliantly but their newer, more progressive style suits them down to a t.
With thirty five years under their belt, Kreator are quite simply elementary in the structure of Thrash Metal. The face of the Teutonic Thrash movement that was rife in Germany their agression is extreme and deliver riffs with a terrible certainty. Blasting into 2017 the band unveil their first release in five years, the demonic Gods of Violence. After the imposing tones of "Choir of The Damned" summon our leaders in battle, were thrown temporarily back into 2009's Hordes of Chaos as frontman Mille Petrozza saunters out on stage to a microphone that could well be just slightly higher than the frontman's infamous notes. After the confetti has settled from their arrival the band don't waste any time delving into "Satan Is Real" and title track "Gods of Violence" which stands well up against its rival tracks.
Making use of the simplistic stage set up, the lights glare and synchronised riffing to strobe is the order of the day here. Yet I can't help feeling that the set up is lacking somewhat, for a band who are known for their legendary live performance, it seems a little lacklustre. However the band's playing is absolutely top notch. Solos coming thick and fast from guitarist Sami on "People of The Lie" and newer numbers "Phantom Antichrist" whilst Petrozza ensures that the divebomb capita is met with all manner of seating solos. Possibly one of the most inspired uses of the back ground LED screens is in "Fallen Brother". Timed with the rousing cries of the frontman each panel shows us yet another member of the Metal community taken before their time. Making for a striking rendition of the track that, well at least for me, shall not be long forgotten.
Despite their wealth of classic bangers here only the best are cherry picked tonight. The likes of "Extreme Agression" doing just as much damage as it did when it was first premiered in 1989. A classic amongst the elite Kreator surpass expectations when seen live. Even newer jams of "World War Now" are absolutely devastating, with their ever winding energy coalescing to really create a sight to behold down in the pit. Despite various line up changes over the years and that wobble the band had back in the mid nineties, Kreator's staying power is their coup de grace. As the inevitable flag is waved for the grand finale of "Flag of Hate" it proves just how vital the band are even thirty five years on. Having been recently announced at Bloodstock for this years proceedings, any fan of Metal will have something to smile about. If it's well organised, militant style Thrash, Kreator have always been the answer. Ask anyone here tonight!