UK Tech Fest 2017 First Line Up Revealed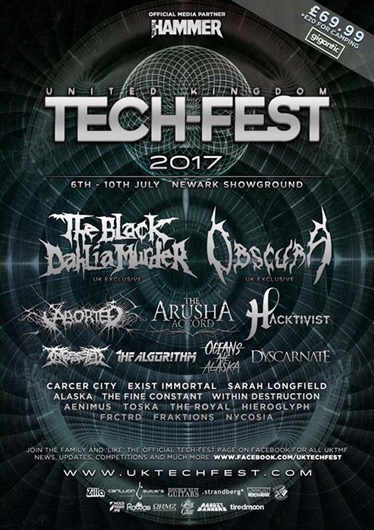 It's got to be their best yet.
For those who are fans of all that is Tech, there can be only one this year. Announcing today the first wave of bands for Tech Fest 2017 we have the disgustingly brilliant The Black Dahlia Murder who will be celebrating their ten years since Nocturnal's release and if their clockwork album releases are anything to go by perhaps a new album? For those who experienced their Tech Death wizardry recently Obscura. Both will be performing a U.K. exclusive set.
Even more of the line up consists of :
Aborted

The Arusha Accord
Hacktivist
Ingested
The Algorithm
Oceans Ate Alaska
Dyscarnate
Carcer City
Exist Immortal
Sarah Longfield
Alaska
The Fine Constant
Within Destruction
Aenimus
Toska
The Royal
Hieroglyph
Frctrd
Fraktions
Nycosia
Among these are some real gems of course Aborted will absolutely destroy the opposition with their charged Death Metal but one I find most surprising and incredibly intriguing is The Arusha Accord. A band that was deemed even too complicated to perform live will be heading out and who knows there might even be some new material written.
Either way you should get yourself to the festival, we attended it back in 2015 and it couldn't have been better.