The US Get All The Good Tours!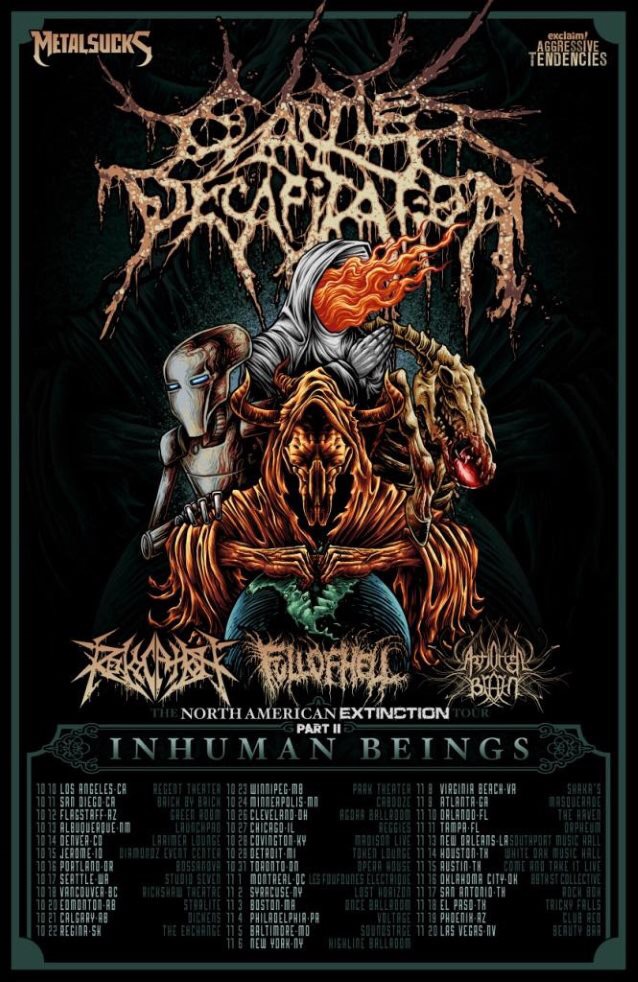 Featuring : Cattle Decapitation , Revocation, Full of Hell and Artificial Brain. Wow.
Hesding out once more in support of their 2015 effort The Anthropocene Extinction, Cattle Decapitation are bringing the thunder as far as line ups go. The band themselves are a force to be reckoned with and will attract fans from all over the corners of the US but the three other bands simply make it unfair!
As main support, label mates Revocation will be ensuring that fans will be suitably pumped for Cattle Decapitation after the detonation made from their performance. Having released their album of the year worthy addition to their catalogue that was the Darwin influenced Great Is Our Sin last year the band have seen to be rising faster and further than ever before. I would bet money on them being the new Black Dahlia Murder style grower for Metal Blade!
That's not quite it though, joining these two will be Full of Hell and Artificial Brain. Releasing their new record back in May Full of Hell are one nasty, vehement cocktail of noise that will stop at nothing to completely obliterate the listener. Not to mention they perform absolutely brilliantly live and have a backing by one Jesse Leach from Killswitch Engage!
Rounding off the four bands is Artificial Brain, the forgive the pun, brainchild of Dan Gargiulo of Revocation, their release Labyrinth Constellation was all sorts of mad now the band have pushed it even further with a brand new album. Bringing the thunder both in terms of sheer all our brutality and in terms of dexterous musicianship, this is not going to be a bill you'll want to miss out on any act.
Here are the dates, go and enjoy yourself whilst us Brits get all jealous.