Nineties Death Metal | Cannibal Corpse – Butchered At Birth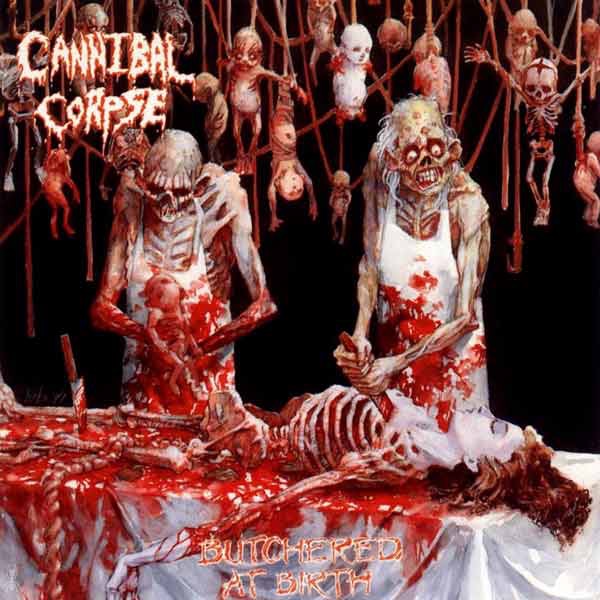 Following on from their vicious debut of Eaten Back To Life, Cannibal Corpse began their second bloodied chapter. Still having the vocal talents of one Chris Barnes, their latest release would begin their truly horrendous album covers, which would lead to all sorts of bans over Europe.
However Butchered At Birth isn't synonymous with death metal only for its album sleeve, the material presented on the record is still some of Cannibal Corpse's strongest material. The likes of "Vomit The Soul" featuring a young Glen Benton or the classic "Covered In Sores". Working with the production father of Florida death metal that was Scott Burns at Morris Sound, a production style that I have never really been a massive fan of, this was the album to establish that brutal Cannibal Corpse sound.
Having only released Eaten Back To Life a mere year before, the band were more centred in the arena of Thrash whereas the truly bowl wrenching vocals the band are known for now and their anvil heavy sound all germinated from these sessions. Not sparing the listeners from his mind, Chris Barnes brought forward some truly horrendous imagery in the form of "Meat Hook Sodomy" which was only the beginning of the horrific artwork that would follow in 1992's Tomb of The Mutilated. Awesome.
Dividing after the recording of The Bleeding, Cannibal Corpse and Barnes parted ways on the Vile album to usher in the new era of George "Corpsegrinder" Fisher a man who has more than put his imprint on the Death Metal legacy. Nevertheless the influence of Cannibal Corpse can be felt throughout the Death Metal community far and wide so in honour of this record, get close to someone whose easily offended, crank up he stereo and blast out this beautiful work of the macabre which sounds just a vital, just as groundbreaking now as it did all those years back in 1991.