Album Review: Unleash The Archers – Apex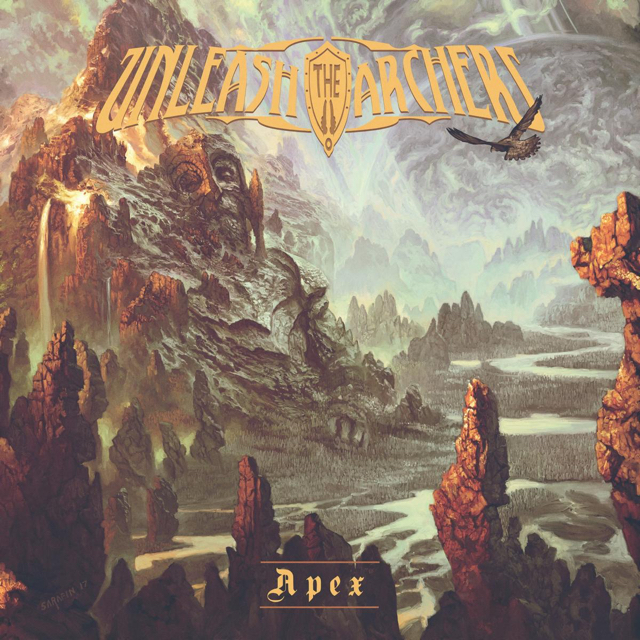 In a decade of the band's existence, it took 2015's 'Time Stands Still' to grant an audience with the world. Now that they have your attention, Unleash the Archers want to show you their full heavy metal arsenal. We review the new opus, 'Apex'.
Tracklist:

01. Awakening
02. Shadow Guide
03. The Matriarch
04. Cleanse The Bloodlines
05. The Coward's Way
06. False Walls
07. Ten Thousand Against One
08. Earth And Ashes
09. Call Me Immortal
10. Apex


Label: Napalm Records
Release date: 2nd June 2017

So what exactly grabbed my attention in 'Time Stands Still'? Unleash the Archers presented a raw heavy metal sound that is finally re-branded to suit modern taste. A well-produced technical flurry that contained a multitude of memorable hooks, soaring vocals and epic choruses. Just for flavour, add death metal riffing and the occasional grunt.
While musical description of the band may sound trivial, the album was so well executed it turned more heads than just mine. The Canadian quintet now need to show how they can hold an audience in the ever-shortening attention span of a heavy metal fan.
Judging from the opening track of 'Awakening', the band makes their ambitions clear – they will develop a progressive concept using their unyielding sound as a staple, and it's initially promising. The chosen structure is to unleash a whirlwind of crisp, heavy metal riffing building to a soaring chorus. The tracks in 'Apex' more often than not, however, lack in impact as the album progresses.
The general feeling is that Unleash the Archers wanted to use their sound for a grandiose concept, but may not be ready for that brand of songwriting just yet. Tracks such as 'The Matriarch' and 'False Walls' give the impression of just another heavy metal song, in stark contrast to what has been on offer on albums past.
Make no mistake that 'Apex' has a very solid sound, but it suggests that Unleash the Archers have been given musical freedom they are not quite sure what to do with yet. The most memorable moments come in the atmospheric melodies of 'Earth and Ashes' and the title track, but the 'true' metal moments become absent quicker than one would like them to. Perhaps the acclaim from the predecessor album put pressure on the band to make a 'career defining' album, but the knowledge on how to do that just isn't apparent yet.
Unleash the Archers still have a great sound, but their ambitious efforts for a career defining album may be premature. There's not a lot that's memorable on 'Apex', but still worth a listen.