Immolation Announce New Album And Premiere New Song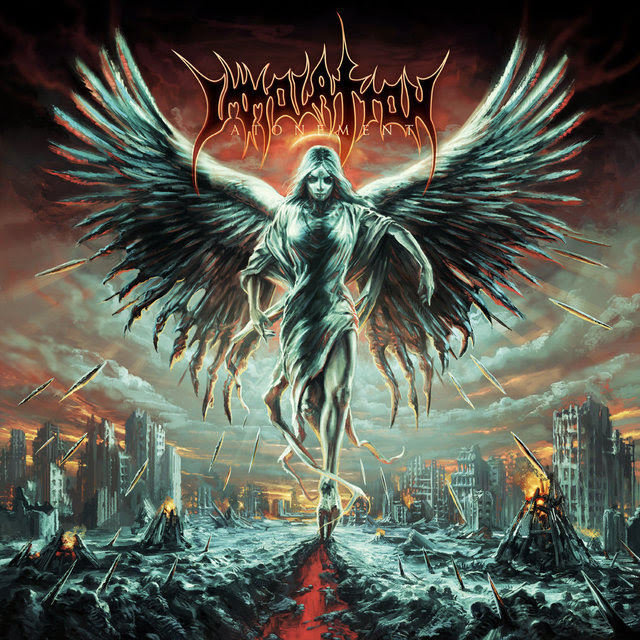 Get ready for the return of the Death Metal demi gods.
In their first example of music since Kingdom of Conspiracy, today, Immolation have broken the silence. Debuting their brand new single "Destructive Currents" that comes off their newly announce album Atonement set for a February 24th via Nuclear Blast.
The record, cut at Millbrook Sound Studios was mixed by Zach Ohren, whose portfolio includes work by All Shall Perish, Decrepit Birth and the almighty Suffocation and produced by Paul Orofino, who you will no doubt be familiar with given the bands long standing relationship with the man. In keeping with the past three releases the artwork for the album's cover is once again designed by Par Olofsson with more artwork by the genius that is Zbigniew Bielak.
Comments singer Ross Dolan about the new track :
"We chose the song 'Destructive Currents' as the first song to leak to the fans because it's a fast and aggressive song that gets right down to business. It's just dark and powerful, and I think it gives everyone a sense of whats in store for them with this release. Lyrically the song deals with the herd/mob mentality and how it gets fed, manipulated and exploited by outside forces. These are the currents of deception, misinformation and destruction, which are designed to mislead people. So that's really the idea behind the song lyrically.".
He continues :
"The sound of this record is exactly what we were hoping for, and we feel the production really gives these songs that massive sound and dark sinister feel they needed. Zack and Paul really nailed it with this one and made our tenth album our best sounding record to date. We are all very proud of what we have created here, and we hope everyone else will enjoy these 11 songs as much as we think they will."
Well I don't know about you guys but I for one am extremely excited to be able to hear new Immolation in 2017. Woo hoo! You can preorder the album here if you liked the sound of the first single.