EP Review : Aborted – Termination Redux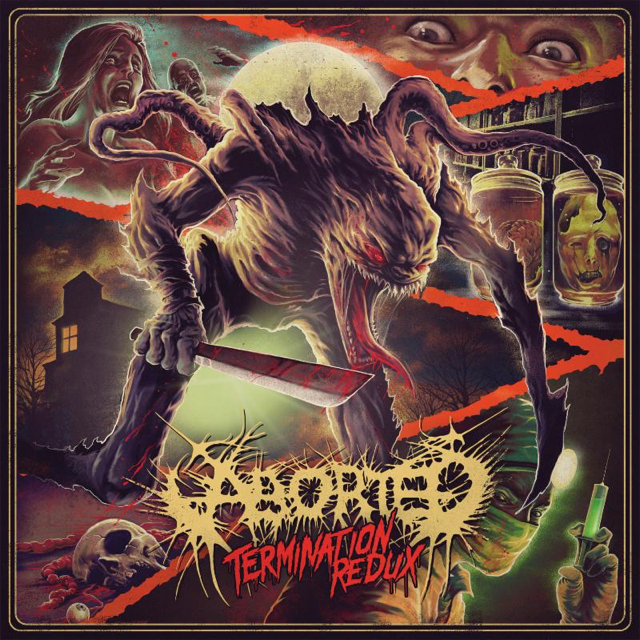 Christmas may have only just passed but here we are getting an early present from Aborted. Celebrating their landmark twentieth anniversary the band saw it fitting that they would commend such an occasion be releasing Termination Redux. Not quite the album that many are after but serves as a fantastic aperitif to the main course which will be dished out this spring.
Tracklist:

1. Liberate Me Ex-Inferis
2. Termination Redux
3. Vestal Disfigurement Upon The Sacred Chantry
4. Bound In Acrimony
5. The Holocaust Re-Incarnate


Length: 15:00
Label: Century Media
Release date: January 15th 2016

Comprised of four new tracks along with a re-recording of their Engineering the Dead classic "The Holocaust Incarnate". Picking up where we left off in The Necrotic Manifesto, we're once again introduced to the macabre world of Aborted through the intro of "Liberate Me Ex-Inferis" before being blindsided by the typically brutish "Termination Redux". Known for their relentless delivery Aborted have not only kept the pace topped up but have created a fantastic track that contains all their hallmarks from different eras whilst moving forward into the future. Particularly with this being a different line up prior to gutiarist Dan Lilker the torch is now handed to Ian Jekelis who does an impressive job.
Whereas the short sharp shock of "Bound In Acrimony" ensures that there still remains some of the classic Death Metal leanings. Not to mention the re-recording of the older track "The Holocaust Re-Incarnate" is a fantastic little easter egg for fans but that is precisely what an EP is meant to do. Acting like a teaser to a feature length film the EP is a containment of the band's history past and present and will intrigue and satisfy any collector.
A fantastic snapshot of all things to come and that have carried the band into their twentieth anniversary. The sentiment of Oliver Twist has never been so apt.