Bloodstock Announce Three More Bands For 2017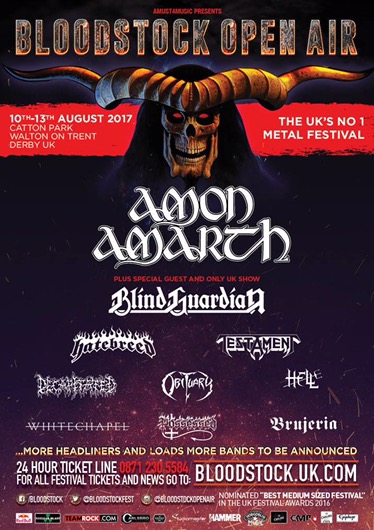 Swamps, The Polish and Mexicans!
Having already announced that Friday's proceedings will be headlined by none other than the mighty Amon Amarth, Bloodstock announce yesterday that joining the Viking hordes will be Decapitated. Currently in the studio the band are gearing up to their new album cycle, whose centrepiece will no doubt be a performance at Bloodstock. Comments guitarist Vogg :
"We're very excited to be returning to Bloodstock Festival – it will have been three years since our last time. We're currently in the studio getting ready to unleash the monster we've been working on for the past twelve months and can't wait to play some Polish metal for our UK fans next Summer!"
Next slot will see the dudes in Obituary leave their swamp dwellings to crush us all once more. Working on their new album despite having just released their live album Ten Thousand Ways To Die the band are a force to be reckoned with and anyone that has seen the beast will know exactly what we're talking about.
Also announced to round off the unholy trinity is Brujeria. Releasing their first record in years, for those who weren't able to catch them last year on their UK run with Psycroptic now is your chance! Not to mention the band will be performing new tracks, check out "Viva Presidente Trump!"
This completes this week's announcement! Always keep an ear to ground to hear about the best fest around.