An Interview With Terrance and Derek (Suffocation)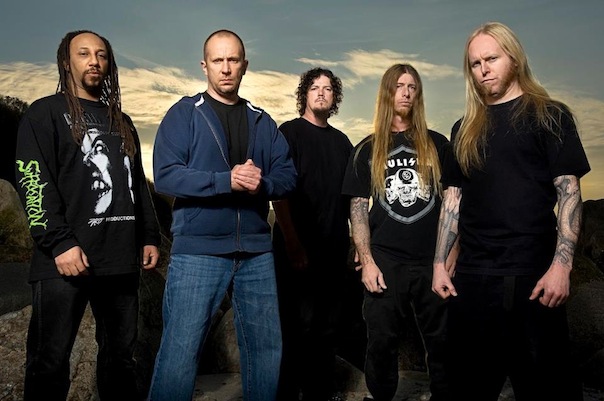 Death Metal itself as a genre has seen many different incarnations, currently in a state of revival though none were as pertinent as the nineties. Seeing bands sprout from nothing, these were the real beginnings of the Death Metal scene. Waving the flag proudly for New York Suffocation emerged to create some of the most sonically crushing music there has been. With releases like the classic Effigy Of The Forgotten, Breeding The Spawn and Pierced From Within it wouldn't be far from the truth to call the band Death Metal royalty. On their most recent UK stint with Nile we were lucky enough to be able to speak to both Terrance Hobbs and Derek Boyer about the current state of their new album, what it's like to be one of the Death Metal greats listen to the unedited interview on our Soundcloud below for all things Suffocation.
Incorporating Kevin Talley into the band, how was that? 

Derek : Kevin has always been a good friend of the band, you know Kevin jumped in back in 1998 and did a string of shows in North America so Kevin's always been a real good friend of the band, a real funny guy, so when Dave Caulross, after Pinnacle Of Bedlam said that he was unable to do it we thought, well Kevin did it in the past maybe Kevin is available he had just quit Six Feet Under at the time so everything worked out great! He's a funny little guy and he's a really good drummer. 

Terrance : He's a character.

So he's fit perfectly into the band? 

Terrance : Yeah, we've had our share with Kevin throughout the course of the years being a friend and playing in a load of touring bands, when we ran into the issue that Dave Caulross didn't really wanna play anymore, he wanted to concentrate on his family things of that nature your know Frank was just like, call up Kevin, he's already been on tour back in the day and we know him so let's just go with that. So we called up Kevin, who just happened to have the time from Six Feet Under it was just pretty good timing. It's hard for us, when people can't do what they want to do we have to roll with the punches as a band and decide on where we're gonna go and it gets a little bit difficult but we're always still on the same kind of page. 

Do you think that in the new record his influence will come through?

Terrance : I think so, I think so I mean we're intending on having both singers on the record as it is right now I have two singers. Ricky Meyers and Frank Mullen, although Frank doesn't do. Much anymore it's just a perfect fit so when we can get Frank and Ricky together we try, but a lot of the time Frank just doesn't HAVE the time. It's tough on him and tough on us because he's been with us for the last twenty years, but I've got a great guy that replaces him so I'm not worried about it all..
As ever this is merely a snippet of our chat with both Terrance Hobbs and Derek Boyer, you can listen to the full thing below on our Soundcloud account. Make sure to check out some of our other interviews including, Broken Hope, Cradle of Filth, Between The Buried and Me and many many more!