Album Review : Sepultura – Machine Messiah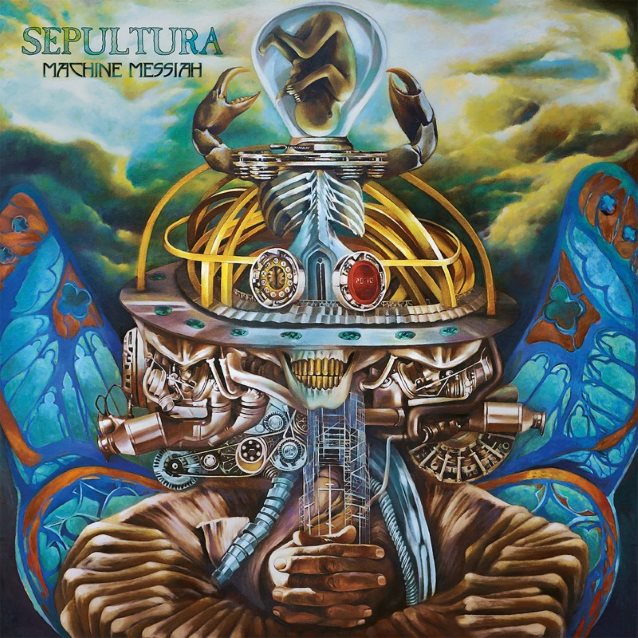 One man's trash is another's treasure as the saying goes. For those unfamiliar with the Channel 4 Sunday phenomenon that was the old man calling ,Scrapheap Challenge, allow me to elaborate. Two teams of engineers, brought together to run into a scrapyard and create something out of nothing. Following the same formula, Sepultura return in 2017 after their celebratory Roots run to find their "scrap" to combine both ideas from an esoteric sense along with those of a mechanical nature to create the conceptual Frankenstein's monster that is Machine Messiah.
Tracklist:
Machine Messiah
I Am The Enemy
Phantom Self
Alethea
Iceberg Dances
Sworn Oath
Résistant Parasites
Silent Violence
Vandals Nest
Cyber God

Length: 46:00
Label: Nuclear Blast Records
Release date: January 13th 2017

Known for their more straightforward rhythms established early on in their career, it's immediate that Machine Messiah will be a different affair altogether. Enlisting everyone's favourite producer Jens Bogren, it's a wonder how anyone else gets to produce any bands, the group were persuaded towards the inclusion of violin on "Phantom Self". Making for an interesting meld of cultures as the metallic guitars trade off with the more culturally embedded instruments to create an almost Bond-es que symphonic tone. Similarly proceeding it "Alethea" keeps the signature tribal drums in the mix before once again opting for a more metallic flair.
Andreas Kisser is no doubt the star of the show here, particularly with the winding riffs of "Iceberg Dances". Promising to ignite pits on the live front whilst it's eerie atmospheric leads create an unresolved tonality. Based on the unorthodox Brazilian time signatures among others, the song slowly evolves in its progressive nature before dropping out to reveal a beautiful flamenco style guitar. Mirroring the album's striking artwork, Machine Messiah is an amalgamation of ideas. The sporadic inclusion of symphonic elements give the record at times an almost soundtrack like quality particularly the latter instrumental half of "Sworn Oath".
Vocally Derrick Green delivers a brilliant performance. Barking lyrics that act as punctuation to the tracks' sentences. Playing on two lines, despite its incredible sophistication their lies an inherent primal nature to Machine Messiah. Exhibited perfectly on "Resistant Parasites" or the taunting "I Am The Enemy" each verse is delivered with venom and real anger. Military like triplets are present throughout much of the album giving the record a vintage a Thrash sensation. With a cack-handed assembly Machine Messiah could have had disastrous consequences, instead the band have created an incredibly experimental yet accessible listen. Of course there will always be naysayers championing the Cavalera era but with Machine Messiah, Sepultura in 2017 are arguably far more intelligent than their supposed golden years and I for one welcome the evolution to become symbiote of both organic and inorganic. Welcome to the second coming indeed.
Creating a compound of vintage sound with a forward thinking experimental aesthetic Sepultura have well and truly blown me and no doubt countless others away. Kings of the Scrapheap.
If you like what you read / heard then you can pick up your copy of the record here!