EP Review : Voivod – Post Society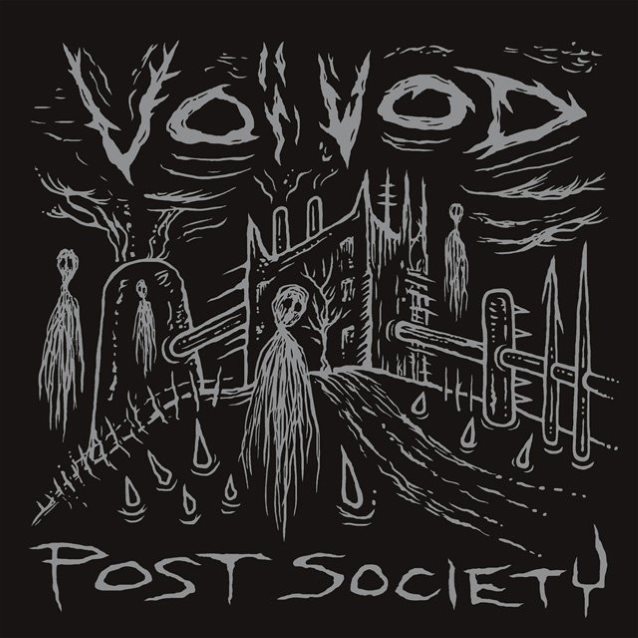 Bridging the gap before their much anticipated new release hopefully to be out next year Voivod reveal an EP. Comprising of material ranging from brand new songs, to releases from their split with Napalm Death and At The Gates towards the end of 2015. Regardless of their initial release five brand new Voivod songs have come to fruition. We step into uncharted lands in the apocalyptic Sci-Fi plains of Post Society.
Tracklist:
Post Society
Forever Mountain
Fall
We Are Connected
Silver Machine

Length: 31:00
Label: Century Media Records
Release date: February 26th 2016

Not the easiest band to pin down, the synthesized compound of Punk, Prog and Thrash might not be quite to everyones taste. Fluctuating from the all out Thrash attack of "Forever Mountain" comprised predominantly of thick and fast riffing with acrobatic fret trickery previously seen on the At The Gates split. To the more restrained "Fall" a more current example of what to expect on the bands new release. Highlighting their more Progressive tendencies the band opt for a slower more somber tone. Describing the arrival of Autumn makes for an abstract and most importantly intriguing lyrical theme together with Snake's slurring delivery make for a woozy drug induced state of delivery.
The dissonant arrival of "We Are Connected" contains one of the EP's brightest moments with the post-apocalyptic backdrop sees melody brought to the fore before being swept away in space and time bending outro. Even on a small EP the band are still able to conjure such individual sounds. With incredibly opposing ideals that rather than detract from one another breed difference and ingenuity.
Tailed off with the eighties rock of "Silver Machine"  the most straightforward track on the EP, the more space age quirkiness facet of Voivod is once again sparsely revealed. Unlike any other band that walks the Earth, Voivod's bastard combination of Classic Rock, Thrash, Punk and Prog fused together to create a sound inexplicably unique. Fans of Voivod will welcome th new material with open arms whilst those who stray too close will also be caught in Voivod's time warping genius. A fantastic prediction of what the future holds for this unconquerable band.
A fantastic EP that's only downfall is to make us even hungrier for new Voivod material. Fingers crossed the voyage into the Dimension Hatross won't be too long this year.