Album Review : Revocation – Great Is Our Sin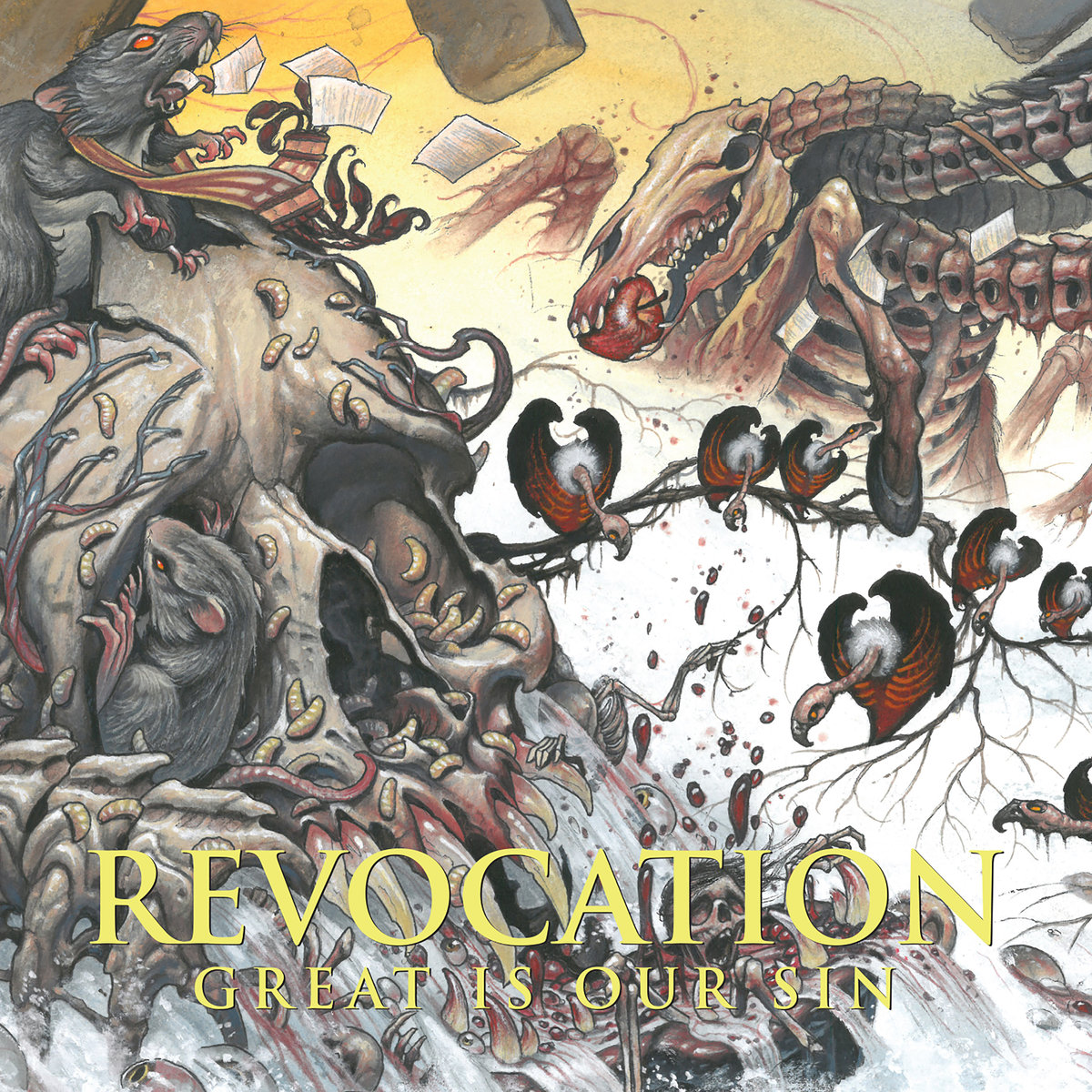 Master of evolution Charles Darwin is known far and wide for his idea on the revolutionary notions. Less known perhaps are perhaps some of his more philosophical leanings, no less important in their validity Darwin was a pioneer whose existential thought process has solidified him as one of the great philosophers of our time. Taking this idea of man and its relativity Revocation aim to bring a more musical philosophy to the man's otherwise pensive ideology in their first ever concept album Great Is Our Sin.
Tracklist:
Arbiters Of The Apocalypse
Theatre Of Horror
Monolithic Ignorance
Crumbling Imperium
Communion
The Exaltation
Profanum Vulgus
Copernican Heresy
Only The Spineless Survive
Cleaving Giants of Ice
Altar of Sacrifice


Length: 48:00
Label: Metal Blade Records
Release date: July 22nd 2016

A first for Revocation the idea of creating a concept album can often be somewhat of a daunting one. Unified in its principles the album tackles various different scenarios that revolve around the unifying theme of humanity. "Monolithic Ignorance" for example bringing to light the folly of man, the inability to learn from its mistakes to create a new and altogether better environment. However Great Is Our Sin sees not only a more mature lyrical setting but is arguably outclassed by the musicianship presented here. The blistering single "Communion" seeing all of Revocation's arsenal put to brilliant effect combines both speed and the often unorthodox chord phrasing which despite its head scratching riffs is immediately accessible. Pondering on the morbid entertainment that was public execution the labyrinth (of eyes) that is "Theatre Of Horror" brings the more cavernous sounds the band noted for with a soaring bridge perfectly segueing into a gorgeous solo.
Take instrumental "The Exaltation" featuring not only a guest appearance by one Marty Friedman but showcases the band's aptitude for creating a short sharp yet memorable instrumental that neither meanders or bores. Known for their iron clad rhythm section new drummer Ash Pearson is put through the paces throughout the record flitting from anvil destroyer to light jazz style kisses of the cymbal. Known for their reliable output the band are potentially delivering their best effort to date. Capitalising on elements otherwise only flirted with on previous albums. The abyssal flow of "Profanum Vulgus" moves from a decidedly raucous intro to the morbid mid section. Another attraction readily available has always been the idea of the solo "Arbiters Of The Apocalypse" readily takes no prisoners offering some of both Davidson and Gargiulo's best work to date.
As the album reaches its tail end we see another facet of knowledge unearth itself in the form of "Copernican Heresy". Encapsulating the struggle between the somewhat archaic stand point of religion to the inquisitive nature of science the track is a perfect example of Revocation's deadly pin point accuracy. Moving into the albums grand finale "Cleaving Giants of Ice" at last sees the pot bring down from the boil to a simmering chorus featuring singing from Davidson with carefully placed harmonies. Combining the philosophical thematics with the coldly calculated musicality of the band makes for a fantastic juxtaposition playing both thematics and music against one another. Great Is Our Sin sees Revocation begin to reach their true potential of leaders of Modern Death Metal, an adept concept neatly bringing disparate themes together with some of the best musicianship out there leads Great Is Our Sin to be a vicious, calculating release from the band. Becoming the musical Beagle Revocation are without a doubt the definition of the evolution of Death Metal.
Without a doubt one of the band's strongest efforts, coalescing mature thematics, absolutely flawless musicianship and unbeatable song writing Great Is Our Sin is the Revocation album you have been waiting for.
If you like what you read / heard then you can pick up a copy of the brand new album here!