Album Review : Fleshgod Apocalypse – King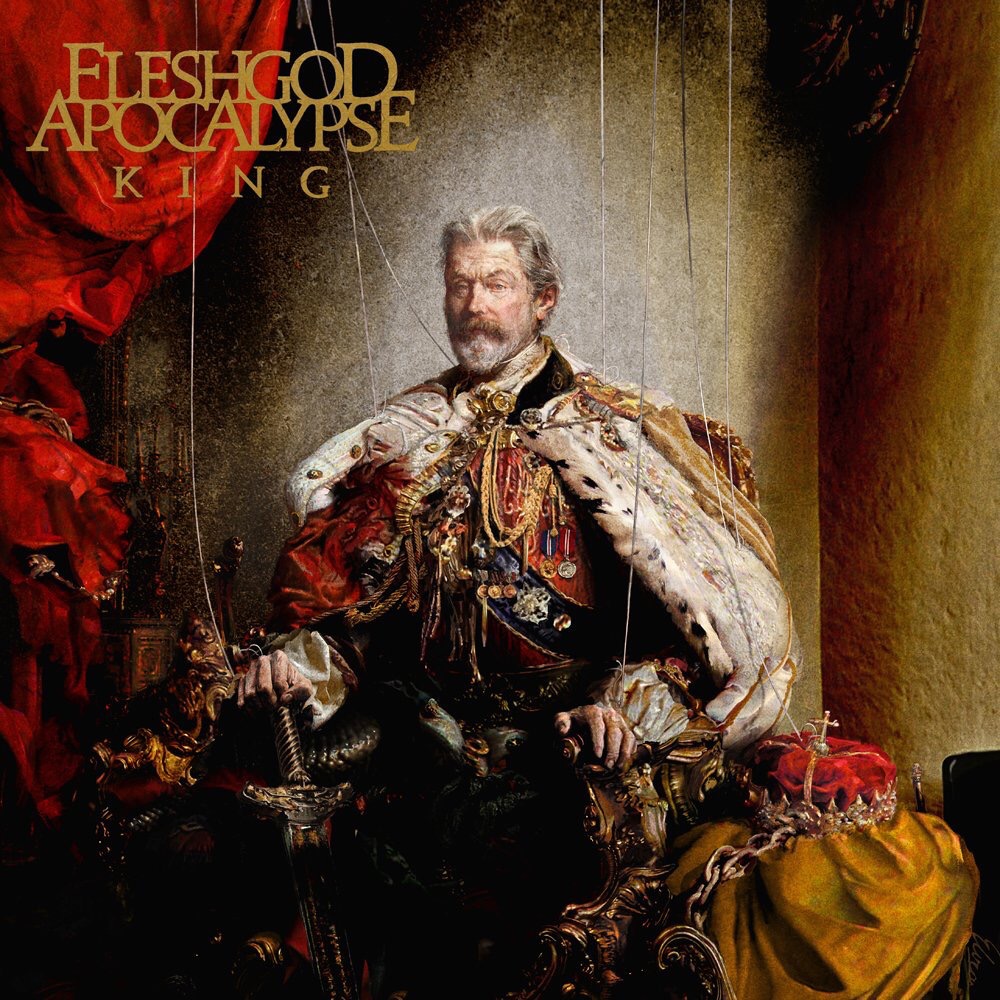 Combining the cinematic within a Metal environment has always been a diligent task that many have undertaken and fallen short. Having deep rooted foundations in both genres of Classical and Death Metal, Fleshgod Apocalypse have teetered between the two combining both polarising categories to a slightly clumsy interplay, until now. Carving a conceptual niche with their previous album Labyrinth the band are no strangers to the classic story. Bringing the term Rock Opera to a tongue in cheek fruition the band have assembled together for the oeuvre that is King.
Tracklist:

1. March Royale
2. In Aeternum
3. Healing Through War
4. The Fool
5. Cold As Perfection
6. Mitra
7. Paramour (Die Leidenschaft Bringt Leiden)
8. And The Vulture Beholds
9. Gravity
10. A Million Deaths
11. Syphillis
12. King


Length: 56:00
Label: Nuclear Blast Records
Release date: February 5th 2016

Understanding it's musical milieu immediately we're inaugurated to the cinematic opener "Marche Royale". Working in tandem with bombasttic "In Aeternum" creating a palpable world draped in the regal ornamentation of Classical infinitely enhancing the setting of our conceptual story. Describing the rule of a man of justice and upstanding principle in a corruptible world our protagonist stands as an edifice to morality.  Created by Eliran Kantor the artwork perfectly encapsulates the regal sense of power felt by this King.
Grandiose concept aside Fleshgod Apocalypse have not forgone creativity in their latest release. The homage to Mozart that is single "The Fool" absconds confusion creating a clear path rather than overwhelming the listener with the sheer multitude of both layers and instruments. Combining blistering drums along with incredibly technical guitar leads, classical instruments come together rather than opposing make for some idiosyncratic unison sections.
Often unveiling a principal melody in the first instance tracks like "A Million Deaths" instead stick out creating a sense of continuity, pace is also a key ingredient. Second single "Gravity" establishes a darker tone set with the slower rhythms layering trepidation in our concept.  Teasing the main melody in the previous track the band tantalize the listener. Beautiful interlude "Paramour (Die Leidenschaft Bringt Leiden)" creates operatic punctuation with a solo section of minimalist traditional female vocals coupled with fluttering piano. Before a complete contrast aggressive assault making for the arrival of "And The Vulture Beholds" to pack an immeasurable punch. It is these sections that show the band's true understanding of wielding such a weapon as Classical. Confirming that Fleshgod Apocalypse's influences are not just seen as a gimmick but are incorporated in stylistic fashion understanding their place.
Deciding to go with renown Swedish producer Jens Bogren the production duties aid the listener to dissect complicated passages to their crux, melody. Neither guitar, drums or vocals dominate tracks simultaneously the classical element neither becomes over bearing in conjunction with the already layered Death Metal.  Whilst also navigating their way throughout the musical stronghold the band are still able to conjure emotion. The largely ominous "Cold As Perfection" perfectly brings a sense of foreboding creating an engaging musical story, enticing the listener until it's grandiose climax.
Being the longest track on the album the delightfully titled "Syphillis" is an exemplary idea of Fleshgod's understanding of the importance of the musicality reflecting both emotion and story. As our concerto comes to an end Fleshgod Apocalypse despite their red herring name deliver an articulate, multi dimensional tour de force. Creating a symbiosis of both Classical and Death Metal unified by their concept.
Sovereigns of Classical at last the band have understood the unorthodox relationship of their marriage of the two genres. Proving that neither their conceptual arc or different influences are a gimmick, King see's our Fleshgod's reign supreme.
If orchestral destruction is your thing then you can pick up King here!