Steven Wilson Live At Hammermsith Apollo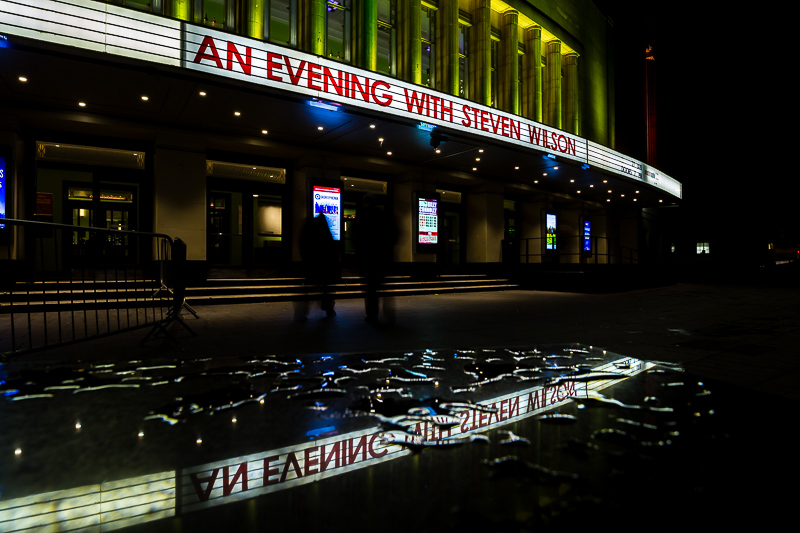 Attracting anything from the most seasoned of metaller to the most gloomy of Goth's Steven Wilson is able to cross boundaries with seemingly every single release. Pushing the blueprint further with each conceptual coup, after the phenomenal success garnered from Hand Cannot Erase as Wilson insists tonight's tour in part of celebration of new mini album 4 1/2. Nevertheless prior to our exploration into the mini album the night is divided into two sections. Happily keeping the avid Prog fans at bay tonight's setlist has been meticulously chosen to suit every kind of audience member.
27th January 2016
Hammersmith Apollo
London
All photos by David Cabrera
The first of the two sections tonight is a performance of Hand Cannot Erase in its entirety. Aided by the beautiful video show behind the stage is sparse. An alien block of flats stands tall, quietly warming the audience up and creating the perfect aesthetic for our performance tonight. As keys master Adam Holzman takes to the stages and the first steps of "3 Years Older" are taken the rest of the band trickle out on stage. Immediately we come to the realisation that just as much as Steven Wilson and band may well be able to melt hearts with his fearless sense of emotion he can also give you a fairly potent injection of energy! Complimented by our Hand Cannot Erase model Carrie as our backdrop we are slowly but surely taken through her journey encapsulated in the record.
Aiding in the realisation of the conceptual setting of the album the graphics tonight do nothing but help our interpretation of our tale. Joining Nick Beggs, Adam Holzman and Wilson are newbies Dave Kilminster on guitar and Craig Blundell on drums. Who are put through the musical paces on "Regret #9" as brilliant solo sections are handled masterfully by these masters of their craft. Prog epic's like "Ancestral" have a much larger than life presence here tonight but it's fragile numbers like "Hand.Cannot.Erase." and "Transcience" which sees our bass resident Nick Beggs add yet another instrument to his ever growing list. Tugging at the heart strings "Routine" is performed magnificently with the first of several appearances from Ninet Tayeb tonight, matching their prowess in technical ability whilst retaining a fierce sense of humility and emotion. Helped to no end by the magic created by Jess Cope with her haunting animation it is a definite high point. As we begin our descent back to earth were softly cushioned by "Happy Returns" where we see our heroine jettisoned into the nether of speculation. A fantastically minimalist approach whilst being inexplicably flamboyant, a compromise that Steven Wilson thrives on and as the band gracefully slink off stage were moved into our interval.
Temporarily breaking the band's spell, when returning back to the stage immediately the sense of the ominous returns with the Storm Corrosion classic "Drag Ropes" though perhaps not quite as awe inspiring as its debut at The Royal Albert Hall, the song leaves its haunting mark no less. It's dark thematic content beautifully illustrated once again on our visual compare. Releasing brand new mini album 4 1/2 we're once more introduced to Wilson's humble charisma. Stating that the songs on the new record felt as though they needed to be rehoused making a tongue in cheek point they were not "Left over!". Opening track "My Book Of Regrets" is not only my first experience on record hearing Blundell and Kilmister but seeing the band effortlessly navigate its nine or so minutes is exceptional. Despite having seen Minnemann before Blundell brings a classic rock and roll sense that is somewhat needed to a genre that often be if anything slightly stuffy.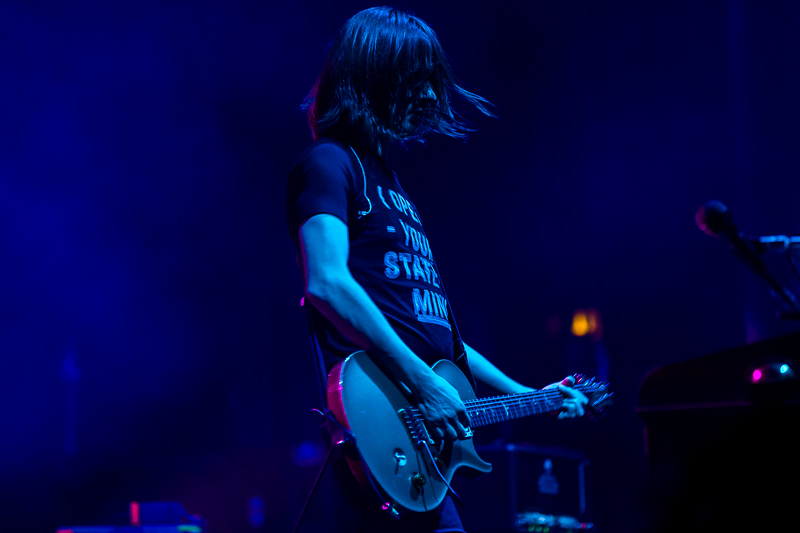 As a first in a string of tributes to the late David Bowie, Steven introduces the Porcupine Tree nostalgia induced classic "Lazarus". Trimmed with photographs of a classic English family it makes for a particularly beautiful snapshot. After this momentary lapse of happiness once again we move back into the topic of anonymity still being explored in the city. Appearing to the side of the stage once more Ninet is back to perform new rework "Don't Hate Me" which once again owing to the fantastic narrative of our video screen helps to echo the songs sense of isolation to no end. Catching some slightly off guard the band stand together clicking fingers in unison, anyone having seen the band before will know that the menacing "Index" is imminent. A stark contrast from the sense of safety felt in his other works the song is a jarring wake up that makes for a perfectly varied delivery.
Moving into the final stages of tonight we see more Porcupine Tree material surfaced with a rendition of In Absentia "The Sound Of Muzak" where at long last there is some crowd participation. Returning once more to our hero of reinvention Wilson honours the legendary singers memory with a cover of classic "Space Oddity" after a lengthy introduction describing that this is truly the end of an era for the modern singer pop artist. Returning once more time to the more dostorted plains of "Sleep Together" seeing exemplary work from Blundell once again we finally arrive to our destination with the classic "The Raven That Refused To Sing" one of the most poignant songs to come out of the singers catalogue packs an ever emotional punch with its misty eyed finale brining tonight to a triumphant close.
With the passing of great musical legends Bowie and Lemmy hauntingly apparent, yes Steven's observations are true the era of the pop artist that was truly off the wall, versatile whilst being instantly recognisable is sadly at its end but with the beacon of sadness and emotion that Steven Wilson is shining we may be in glum hands but Bowie's fearless experimentation will live on. Melancholy with a smile indeed.