Album Review : DevilDriver – Trust No One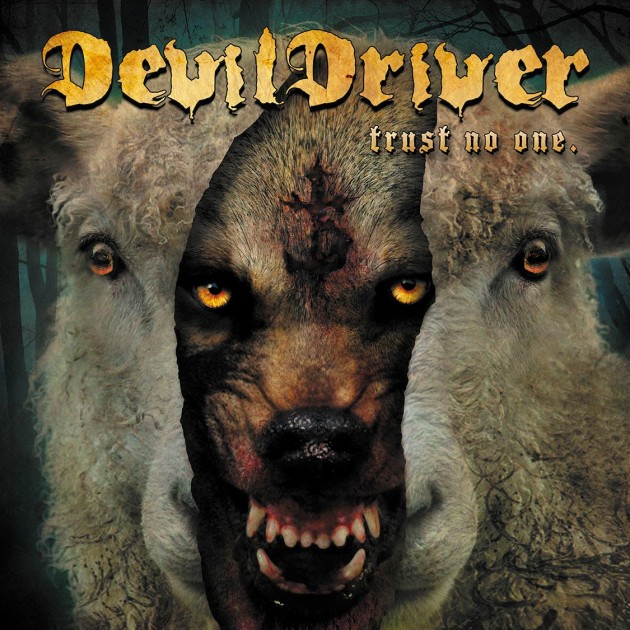 What doesn't kill you makes you stronger or so the saying goes. A necessary requirement to thrive in music is adaptability. From simple touring mishaps to larger scale operations that require serious change. Some are lucky to go their entire career with the same members however others need perspective, trials that are bigger than the road begin to appear. Having released their return to form Winter Kills, slightly disconcerting news that the band had a change in the guard. Heading into the studio to record their follow up full length but are DevilDriver a wolf in sheep's clothing?
Tracklist:
Testimony of Truth
Bad Deeds
My Night Sky
This Deception
Above It All
Daybreak
Trust No One
Feeling Ungodly
Retribution
For What Its Worth


Length: 41:00
Label: Napalm Records
Release date: May 13th 2016
Shedding their wooly disguise the second "Testimony of Truth" erupts out of the speakers brings back the Michael Spreitzer harmonic dynamics back into the modern day. A song that is classic DevilDriver doing exactly what they do best. Though despite the early flourish of melody the headbanging carries on the with "My Night Sky", who's red herring serene sounding title is anything but. Seeing Dez Fafara deliver his signature choruses with just as much gusto as the man is known for. Simplistic yet sensational they create an easily attachable accessiblity to the bands sound with more emphasis on melody nevertheless the groove of course remains.
Often a double edged sword the departure of long time members can either act as the beginning of the end or a catalyst to the rebirth for a band. Returning back to their melodic roots "This Deception" once again brings to twin guitar harmony attack home. Showcasing the rhythmic aptitude of new drummer Austin D'amond fluttering fills and shimmering cymbals abound on the entire record the man expertly navigates the more tricky of passages and brings the earth shattering groove DevilDriver are known for. Working brilliantly on album set piece "Day Break", a track that would sit proudly amongst some of the bands best work. Coupling the fierce sense rhythm with gorgeous melodies its an absolute masterstroke.
Though despite the return to their roots there does lie some experimentation, "Retribution" features a clever mid section easy enough to attach to without getting bogged down in the dynamics showcasing yet another experimental side of the band. Seeing the final meandering guitar lines make for a final strike in "For What Its Worth" a decisive finale. Reigniting the bands fierce drive to deliver, Trust No One is a defiant spit in the face to naysayers and whilst taking note from their past also ensures that DevilDriver remain moving forward with an unstoppable amount of momentum. The wolves are most definitely loose.
A change in the guard shook DevilDriver to craft some of their best material since eponymous The Last Kind Words. Combining, melody groove and all out ferocity. Trust No One has definitely got just as much bite as it has bark.
If you like what you read / heard then you can pick up the brand new album here!