Album Review : Aversions Crown – Xenocide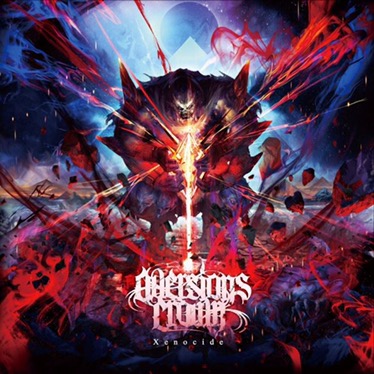 Throughout cultural history the idea that we are not alone has been a fascinating one. Spanning years, aliens have always been a hot topic amongst fiction, even causing the public to believe a radio reading of War of The Worlds was real! Embedded into society's culture, no doubt in aid to the likes of Ridley Scott and James Cameron, the overall idea is that aliens are probably not going to be very nice when we have an encounter of The Fourth Kind and now we get to know what they would all have on their stereos…
Tracklist:
Void
Prismatic Abyss
The Soulless Acolyte
Hybridisation
Erebus
Ophiophagy
The Oracles Of Existence
Cynical Entity
Stillborn Existence
Cycles of Haruspex
Misery

Length: 50:00
Label: Nuclear Blast Records
Release date: January 20th 2017

Taking this idea and running with it, the Deathcore power house that is Aversions Crown from down under have awakened from their cryostasis to unveil Xenocide. Originally not being much to shout about, the bands debut Tyrants saw them fall quickly into the category of nondescript Deathcore band. However with Xenocide, the band have well and truly flexed their creative muscles. In keeping with their tradition, conceptually the album revolves our X-Files friends and what they would do to planet earth given the chance and it's not as nice as what Attenborough would have in mind.
The hallmarks of classic Deathcore are definitely present here in Xenocide. "Hybridisation" ensures that the band's breakdown quota is met. However what Aversions Crown succeed in doing is creating that earth shattering return. "Cynical Entity" for example, after its helicopter style intro, remorselessly flings the listener side to side. All the while as it's crushing footprint is made, the sparse amount of melody cuts through the mix enabling making it stand out. It's precisely this inclusion of short sharp lead lines that give the likes of the critical mass of "Erebus" such a thunderous nature. Whilst harvesting energy throughout the songs turbulent verse it expels it in the Herculean chorus which sees all the band's elements come together in a beautiful and inspired fashion.
Acting similarly to their continental counterparts, Thy Art Is Murder, Aversions Crown bring this quasi Behemoth riffing into the fray. Ripping guitar lines with inhumanly fast drum patterns courtesy of one Jayden Mason, are the order of the day. Nevertheless, material like this was similar to what was seen on their debut Tyrants, so what? What sets Xenocide apart from the pack is the reality that the band have trimmed the fat with their songwriting. "Soulless Acolyte" for example is devastatingly fast yet retain an air of groove. Dropping out in the chorus to highlight melodic passages making for the songs hooks to be dug in. Not to mention new vocalist Mark Poida absolutely demolishes any form of weakness the band might have had. Being such a young band in the grand scheme of things, Aversions Crown are hardly starting off the back foot. Mature songwriting, understanding of the band dynamic and absolute blistering technique make Xenocide absolutely premium Deathcore. Put it this way, MacReady would need whole lot of flame throwers to get through this one.
Aversions Crown have proven that though they might be in their infancy they have the potential to stand up there with Deathcore elite with this excellent new release Xenocide. Game over man, game over.
If you like what you read / heard then you can pick up a copy of the record here!