Iced Earth Are 'Incorruptible'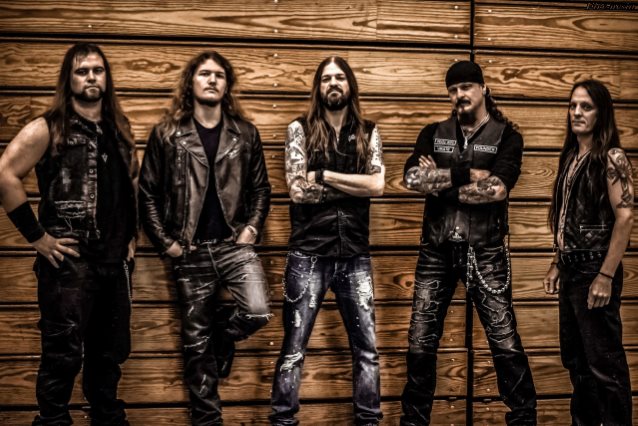 A new Iced Earth album is just around the corner. This indicates that a high octane heavy metal attack will be hoarding through your speakers shortly, and it will be relentless. Having a loyal fan base and such quality releases over their long career, we ask mainman Jon Schaffer about how the band have managed to stay so consistent, and whether the upcoming opus 'Incorruptible' maintains that same philosophy.
It's become standard procedure to ask about album titles. In Iced Earth's case, fans mostly know what they're getting with each release, but the title more often than not has set out a lyrical and structural theme for the music. Take 1995's 'Burnt Offerings' where the title resonated the band's darkest and heaviest record, and 2001's 'The Horror Show' that was compiled of tracks told individual horror tales.
Surely the newest album title must have some theme to it then. Why 'Incorruptible', I asked Jon:
"Really it had to do with the fact that the vision of Iced Earth is 'Incorruptible'. It has been since I started this band all those years ago, and we're still holding strong. It seemed like the right time. It's also the end of our recording contract, so I feel it's a bold statement. No theme or concept on this album. Just a collection of 10 songs."
So the album title is a representation of Iced Earth's vision, a consistent musical approach that is 'Incorruptible', and has not been compromised by anything throughout the 32 years of the band's existence. How does one write music through to represent the resolve of this heavy metal power house?
"It's all energy that flows naturally. I don't make any albums contrived or set out – like I wanna do this or that. I just let the music flow. It keeps it very honest, and the fans feel it.

My whole point of starting Iced Earth was because I'm a songwriter. I don't care about anything else in this business. Only about making the songs and making the records, that's always been my focus."
And asking if he felt pressure recording the album as a heavy metal veteran:
"Absolutely. There's always a tremendous amount of pressure, if you don't feel it then you fuck it up! The timeline this time wasn't as squeezed as it has been in the past, but there's a lot of pressure on each record and pressure on every step of the way."
Maintaining quality is a tough job, and Iced Earth have been doing it a long time. Given that the band have gone through numerous line-up changes over the years, one would think that there may be a compromise in sound. But Jon explained that his musical influences have never changed, and has always written Iced Earth's music in a way that feels natural to him. No forced changes, no trying to be anything else.
"My influences haven't changed, that stuff was set a long time ago from my very early childhood, listening to Sabbath, Deep Purple, Alice Cooper, Iron Maiden and AC/DC…the New Wave of British Heavy Metal came at a very influential time in my life during my early teens.

Since then I've only been concerned with doing my own thing and not really been looking to be influenced by another band. I enjoy other bands, but I don't look to copy something they've got going on. I always have to write what feels natural to me, I don't know any other way."
It is apparent that each and every Iced Earth album has subtle variations in performance metrics. That could be tempo, density, and technicality of the music. It's what has always been interesting on Iced Earth's albums, and prevented each album from being a carbon copy of the predecessor. As Jon said there is no assigned musical theme or concept to the album, what makes 'Incorruptible' stand out?
"Anybody would be able to hear the first measure of any riff of an album and be able to tell it's Iced Earth, but the sound quality has gotten better, and the execution has certainly gotten better…I think 'Incorruptible' is actually one of our best sounding records.

I was trying to think of this earlier, but I don't think we've actually had a record that is just a collection of songs not related to each other. Everything else has been a theme or concept. The concept to me is like 'The Horror Show' being a collection of songs based on horror movies or novels, 'The Glorious Burden' all being about different battles, and 'Stormrider' which was a complete concept album.

I think this might be the first one since the beginning where there is no theme or concept, but a lot of the songs do tell a story – whether it was 'Clear The Way' which is about the Irish revolution at Fredericksburg, or it's 'Black Flag' which is a really short snippet of history about the pirates, how they started and how they felt betrayed by the empires. There's different things like that happening but their not necessarily related to each other."
With 'Incorruptible' being the band's final album on their current label, we wonder what the future holds for the band. Jon indicated that there is no rush for anything right now, and getting the new album on the road is the priority:
"Well we got festivals this summer, then we're doing the States and Canada in October. Then early next year I think we'll be be doing a full European tour. Last time we were here in the UK we had a really great show at the Headbangers Ball. What a passionate audience, they were great!"
And there we have it. 'Incorruptible' is a musical homage to the bands vision. An unassailable, unbreakable approach to heavy metal that lets fans know Iced Earth are staying true to their music, and they have no plans to change that.
'Incorruptible' is out on June 16th via Century Media Records.