The Black Dahlia Murder Guitarist Ryan Knight Leaves Band + US Tour Announced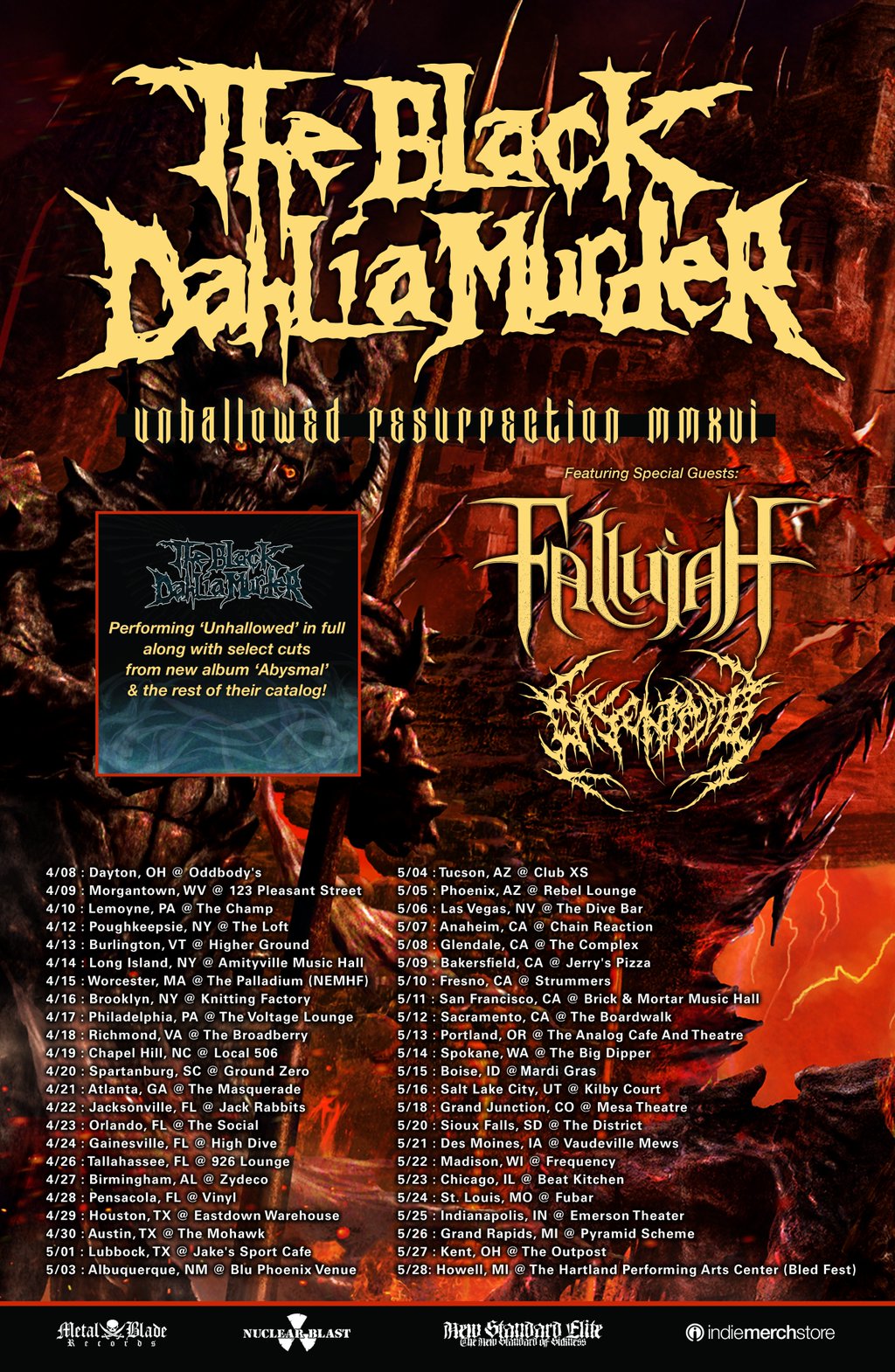 Good news, The Black Dahlia Murder will be on tour performing Unhallowed in it's entirety with fantastic support, bad news Ryan Knight has left the band.
Announcing that The Black Dahlia Murder will be heading out for an extensive US tour the band will be taking Fallujah and Australian doom enthusiasts Disentomb with them. Set to perform their classic Unhallowed record in it's entirety the tour will be a fantastic performance showcasing some of the best talent there is in Death Metal. Alas long time guitarist Ryan Knight has sadly stepped down from the band.
Wanting to concentrate on the domestic issues rather than the band, Knight has decided to take his leave. I will admit to hearing Knight's work on Deflorate and immediately falling love with the band. Previously seeing the band on their European tour guitarist Brandon Ellis we thought was filling in is actually Ryan Knight's successor.
Having seen the man in action, pulling off Knight's tricky leads with ease Ellis is no doubt a good shout and hopefully a creative force that will still bring the band forward in their sound.
The official statement from Knight is as follows :
"After nearly seven years with The Black Dahlia Murder, I feel the time has come for me to step down and focus on other aspects of my life. The decision to leave was very difficult, yet necessary I feel for me to ultimately be happy and keep moving forward. I feel very lucky to have had the best band-mates/crew — past and present — to traverse the world, guzzle beers, and bring the rock with every night. Thank you, guys. I'd like to give a huge thank you to all our fans for being so cool to me over the years, and all the hardworking people over at Metal Blade Records for their support, and general badassery. In the meantime, I'll still be teaching guitar, working on new music, and just getting pretty domestic in general. Thanks again!"
From the other side of the coin lead singer Trevor Strnad states :
"When Ryan first joined the band, he drove from the hospital where his first child had just been born to begin practicing and writing with us, on the eve of the recording of our Deflorate album. In his years with the band, he made a lot of sacrifices to be with us and uphold our insanely demanding touring and recording schedule. He always gave us one-hundred percent, and for that I thank him. He is an incredible musician and creative force. It was exciting to make new material with him, and his wealth of knowledge has left its stamp on the band's music forever. I always knew that his time in the band would be limited, and it has now come time for him to go home and be with his family. Ryan, being the stand-up dude that he is, told us of his plans to leave the band more than a year ago, and with heavy hearts we began to plan for The Black Dahlia Murder's future. We admire that Ryan went to such lengths to make his departure as easy on the band as possible, even going as far as to help us find a talented leadsman in Brandon Ellis — who has been lending us his tremendous guitar skills on the current TBDM tour. Knight is one of my best friends and I wish him the best in everything he does. He will always have a place here in the TBDM family. I look back at our time together with nothing but gratitude."
Either way US fans are in for a treat with this new tour, it will be interesting to see where The Black Dahlia Murder will be going from here as the band and particularly their leads have a defined sound. It was fun whilst it lasted! And what a way to welcome to the hell ridden ride Brandon Ellis.