Slayer Release Title Track, Track Listing for Repentless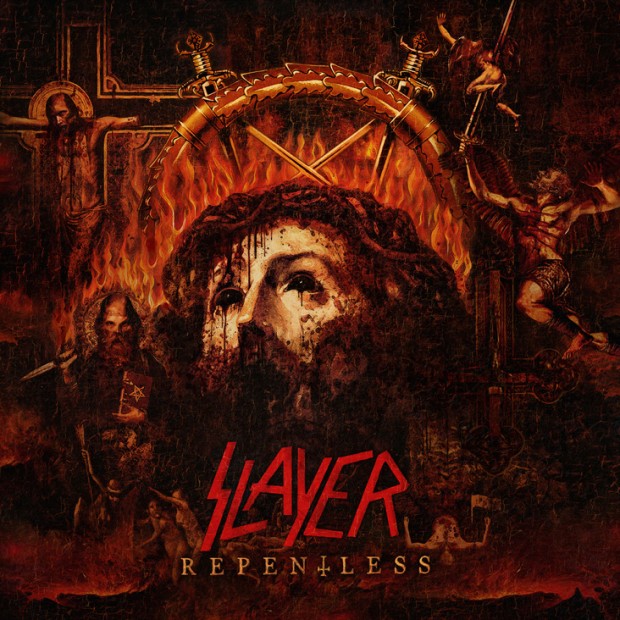 Earlier this week we were teased with the release of Slayer's brand new album Repentless, we can now hear the first example of the finished product!
Though the band may have released new material surrounding the record's release, having released the Record Store Day exclusive that was "When The Stillness Comes" along with previous single "Implode" both in their prototype stages we finally have a real track from the bands forthcoming album.
Title track "Repentless", see's the band very stay in the same vein as they always have. It's as thrash as they come, with Tom Araya's vocal delivery still going a million miles an hour. Kerry King previously stated that its a Hanneman anthem, in tribute to the late guitarist after his passing. Though this is not all that the band have released accompanying the new video the band have revealed the track listing for the new album. If the previous two singles are anything to indicate of what we can expect this might be the most adventurous Slayer album out there. Nevertheless purists will always believe that "old Slayer is the best" which we do sympathize but surely you want to hear some new material from this fantastic band…
Repentless track listing :
01. Delusions Of Saviour
02. Repentless
03. Take Control
04. Vices
05. Cast The First Stone
06. When The Stillness Comes
07. Chasing Death
08. Implode
09. Piano Wire
10. Atrocity Vendor
11. You Against You
12. Pride In Prejudice
Slayer's brand new album Repentless is set for a September 11th release via Nuclear Blast and you can preorder the new album here!