Soilwork, Unearth And More Announce Tour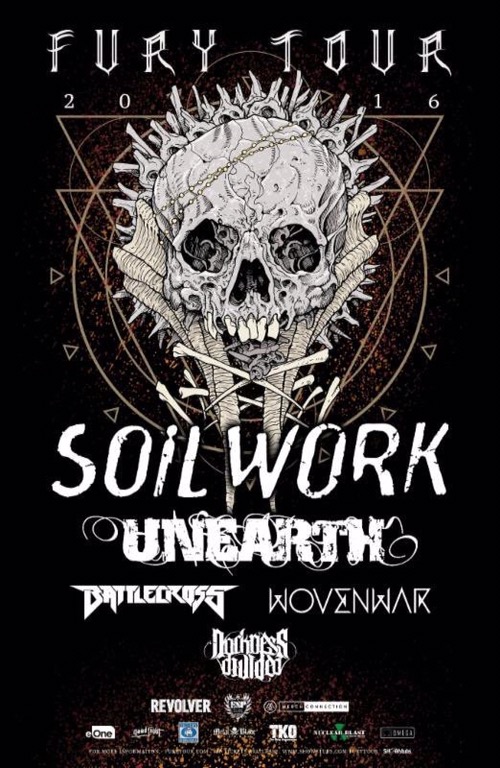 On the back of their forthcoming release next week Soilwork have announced a brand new tour which promises to bring the Metalcore to the masses.
Heading out stateside this October, Soilwork will be bringing with them the Metalcore heavy weights that are Unearth along with Wovenwar. The release of new rarities album Death Resonance should no doubt make for some deep cuts to be released once more.
Currently working on new material we believe Wovenwar might be breaking the silence with a tour as big as this one, I would be surprised if the band had the new record all done up by the time of this tour. Unearth are Unearth, regardless of stage size whenever those boys get together it's a Metalcore massacre.
Check the dates below and see which show you can get to!
10/14 Providence, RI @ Fete Music Hall
10/15 Stanhope, NJ @ Stanhope House
10/16 Virginia Beach, VA @ Shakas
10/17 Carrboro, NC @ Cat's Cradle
10/18 Atlanta, GA @ The Loft
10/20 Fort Worth, TX @ The Rail Club
10/21 San Leon, TX @ 18th Street Pier Bar and Grill
10/22 Austin, TX @ Empire Control Room
10/24 Mesa, AZ @ Nile Theater
10/26 Pomona, CA @ Glasshouse
10/27 San Francisco, CA @ DNA Lounge
10/29 Seattle, WA @ Studio Seven
10/30 Spokane, WA @ The Pin
11/1 Jerome, ID @ Diamondz Event Center
11/2 Salt Lake City, UT @ Metro Bar
11/3 Denver, CO @ The Summit Music Hall
11/5 St. Louis, MO @ Fubar
11/6 Louisville, KY @ Diamond Pub & Billiards
11/7 Kent, OH @ The Outpost
11/9 Ringle, WI @ Q and Z Expo Center
11/10 Arlington Heights, IL @ Home Bar
11/11 Flint, MI @ The Machine Shop
11/12 Pittsburgh, PA @ Diesel
11/13 New York, nY @ The Gramercy Theatre
11/15 Ottawa, ON @ The Brass Monkey
11/16 Toronto, ON @ Rockpile West