Sepultura Announce New Album Reveal Artwork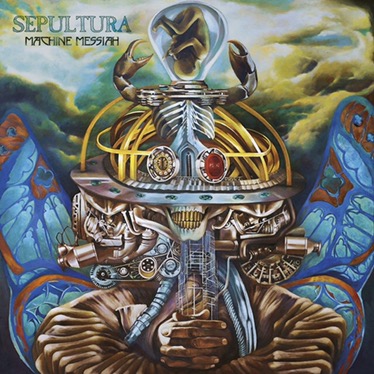 Ahead of their Roots celebratory tour, Sepultura have announced their brand new album.
Set to be released January 13th via Nuclear Blast, Sepultura will be unveiling their latest album titled Machine Messiah. Somewhat portraying assimilation of life and machine the artwork created by Camille Della Rossa, reminds me personally of work by surrealist artists the likes of Dali.
Mirroring the idea of a machine made God who turns the ideas of society on its head. Sepultura guitarist Andreas Kisser elaborates :
"I found the work of Camille Della Rosa during some research I was doing to look for alternative artists to work on the cover of our new album. I had the concept in my mind and the name of the album, 'Machine Messiah', but that didn't matter much since I was looking for different styles and ideas, different artists. When I saw her paintings I was really impressed by her style, full of colours and meaning, very unique and alive! She comes from the Philippines, a place where we performed some years
ago and we could feel the intensity of their culture, very powerful! She has that power in her paintings and drawings!
The main inspiration around 'Machine Messiah' is the robotisation of our society nowadays. The concept of a God Machine who created humanity and now it seems that this cycle is closing itself, returning to the starting point. We came from machines and we are going back to where we came from. The messiah, when he returns, will be a robot, or a humanoid, our bio-mechanical saviour.
It will be interesting to see what kind of sound the band take things in after the release of their previous album. Whatever happens from this cover, it's going to be interesting!