Nile Unleash New Album Details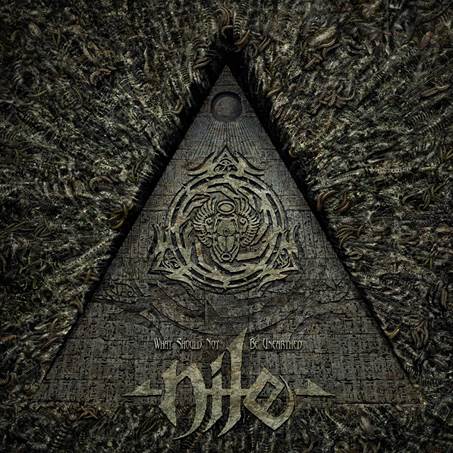 The long wait for our pharaoh's return has come to an end with the announcement of Nile's brand new album.
Announcing a tour recently with label mates Suffocation, the What Should Not Be Unearthed will be hitting up UK and Europe in support of the bands brand new album which as I suspected was of the same name. Announcing today that What Should Not Be Unearthed will be the bands eighth full length. Slated for an August 28th release via Nuclear Blast the new record promises to be Nile's most deadly to date.
Comments Karl Sanders :
All of us in Nile are happy to announce our upcoming newest album 'What Should not be Unearthed' . It's our 8th official album, and this time we believe we have a truly crushing disc to bring to metal fans.  The focus this time around is on brutally heavy metal riffing and songwriting ; kind of like of an AOTW approach but very streamlined to achieve maximum destructive impact. Our last record, 'At the Gates of Sethu' was super surgically clean and very 'musicianship oriented'  whereas the new disc is a polar opposite;
Unearthed is aimed straight at utter metal heaviness and memorable songwriting.  Although Unearthed is still full of the kind of undeniable musicianship people have come to expect from Nile over the years , it's the songs themselves that will hit listeners over the head this time around. These songs will be a blast to play live , and we are stoked at the opportunity to bring these songs to metal fans everywhere.  See you on tour!'
Well that sounds very interesting. Moving into the way that Annihilation Of The Wicked was concocted which is many Nile fans' idea of their Egyptian death metal style perfected. The cover artwork was created by Michael "Xaay" Loranc who deems to have nailed a higher sense of obscure intelligence. Comprised of actual hieroglyphs from The Book Of The Dead along with the classic scarab motif in the middle symbolizing protection, meaning it would be best to leave whatever is in that stone alone…  Put in the words of the artist himself :
 "To sum it up: this album is definitely not a box of candies. Keep in mind that opening the package means you will deal with the deadliest essence…
However, it will be a hard task to hold on to your curiosity. Well… it's a new Nile!'
It's also worth noting that drummer George Kollias has just released his solo album, perhaps in the light of this there might be some more experimentation. Either way, we shall be hearing the return of the kings of death metal this year.
Nile's brand new album What Should Not Be Unearthed is set for an August 28th release via Nuclear Blast and you can preorder limited vinyl editions of the new album here!