Mastodon Reveal Brand New Album Emperor Of Sand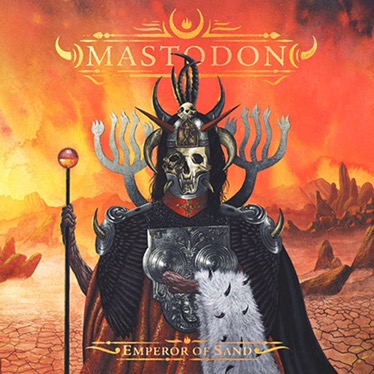 All courtesy of an Australian iTunes preorder.
Well it certainly seems that Apple are getting ncreasingly good at screwing up big announcements. The latest to be suffering the idiocy of the company is Mastodon. Running with the break, as I was thinking the band will be debuting a brand new song later today titled "Sultan's Curse" which I would imagine would be the track that has been put up on the band's 360 style website.
The track is available as an instant grat once you preorder the album.
The album is to be titled Emperor Of Sand with the artwork revealed below as well as track listing. Most importantly however the record will be released as early as March 31st via Reprise Records! Talk about a quick release! The band have a bunch of preorders up for your perusing pleasure over here! Recorded in Kennesaw , Georgia the record's concept will be a man who is cursed to death to wander the sands being a metaphor for death and illness. Now THAT sounds like a Blood Mountain style number. Well, March just got a whole lot more interesting.
Emperor of Sand track listing:
01. Sultan's Curse
02. Show Yourself
03. Precious Stones
04. Steambreather
05. Roots Remain
06. Word To The Wise
07. Ancient Kingdom
08. Clandestiny
09. Andromeda
10. Scorpion Breath
11. Jaguar God