Live Review: Sabaton + Accept + Twilight Force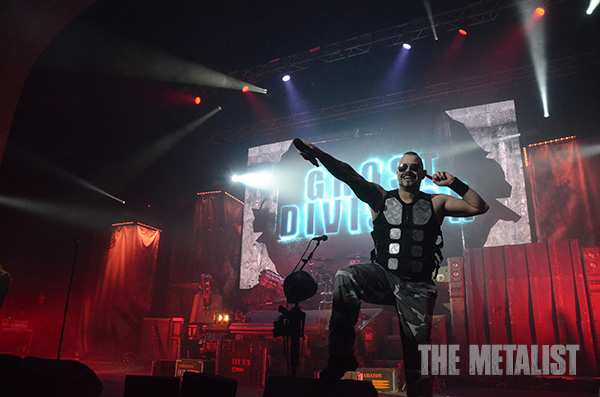 In a world where veterans would take preference over those less experienced in the field, Accept would be headlining this power house of a heavy metal line-up this evening. It just goes to show though, Sabaton are that big now.
14th January 2017
o2 Brixton Academy
London, UK
Support Bands: Accept, Twilight Force
I have been a fan of Accept for as long as I can remember, and admittedly it is a bit strange seeing them support a band I saw with a dingy 15-minute set supporting Dragonforce over 10 years ago. That statement simply goads the idea that the rise of Sabaton is nothing short of extraordinary. I say this every time I've written about the Swedish war machine, but it really does amaze me.
The UK market is so difficult to crack, especially with a gimmick like Sabaton's, but here they are headlining the Brixton Academy with their biggest stage show yet. And they've brought a few friends along for the adventure!
Twilight Force
Oh how I love Twilight Force. It was a match made in heaven for a man that regularly indulges in fantastic tales and has a profound love of metal music. The Swedes that share a hometown with the headliners pushed all the right buttons for me with their over-the-top sophomore effort 'Heroes of Mighty Magic'. They blew me away live a couple months ago supporting label-mates Sonata Arctica, and we're lucky enough to see them again here yet again so soon!
Whether you are in to the music or not, Twilight Force are a visual pleasure. All donned in costumes that Comic-Con goers would be jealous of, the band are so musically over the top that there is hardly a moment where something isn't going on. Between the ferocious shredding in 'Battle of Arcane Might' to the telling of tales in a campfire like fashion in 'Gates of Glory', it's all so much fun. You can't help crack a smile whether you like power metal or not, and I'll be damned if you don't raise your fist and chant one of their hooks at least once during their set.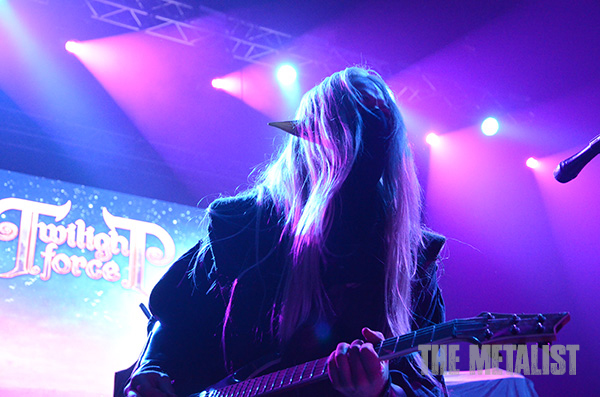 Accept
Chances as are that Accept were rocking venues worldwide when you were still a fetus. The German heavy metal staple celebrated their 40th year last year, and it's hard to believe they are still rocking as hard as ever – and given the quality of the last few albums, arguably harder than ever. As aforementioned it is a little odd seeing them in the capacity of a support role, but there hasn't been a new album in a couple years…and there well could be a fair few fans in the venue who aren't quite aware of legendary status of this band.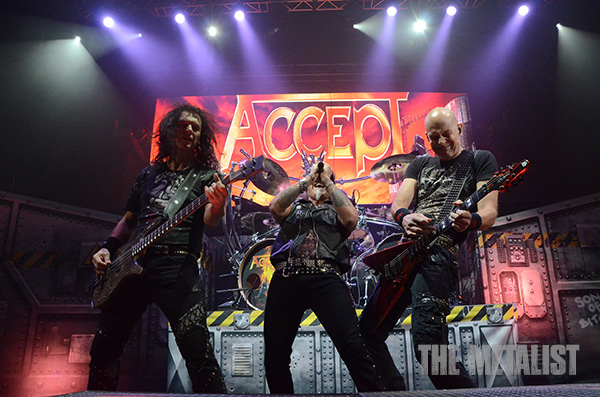 That's OK, Accept are here to teach you a thing or two in the short and sweet time they have on stage. Marching in to the appropriate vision of a German industrial complex, the tempo and riffing of 'Stampede' kick the Brixton Academy into gear introducing their fast and furious sound that has kept this band so recognisable in all these years. It's standard heavy metal, but it's played at it's best, and there is no fooling around.
Vocalist Mark Tornilo has the venue eating out of his hands throughout the set, while prolific guitarist Wolf Hoffman shreds to the grand Accept classics such as 'Princess of the Dawn' and 'Fast As A Shark'. It was actually a tad surprising how many people really knew the old classics given the age demographic of the fans veered towards the younger side. It was pretty heartwarming to see – metal kids paying homage to the grandfathers of heavy metal. And of course they knew the lyrics to 'Balls To The Wall'. I mean who doesn't right?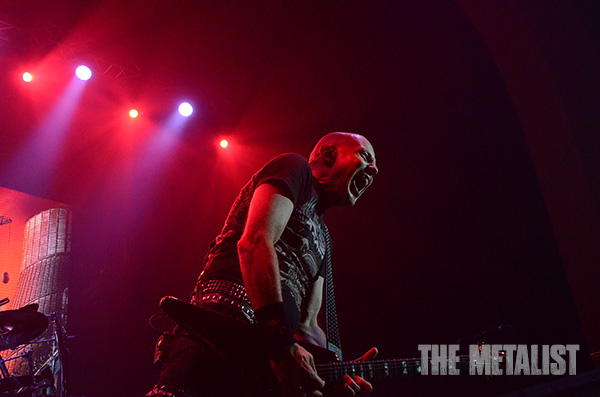 Sabaton
They are the panzer elite. Born to compete. Never retreat. Ghost Division. If a single unit had to embody Sabaton's rise to fame, the unit that was deemed unstoppable in the midst of the Second World War would be it. I've explained my reasoning for my awe in Sabaton's success in previous articles, so I won't do it again. Let's jump straight into their show which marks the largest venue they have ever headlines in the UK, and their new stage show that pushes their boundaries yet again.
It wouldn't be a Sabaton show if they didn't start with 'Ghost Division'. It provides frontman Joakim Broden the opportunity to get into a warlike groove, flying, kicking and punching to the speedy tempos – he is definitely the hype man of modern heavy metal, and that is what really kicks off the evening for every Sabaton show.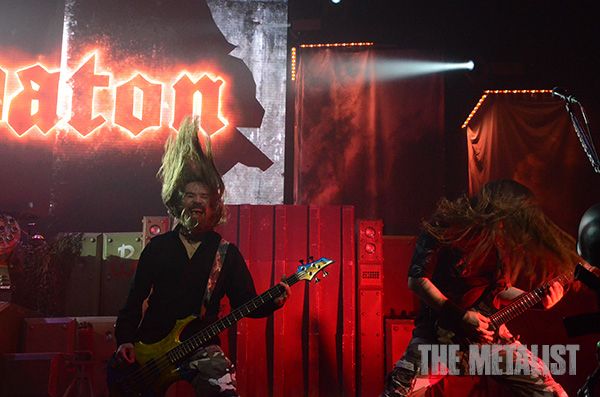 They band opt to mix up their setlist this time around adding more tracks from their newer 'The Last Stand' album, which affords the band opportunities to do things a little different visual. As the fist pumper 'Sparta' begins to rage through the speakers, the audience gets treated to an onslaught of Spartans dashing on stage and leading the cheering. Sabaton well and truly have an army now, leading the 5'000 fans into battle for the rest of the evening.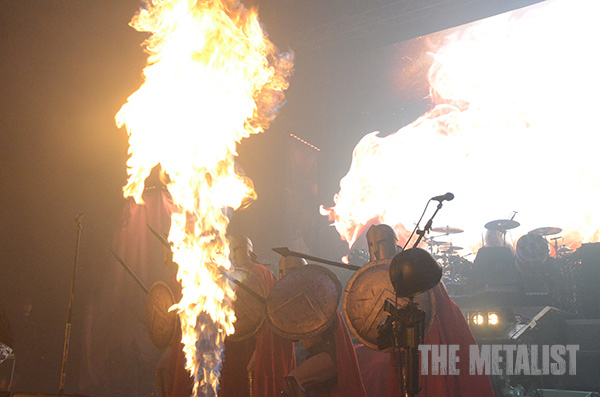 Of course the band didn't forget to treat that army to some of the greats, rationing every great hook and chorus as every revered military commander does. Tracks such as 'Swedish Pagans' and 'Carolus Rex' demanded every voice in the room, and damn near blew the top off the Academy at their prime before the venue was calmed with the traditional band tomfoolery that lightens the hearts of even the most battle-hardened metalhead.
It's no longer hard to see why Sabaton are where they are. It's been a subject that baffled metalheads for years given that this Swedish quintet are such a gimmick, but they are oh so serious about what they do. They have worked hard to get to where they are now, and haven't looked back. The response they get to their classic singalong anthem 'Primo Victoria' allows fans to express that appreciation to a band that truly deserve to be the headliner tonight. It won't stop here, Sabaton are going to cement themselves into heavy metal history. Just wait and see.