Cannibal Corpse, Cattle Decapitation and Soreption US Tour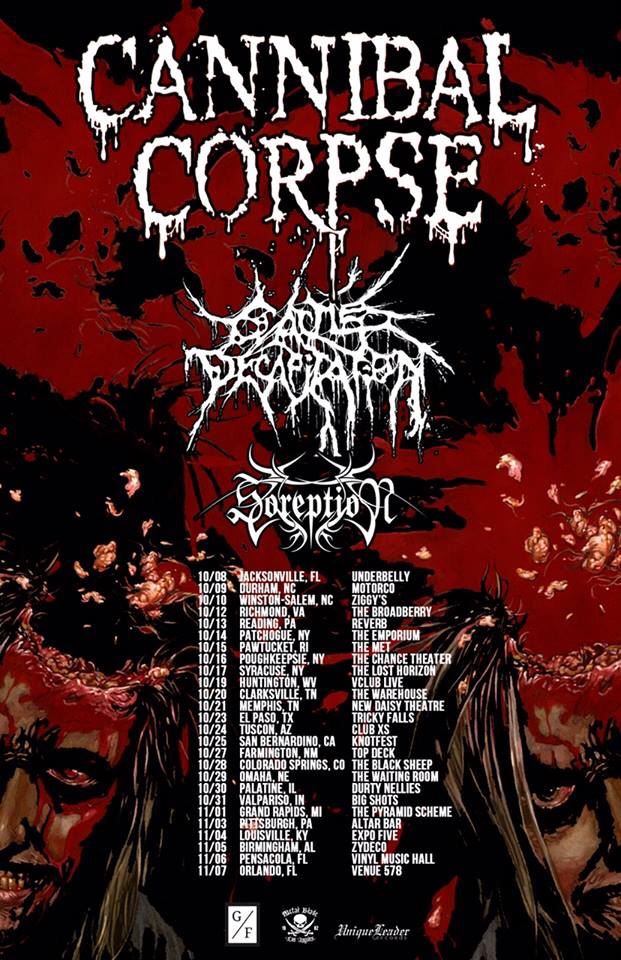 Easily one of the best tours of the yer so far, it would seem that Cannibal Corpse are the kings of incredible line ups.
With the band having performed earlier this year with Behemoth, previously last year with Revocation and Aeon it seems that the list just keeps getting bigger and better. Announcing that they will be taking label mates, Cattle Decapitation out with them along with the incredible Soreption this has got to be one of the most anticipated Death Metal tours in the US this year.
It's also fantastic to see that Cattle Decapitation immediately are getting the recognition that they deserve, having played smaller venues for more than enough time the band have earned this support slot, not to mention that it marries a perfect Death Metal combination. With the classics that are Cannibal Corpse and the new age Death Metal leanings of Cattle Decapitation its going to be a fantastic tour, if only it would come to the UK!
Cannibal Corpse, Cattle Decapitation and Spreption Tour Dates :
10/8 Jacksonville, FL @ Underbelly
10/9 Durham, NC @ Motorco
10/10 Winston-Salem, NC @ Ziggy's
10/12 Richmond, VA @ The Broadberry
10/13 Reading, PA @ Reverb
10/14 Long Island, NY @ The Emporium
10/15 Pawtucket, RI @ The Met
10/16 Poughkeepsie, NY @ The Chance Theater
10/17 Syracuse, NY @ The Lost Horizon
10/19 Huntington, WV @ VClub Live
10/20 Clarksville, TN @ The Warehouse
10/21 Memphis, TN @ New Daisy Theatre
10/23 El Paso, TX @ Tricky Falls
10/24 Tucson, AZ @ Club XS
10/25 San Bernardino, CA @ KnotFest
10/27 Farmington, NM @ Top Deck
10/28 Colorado Springs, CO @ The Black Sheep
10/29 Omaha, NE @ The Waiting Room
10/30 Palatine, IL @ Durty Nellies
10/31 Valparaiso, IN @ Big Shots
11/1 Grand Rapids, MI @ The Pyramid Scheme
11/3 Pittsburgh, PA @ Altar Bar
11/4 Louisville, KY @ Expo Five
11/5 Birmingham, AL @ Zydeco
11/6 Pensacola, FL @ Vinyl Music Hall
11/7 Orlando, FL @ Venue 578