Bloodstock A Metalist Look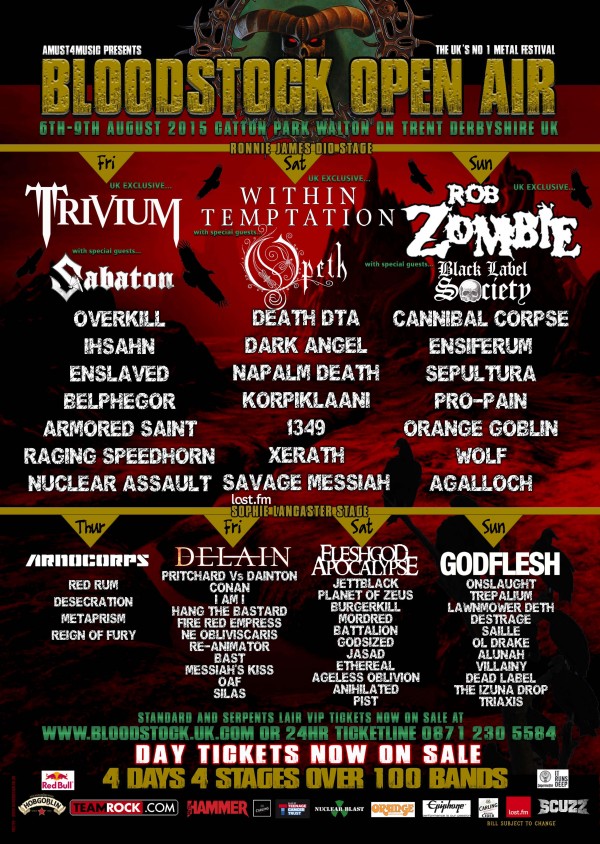 The great pilgrimage will begin soon, for those who deem Download not heavy enough or perhaps for those who missed the boat on yet another sold out Wacken, Bloodstock opens it's bloodsoaked doors. The Metalist will be attending this year and we thought that we would give you guys the once over on who to watch, where, when and why! It's arguably one of the strongest line up's of a Metal festival in the UK in the last couple of years I would contest. So come for the headliners and stay for some of the absolute gems that will be gracing the stages over the course of the weekend…
Having released their brand new album Voice Of Rebellion just last month the classic New York Hardcore crew will no doubt have some choice new tracks to make their debut at Bloodstock's stage. Not to mention their classic material that will go over perfectly in a (hopefully) sunny setting on Sunday. What more could you ask for! Check out the classic "Substance" a treat no doubt if performed live!
Releasing their Prog odyssey last year, we saw the world embrace Pale Communion. Touring the UK and Europe shortly after it's release the band showed us that though they might have become a lot more progressive their material hits harder than ever. With a special one off appearance at London's Palladium where the band will be celebrating their ten years since Ghost Reveries was released and marking their twenty fifth anniversary not only as a band but a figurehead to extreme metal the world over. Not one to miss.
Ne Obliviscaris : 15 :20 – 16:25
Over on the second stage we will be seeing Ne Obliviscaris delivering their haunting melodies. A truly unusual act in the world of Metal the band make absolutely inspired use of a violin to create a sense of melancholy not normally felt in music of such technical magnitude. Releasing Citadel last year, almost all jaws collectively dropped to the floor and seeing the band live is a rare treat not to be sniffed at!
Teasing the public with videos of snow and the like it was revealed last week that there is indeed a new Trivium album appearing. Releasing their new album this October the band will be making a live debut of brand new song "Silence In The Snow". Having never performed the track live before this will make for a fantastic treat, among all the classic Ascendancy solo-rific tracks as well of course. It will be interesting to see how Trivium take on a headline slot for a festival, though from their impressive portfolio of appearances live, we think they will be just fine. Not to mention that Matt Heafy, a huge Emperor fan will be playing the same day as Ihsahn, perhaps a collaboration might be on the cards for a track?
Another live debut will be coming from the form of Ex-Evile guitarist Ol Drake. Releasing his first solo album the man has decided to perform at this years Bloodstock on the Sophie Lancaster stage. Save for a small hometown show in Huddersfield this will be the first time that the guitarist will be performing material from his new record Old Rake live. Though I'm not sure how he's going to get Josh Middleton, James Murphy and a load of others on that stage with him!
Ahead of the assault upon the UK next month the Norwegians have decided to come and show us what we're all in for. Releasing their brand new album In Times this March it has seen the band already work their way across America with support from Yob and now the festival circuit. No doubt that tracks like the furious "Thurisaz Dreaming" would go down just as well in a festival atmosphere than in a packed out club. Make sure you get there fairly early though!
A bright an early rise for the band who will be opening up the main stage on Sunday. Releasing the haunting The Serpent and The Sphere it would be worth leaving that one more drink on Saturday evening to be treated to the spetacle that will no doubt be abound for the band. Perhaps a gloomy way to begin the day but will no doubt softly move you from the earth shattering hangover that you're sure not to get…
Cannibal Corpse :

 

17:55 – 19:30
Bands like Cannibal Corpse need no introduction, a mainstay of the Death Metal genre the band released their skull crushing latest effort A Skeletal Domain just last year. In my opinion one of the band's finest achievements the record showcased not only choice song writing but some elements that have previously eluded the band, one being some form of melody. Mind you tracks like "Stripped, Raped and Strangled" or "Hammer Smashed Face" were never made to be serenaded…
Napalm Death : 15:20 – 16:35
A household name in the Metal world the band are one of the most visionary acts to come out of England. Now playing just down the road the Brummie bunch will laying waste to Bloodstock this weekend, this year saw the release of their new album Apex Predator – Easy Meat, which to some was a bit of a disappointment. A words not normally associated in Napalm Death's vocabulary. Having seen the material performed live before you can bet that a rendition of "Stubborn Stains" will have everyone losing their collective minds.
After the far too early demise of Death Metal genius that was Chuck Schuldiner, the band's manager Eric Grief decided to honour the absolutely astounding musician. Since then there have been rotating line ups from various classic albums from Human to Individual Thought Patterns, performing alongside Obituary and Carcass stateside. Playing material from the magnificent seven, this line up will consist of the classic Symbolic album rotation of players. Death will no doubt be playing absolute classic material that would suit fans from Scream Bloody Gore to pinnacle of Progressive Death Metal that was The Sound Of Perseverance. A definite and poignant highlight of the festival.
Rob Zombie : 21:15 – 22:30
Always knowing how to make an entrance the rockstar come film maker will be closing Sunday's proceedings, no doubt in style. Treating us all to classic tracks like Mars Needs Women, Sick Bubblegum it's no doubt going to be a great way to end the festival. Not to mention the performers eye for the un ordinary. Having seen the man at Download closing the second stage a couple of years ago you won't want to leave early on Sunday evening.
Bringing the blackened frosty touch to Friday we will see Ihsahn perform on Friday's main stage. The more elusive kind of performer in the metal spectrum this will no doubt be an interesting set, perhaps adding in material from his Emperor days, nevertheless if not Das Seelenbrechen is an absolute tempest of an album that is impossible to ignore, who knows maybe the roles will be reversed and Trivium might joint the main on stage!
Belphegor : 14:05 – 15:15
Teaming up with the seemingly multi faceted extreme metal maestro Erik Rutan last year to release the crushing Conjuring The Dead the band had a scheduled US tour which sadly didn't happen in the end, nevertheless we are now able to hear the band performing material from classics as we all crushing tracks from their newer works a great way to help get the festival kick started.
Bloodstock is held this weekend August 7th to August 9th in Catton Park, you can pick up day tickets to the event and for more information check the poster at the top of the page. See you in the pit!