Battlecross, Allegaeon and More Announce Tour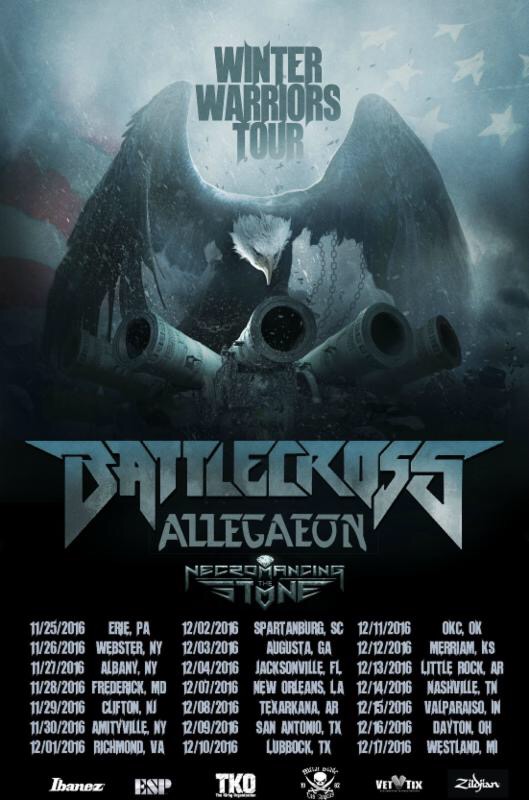 Banding together this Autumn for what will be no doubt a wicked shred fest Battlecross will be taking the boys in Allegaeon and Necromancing The Stone out on tour.
The third instalment of the Winter Warriors tour promises to be the biggest yet. Though it's somewhat different from the likes of normal tours as members of the US Armed Forces will be able to get into the show for free as well as Battlecross donating some of their income from the tour to the veterans foundation in each city they visit.
US soldiers can register for their tickets here! Both general on sale and vet tickets will be available September 23rd.
11/25 Erie, PA @ Basement Transmissions
11/26 Webster, NY @ Harmony House
11/27 Albany, NY @ Fuze Box
11/28 Frederick, MD @ Cafe 611
11/29 Clifton, NJ @ Dingbatz
11/30 Amityville, NY @ Amityville Music Hall
12/1 Richmond, VA @ Strange Matter
12/2 Spartanburg, SC @ Ground Zero
12/3 Augusta, GA @ The Iron Heights
12/4 Jacksonville, FL @ Jack Rabbits
12/7 New Orleans, LA @ Southport Music Hall
12/8 Texarkana, AR @ Shooters
12/9 San Antonio, TX @ The Korova
12/10 Lubbock, TX @ Jake's
12/11 Oklahoma City, OK @ Thunder Alley
12/12 Merriam, KS @ Aftershock
12/13 Little Rock, AR @ Rev Room
12/14 Nashville, TN @ The East Room
12/15 Valparaiso, IN @ Big Shots
12/16 Dayton, OH @ Rockstar Pro Arena
12/17 Westland, MI @ The Token Lounge