An Interview With : David Jordan (Long Distance Calling)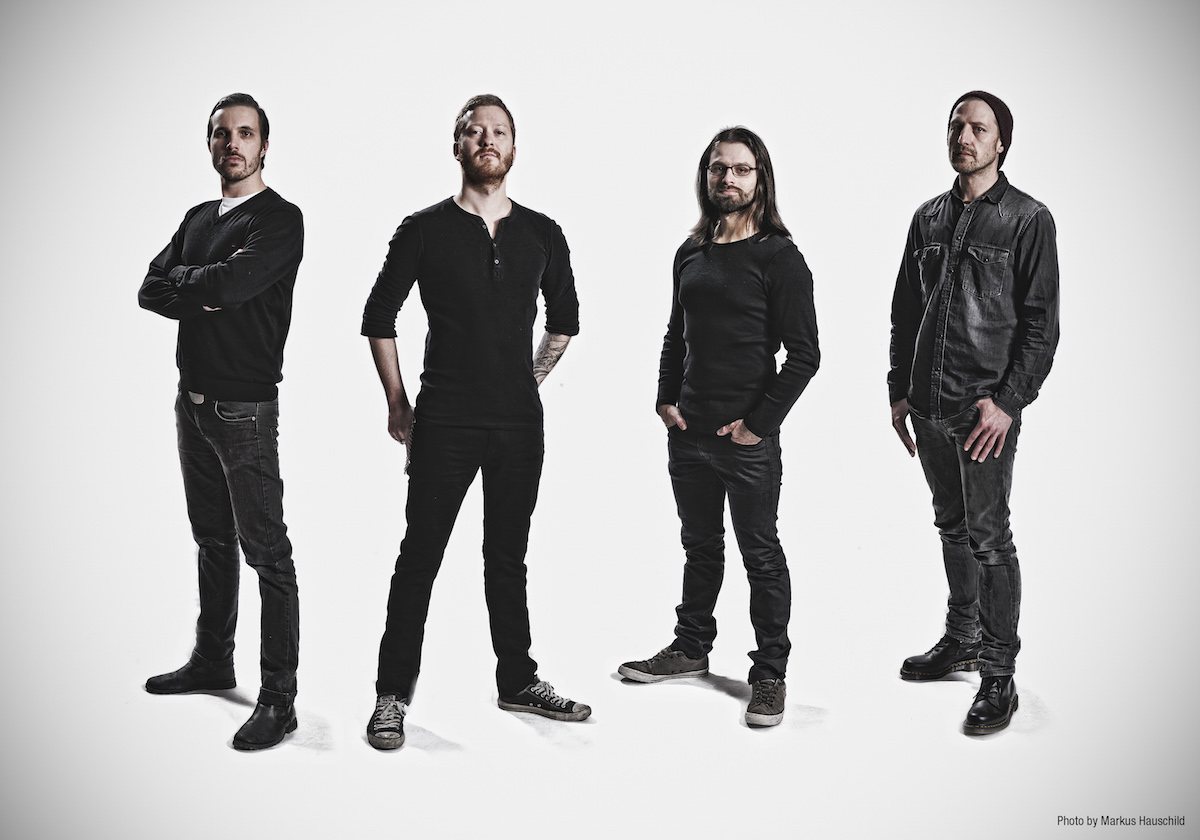 Instrumental bands are often tarnished somewhat with the connotation of solely appealing to those versed in music. Often giving people the illusion that it's musicians music for musicians Long Distance Calling thankfully break this preconception ha I released their brand new album TRIPS this April the band entered uncharted territory. Forging forward further than the likes of the contemporary instrumental bands the band decided to take the step to enlist singer Petter Carlsen to sing for the band. Having previously only had one or two tracks on their latest outing the band have upped the ante to a total of four tracks. Shortly before wowing the Boston Music Room's in London we caught up with guitarist and song writing main man David Jordan to talk TRIPS, the metaphysical and of course Prog.
I'm here today with David from Long Distance Calling, how are you?

I'm fine so far! Just travelled to London today, yesterday was the Netherlands.

How was the Netherlands show?

It was ok! We were in Tilburg at the old 13, where we have been I think seven times for now so its a common area.

Trips has been out for two weeks now. What has your reaction been so far about the record from fans?

Both. Very good reactions due to the voice and the sound and the song writing especially. Very good, we charted in Germany place 23 which is awesome for us, this is really cool! Yeah there are some haters that don't like the voice stuff, just like to keep Long Distance Calling as it was. There are these poles inbetween…

But you have had voices, people singing before?

We've had voices on every record! Satellite day was Peter Dolving, Waterlight was Jonas Renkse from Katatonia and John Bush the third album from Armored Saint so I wonder if its just wow, whats the problem?!

I was going to ask, obviously you want to be an instrumental band but you want to have that vocal melody. What made you decide that you wanted to have a bit of the two?

Because, just like the other albums it was just like "Ok lets do a song and then somebody sings on it." This time we wanted to do the challenge, hey lets write a vocal song together with a vocalist. How about that! Just to involve him in the whole process, so that was the idea of doing more.

There's four tracks with vocals.

Its four tracks yeah!

So that's the most that you've ever done. What about the overlying theme in TRIPS. I hear time travel and things like that…

The overlying theme is time travel within dreams!

Wow.

For me because we have these vocal songs and we have instrumental songs. The vocal songs we kind of want to tell some of our thoughts about the theme. The instrumental tracks are like "Hey let the listener do his own journey and kind of a soundtrack for that journey." So this is what it is for me!

Oh right! That was another thing, especially the later tracks the twelve minute finisher…

Yeah "Flux!"

That is really really cinematic,so thats exactly how it was designed?

Just like it came from a jam but this song especially was designed to give you time. A lot of time, a lot of opportunities and a lot of feelings and emotions.

Twelve minutes of emotions!

Hahaha twelve minutes of emotions, real emotions!

What was it like writing the album then?

It was exciting, it was difficult. A lot of argument in between the band. We just began to do it within two sessions in a house in the woods.

How very Black Metal!

Hahaha just like that! We were there for two times for five days just to be kind of focus on the songs and not our everyday life. Everyone has got a job and stuff like that so when you're trying to jam and play and then you have to check your emails it just doesn't work so we went out to escape. So we started a lot of jamming tracks a lot of jamming parts.

Some of us had some parts already done with guitars, bass and drums that evolved then we got to the studio. Performed it, tried to record it and thought "Ok cool thats not so cool, lets change that" did a second run maybe on the song. "Ok this part is not good maybe lets waste it, its not good enough". "Lines" for example was a song in the beginning, now at the end of the end of album work none of the first parts are included. The first round I think we changed the chorus and then we thought that the chorus is cool but now the verse is not fitting! Lets change the verse too!

Its a really strong chorus "Lines".

It is but the journey was long haha!

What about the album's artwork, what is that meant to symbolise?

For me its just like showing surreality. Sometimes you don't know how to decide between reality and a dream. For me its a sign for surreality, showing a little hint on TRIPS. TRIPS is not an album about drugs and stuff like that haha!

So its a metaphorical, metaphysical sort of thing?

Yeah exactly!

What inspired you guys to have more vocal tracks this time?

It happened. It just happened! We just wrote all of the songs and just thought hey this is a part maybe where the vocals could fit, this is a song where they won't fit anyway and we worked like that. There wasn't a decision to do half and half it was just ok lets see what happens.

Petter Carlsen, what made you want to work with him?

We knew each other already since the tour with Anathema in 2010 so we became friends there and Petter also sang with Vincent on the previous album on Welcome Change which he will do today too. The thing was, we had a singer Marzen and the previous album The Flood Inside but Marzen left the band he was into more personal stuff, more into drawing and became really good and had to come to the decision OK what am I doing now, am I doing the band or the business with my drawing. So I said it was ok just go your way! Then we had unfortunately the situation that we had an album done but no singer! So we just called Petter, "What are you doing the next few weeks? Would you like to come around?!" Ok lets do it and then he was there for four days in the studio in our hometown.

Just four days?

Just four days! Everything was written and done and we had to do the lyrics and the vocal lines just to adjust it to Petter because Marzen was more in the frequency of the guitars and Petter was one octave above or just around. We've got more freedom on our part and he's got more freedom up. On top of us, this really fitted really good.

Do you think its going to be something completely different than anything you've ever done before and you migth go there again. Because you've got this vocal melodies?

I think this kind of music is just possible with Petter. Definitely, definitely.

What about you personally, what are some of your influences musically?

Ok! Well I've got a lot haha! In the past year I have evolved to listen to everything but just as a music wise I'm not going to listen just to Prog or Rock 'n' Roll or things like that. I listen to everything but in every music there is really really good stuff, you don't find that that often and there is a real bunch of bullshit. Just like I'm listening to Prog, Tool, I used to listen to Dream Theater and sometimes like them too. I like Dire Straits, I like Phil Collins! I like…

Genesis?

Yes! And I like Muse and I like Queen just like Alice In Chains, Deftones, A Perfect Circle! Stuff like that so its spread but I don't listen to every single kind of band in this musical style.

Just whatever you like!

For me its important to hear on a record the music, that there is some passion in it and somebody just sat there and said I have to queue these ten songs even better. For example the Mezzanine from Massive Attack, its a record completely done out of samples. You can hear that every sample is just set right. Somebody sat there for maybe three or fours days just getting samples on the sticks. Somebody that thinks Ok if I'm doing this nobody would hear it, nobody would do it anyway. He thinks eh would it sound better if I would do it that way? I want to listen and I want to hear that. This is why some records I very much like and others don't.

What about you, Long Distance Calling is very organic but does it have quite a meticulous work to it? You always make sure that you've got everything dead on or is it kind of a bit of a jam?

Its both! Just like "Momentum" for example, its quite jammy and its up tempo and stuff like that and it lives a little from the imperfection for example. The other song "Plans" which is my favourite song is very emotionally deep and to create that it was not that easy so I just have to do some Dobro stuff on a Lesley to create these spooky atmosphere and do some bottleneck stuff to underline that. Thats more difficult and the biggest problem is that if you have a sound or a kind of playing it in your head and you're unable to play it like that then you're stuck! Just go practice upstairs up until tomorrow haha!

As a partly instrumental band, do you find it hard to convey emotion? A lot of instrumental bands are widdly and all this sort of stuff. Was that something that you wanted to try and make sure that you bring to the audience?

Yeah, yeah I think that the best thing you can try for yourself is just to play your own emotions. These are ones that you, yourself understand well and I think that's the best way to show them to the audience and to others. Its difficult to emphasise emotions from others in your music. Its very detailed and everybody reacts differently on a certain trigger or something like that. I think its just honest to show your own emotions and not to copy stuff or something that like that.

What about lyrically, did you guys all come together to write the lyrics? Or is there always one lyricist?

No it was Flo, Jan mostly those two just like the last round was better together just to fit in the melody and the voice.

Do they kind of try and encompass this reality dream kind of thing or is it individual sections?

We kind of set some overlying themes for the vocal tracks, some parts are personal in the lyrics and some parts are more fictional but with background.

Like I said earlier on, its quite a cinematic piece. I never really listen to it one track at a time, I listen to the whole thing.

Cool!

Was that something that you wanted to bring to the table that you would have this cinematic atmosphere?

For me personally its very important because I always listen to albums! It doesn't happen much that I listen to tracks, maybe pop songs and stuff like that just always albums and I love the dramatic evolution of LP's and albums, thats important for me. To get into one mood, evolve it and just fix it and then softly get out of the mood maybe. TRIPS we tried to make it possible to hear it in a circle. "Getaway" is rising slowly after "Flux" the keyboard outro and it erases you so you can just start again.

It sounds like you're a pretty big fan of concept albums!

Yeah! I used to listen to Prog haha!

So what would you say are a couple of your favourite concept albums?

Scenes From A Memory, Dream Theater! I like to listen to it for now too. The Wall of course, really cool. Even the Final Cut from Pink Floyd, I think its an underrated album and even from Roger Waters Amused to Death.

Its just been released?

Yeah it was just last year.

Finally, this kind of coincides with what I have just asked but what has been a record that you have been listening to for the last six months to a year?

In the last two years I got pretty much into Jeff Beck. I love it, emotionally it fits my feelings so I really really love him and even Phil Collins.

What kind of Phil Collins haha!

The first four albums just like Face Value,Hello, I Must Be Goin', No Jacket Required and But Seriously.

Thank you ever so much for speaking with us today!