Album Review : Six Feet Under – Torment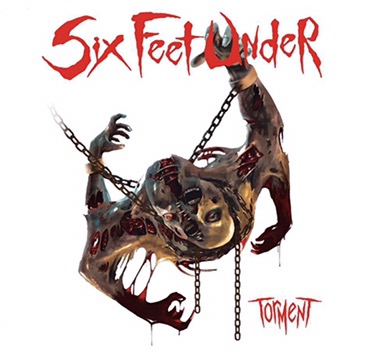 The idea of dualism in human nature is one as old as time itself. The concept of the ying and the yang, without one, you cannot understand the other. Once more returning back from the undead studio Six Feet Under unleash their study in the art of balance, Torment.
Tracklist:
Sacrificial Kill
Exploratory Homicide
The Separation Of Flesh From Bone
Schizomaniac
Skeleton
Knife Through The Skull
Slaughtered As They Slept
In The Process of Decomposing
Funeral Mask
Obsidian
Bloody Underwear
Roots of Evil

Length: Enter album length here
Label: Metal Blade Records
Release date: February 24th 2017

In keeping with this idea of contrast each track almost has two sides to it. Slowly kicking the album off with a delightfully twisted diminished scale verse "Sacrificial Kill" lumbers forward before the arrival of blast beats as the track speeds up temporarily, mimicking the frenzied identity of a killer. Similarly the pattern is followed on the almost doom like "Slaughtered As They Slept" whose introduction wouldn't sound amiss amongst Paradise Lost before revealing its true nature with a genius groove laden riff that has Cannabis Corpse written all over it courtesy of one Jeff Hughell.
This is hardly Necrophagist level Death Metal but instead groove is Six Feet Under's poison. With a solidified line up it's clear that musically the band have found their stamping (stabbing?) ground here. Emphasising the presence of bass, its presence is a lot clearer than that of Crypt of The Devil. Mini standout moments lurk all over the metaphorical musical graveyard particularly on the brilliantly groovy "Schizomaniac". Potentially the bands strongest material in a recent while the likes of ever changing "Skeleton" make the song interesting rather than following too much of a formulaic pattern. Not to mention Barnes vocals are some of the best in years! With husky barks coming through and wheezy highs still doing their work.
"In The Process Of Decomposing" cuts straight to the point, no messing about. Grooving its way throughout the song will no doubt have you bobbing your head up retaining a somewhat slightly non Death Metal feel its a refreshing take on material. Fear not those worried that Barnes' horrific lyrics wouldn't be there, you'll get your fill on "Bloody Underwear". I won't go into detail but its definitely what you think it might be about. With "Roots of Evil" finishing off the listener bringing the album to a well rounded close. In the study of duality and returning with a solid line up, Six Feet Under have released possibly their strongest record in a long while which whilst it might be formulaic will have long time fans championing the band and bringing new (undead) heads rolling in.
Depending on where you lie in Death Metal, Six Feet Under won't have those who are looking for their fill of technicality wowed. However if you're looking for straight head banging groove then look no further!
If you like what you read / heard then you can pick up the brand new album here!