Album Review: Gloryhammer – Space 1992: Rise of the Chaos Wizards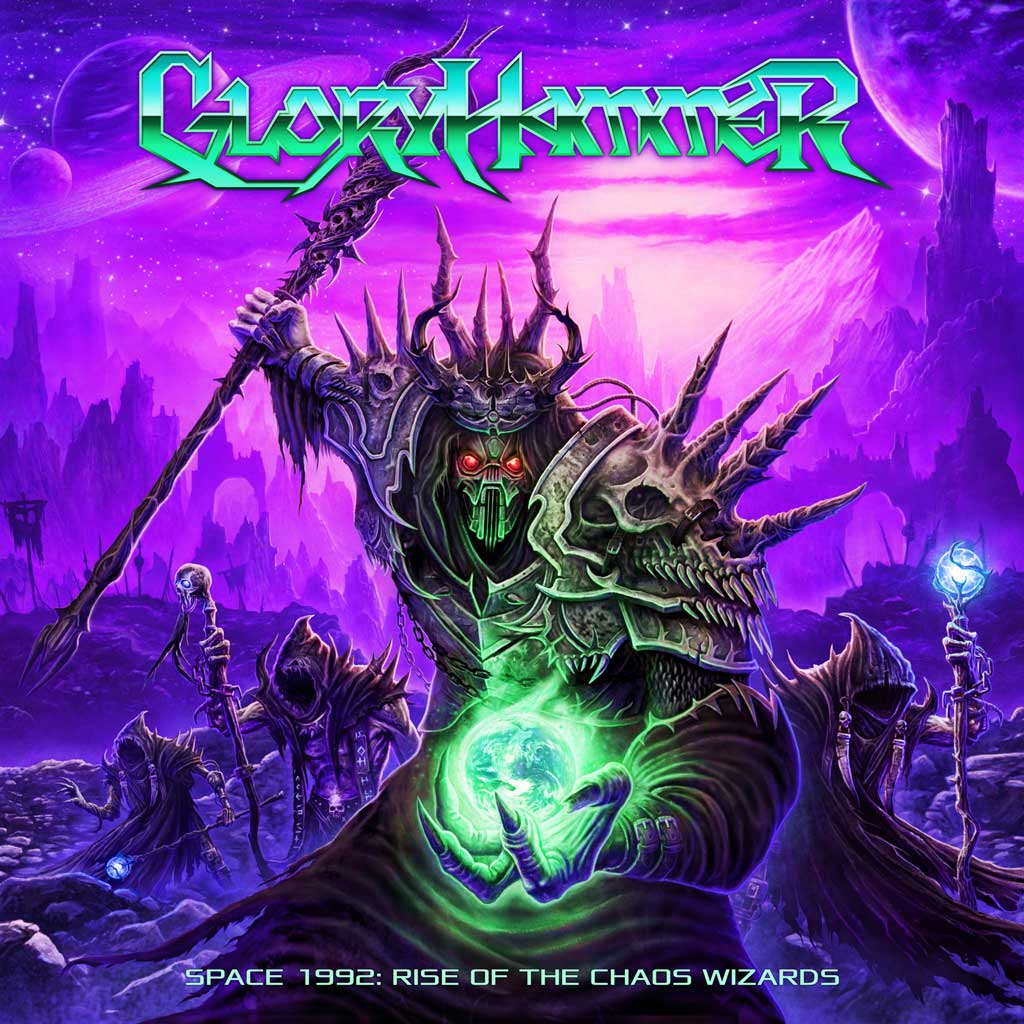 The next chapter in the epic that is Scottish power metal has been written, and Dundee is under threat again…it's time to travel to 'Space 1992: Rise of the Chaos Wizards'.
Tracklist:




01.

Infernus Ad Astra


02.

Rise Of The Chaos Wizards


03.

Legend Of The Astral Hammer


04.

Goblin King Of The Darkstorm Galaxy


05.

The Hollywood Hootsman


06.

Victorious Eagle Warfare


07.

Questlords Of Inverness, Ride To The Galactic Fortress!


08.

Universe On Fire


09.

Heroes (Of Dundee)


10.

Apocalypse 1992


11.

Dundax Aeterna


Length: 52:27
Label: Napalm Records
Release date: 25th September, 2015

If you listened to Gloryhammer's debut album 'Tales from the Kingdom of Fife', you probably found it entertaining one way or another. If you are indeed a power metal fan, the music was majestic and each track was as epic as the next. If you are not a power metal fan, you probably would have loved it as being an absolute piss-take of non-sensical European fantasy metal. It's hard to believe that Gloryhammer is actually a side project of Alestorm mainman Christopher Bowes, the band has proved they are that good and have taken the most indirect route of being one of the most exciting bands that power metal offers these days. So we simply must review the next chapter in their saga, and we travel to the future in 'Space 1992: Rise of the Chaos Wizards'.
A brief explanation of the story is told in dark undertones in the beginning of the album, one that we cannot begin to make sense of, but the music progresses into oddly nostalgic tones of something you might hear in the opening title screen of your favourite Nintendo 64 epic. Suddenly it all becomes power-metally with 'Rise of the Chaos Wizards' kick in to full Rhapsody-esque force. While you sit and reminisce about the days where you would hold plastic swords in your hands while reciting your favourite lines out of 'Symphony of Enchanted Lands', it's the track 'Legend of the Astral Hammer' where the full might of Gloryhammer really kicks in.
It's all there, and it's all fantastic. Simple hooks, epic keyboards and thunderous drumming provide the backdrop to absolutely brilliant nonsense – an ode to every mainland European power metal band that has thrown every epic adjective after adjective before noun in attempt to outdo each other in creating the perfect 'cinematic' metal experience.
Make no mistake though, Gloryhammer are serious about their music. While titles like 'Goblin King of the Darkstorm Galaxy' or 'Victorious Eagle Warfare' may make you belt out laughing, it is some of the best power metal on the market. Well constructed tracks that really do take you back to the best days of epic power metal masters such as Rhapsody and Hammerfall, and of course in the songwriting you can hear that Alestorm 'quest music' touch with the synths in the background being the focal point of each track. It's been a while since music has truly made me want to dramatically sing along and move my hands accordingly – and buy a horse and sword – or maybe in the case of this album a spacecraft and wizard's staff.
It's rare to see such a great sense of humour in musicians who produce such brilliant music in parallel to such ridiculousness. 'Space 1992: Rise of the Chaos Wizards' is one of those albums that you will absolutely love, or love to hate. Whatever the case it's something worth having on your shelf. It's start to end entertaining or at the very least it's a point of conversation between music enthusiasts. So space suit up – 'Space 1992: Rise of the Chaos Wizards' is a jolly good ride!
Gloryhammer have taken the absolute best and worst of epic European power metal of the last 20 years and forged a seriously entertaining album. Ridiculous lyrics, epic music all packaged in an arcade space theme. Why not right?!