Album Review: Scarleth – The Silver Lining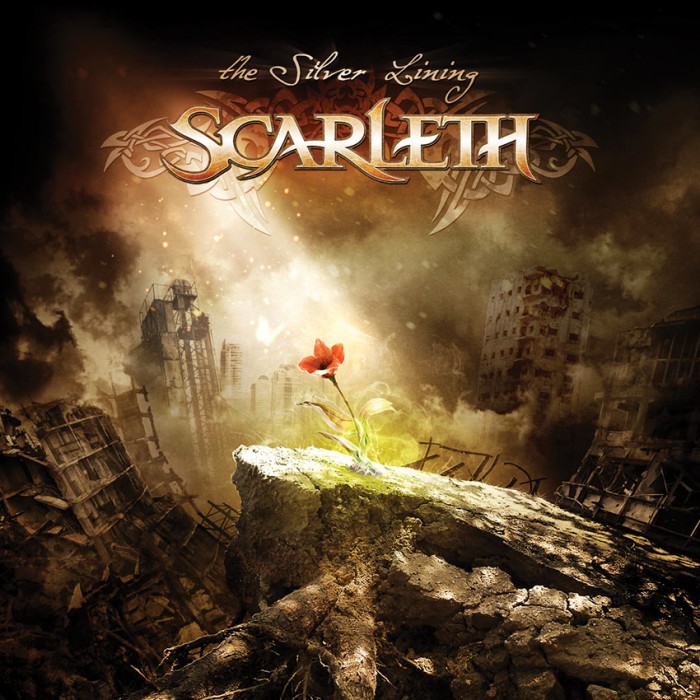 Ukrainian Melodic Metallers Scarleth has had quite a rugged journey since their formation in 2005 by founding member, Victor Morozov (guitar).  Battling through an immense amount of lineup changes throughout their career, where many bands would have called it quits.  Luckily, Morozov held his determination, and now Scarleth released two full-length studio albums.
Tracklist:

01. Night Of Lies
02. Double Memory
03. The Gates Of Dark Sun
04. Voices
05. Dying Alone
06. One Short Life
07. Before The Night Falls
08. Pure Desire
09. Last Hope


Length: 50:02
Label: The Leaders
Release date: 11th July 2015

Stylistically the band expanded with modern Metal twists that include a cocktail consisting of Power, Folk, Doom, Gothic and Progressive Metal.  The release of 2015's The Silver Lining on the Greek label, The Leaders Records, infused one fine innovated glass of a pure underground musical gem.
Unfortunately, the current lineup did not participate in the recording process that was held at Morton Studio in Kiev, Ukraine during the months of October 2014 – January 15th.  Where the only members that were present included Morozov and vocalist Oksana Element, who recorded the extreme vocals.  Session musicians Irina Makukha (vocals), Anastasia Dmitrieva (keyboard), Vladimir Ishchuk (keyboard), Max Morton (bass) and Dmitry Smotrov (drums) participated in the latest project.
Kicking off on a strong note from the get-go with "Night of Lies," as it allures the listener to a Gothic and mystical atmosphere.  This song holds a catchy chorus, where it will suck you in after the first listen.  Remaining heavy as the next "Double Memory" ignites where it mostly focuses around the synthesized keyboard enhancements.  This is where you can hear elements from bands such as Nightwish, Amaranthe, and Amberian Dawn, however, keeping an innovative style of their own.
Slowing down during "The Gates of Dark Sun" with its Folk and Celtic influence that clocks in as the longest track of the album for just over 8 minutes.  Demonstrating a different range for the band, yet it doesn't entirely work for them, or maybe it would when performed live.  The song is beautifully composited with a use of delicate vocals and distinguished basslines, however, it felt a bit too drawn out.
Thankfully the best track of the album, "Voices" aggressively hits next and this is a song that I have personally listened to on repeat.  One listen is not enough, you will want to hear it, at least, two times in a row before moving on.  "Dying Alone" somberly chimes in next as the keys morbidly continues to carry out the dark and depressing theme the album showcases; loneliness, heartache, and pain.
"One Short Life" generates a Power Metal to Rock Opera style as the vocals drift towards a theatrical sound.  A few Jazz elements are briefly displayed in "Before the Night Falls," as it has one of the best instrumental moments in the album's entirety.  It is as though it tells an ancient tale, with its classic sound leaving a darkened Victorian romantic genre.
After a few slower paced tracks, the album picks up once again during "Pure Desire" with its speedy electronic movement accompanied by guitar riffs.  Another stronger track of the album as the lyrics allude to be about someone losing their mind due to uncontrolled desires.
"Last Hope" closes the album that incorporates Symphonic Metal to a Rock Opera once again as it soothes the listener to the end. Overall, The Silver Lining is a terrific album, and hopefully with the latest lineup, the next album will bring in more of a Melodic Death – Symphonic Metal style.
Talent, energy and style will surprise and engage the listener after each and every song. You will be left thirsty for more
Written By,
Zenae D. Zukowski