Album Review : Firespawn – Shadow Realms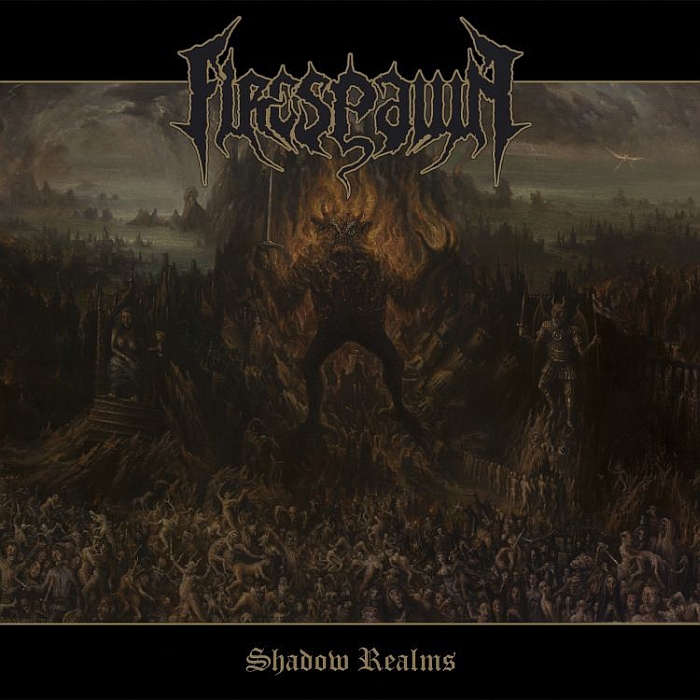 Death Metal isn't quite the same as it used to be. With bands appearing left right and center the genre is an ever changing entity. Deciding that their respective bands just weren't a destructive enough output L.G. Petrov, the man behind the inaugural grunts of Entombed, Victor Brandt Entombed's new guitarist, Unleashed axe man Fredrik Folkare, bringing up the rear with A. Impaler form Folkare's sister band Necrophobic and finally sticks man Matte Modin we welcome the age of Firespawn.
Tracklist:

1. The Emperor
2. Imperial Burning
3. Lucifer Has Spoken
4. Spirit Of The Black Tide
5. Contemplate Death
6. All Hail
7. Ruination
8. Necromance
9. Shadow Reams
10. Ginnunga
11. Infernal Eternal


Length: 40:00
Label: Century Media Records
Release date: November 13th 2015

"Abandon hope all ye who enter here" a classic section said to be before the gates of hell. Taking absolutely no prisoners the album doesn't let up on iota. The solemn horn opening of "The Emperor" recalls the classic quote upon entering the land of the horned one. With both guitarists covering both sides of tight rhythmic playing whilst Fredrik Folkare also delivers his signature leads. The true jewel in Firespawn's crown however is originality, not one section of the album does it sound like a rehashed amalgamation of the respective members bands. Tracks like "Lucifer Burning" might not quite be as fast paced but the song writing is airtight. Dripping with malevolence the record slowly assimilates the listener, turning their once pleasant existence into one of morbid anguish.
"All Hail" being a shining example of the bands flawless songwriting ethic, bringing together a cohesive and memorable track that doesn't forfeit any relentless destruction the band conjure so easily. A nod to Folkare's lead work however makes the album work both in the vein of classic Old School Deah Metal but with melodic and ultimately recognisable solo's instead of nondescript widdling peppered with divebombs. Added with the juxtaposition of the soft acoustic setting of instrumental "Contemplating Death" before it makes the track all the more enticing.
Production duties on the album are handled beautifully with there being just enough grit to bring to mind the early nineties Death Metal era yet with a contemporary touch. Songs are given identiy instead of endles D Beat style drumming with the same overdone buzzsaw guitar riff. Teetering on the technical "Necromance" see's a riff that would make our Polish cohorts blush, yet without sounding like a carbon copy the band have stamped their own identity on the track. Therein lies the rub, the fact that the band have all been composing music for many different years, coupled with the slight variance in each other's playing styles lends for there to be a different a most importantly tantalizing sound.
Special mention should go to the destructive delivery of Petrov on "Shadow Realms". With the heavier aspect of the music to deliver earth shattering lyrics to a match. Sapping even the happiest people's souls. Feeding off misery the band thrive in despair delivering an album that is as despondent as it is destructive to miss out on this gem would be to miss out on death itself.
Combining despair with devastation Firespawn live up to their name destroying all they touch. Classic Old School Death Metal with contemporary touches and flourishes of melody make Shadow Realms an absolute must for any Death Metal fan.
If you like what you read / heard then you can pick up the brand new album here!