Album Review : Black Star Riders – Heavy Fire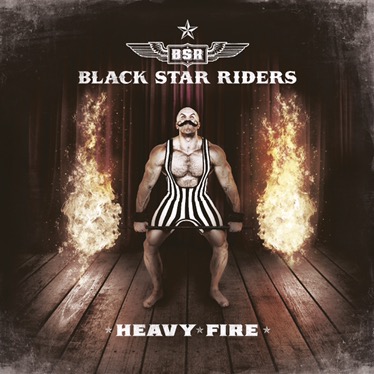 The Lamborghini, a calling card of the midlife crisis, an act of self preservation whose owner is probably too old for its purpose. A quick solution to being young again. Contrary to picking up an old banger, scrubbing away the grease, a lick of paint and some TLC to reveal that despite its age this restored masterpiece far outclasses its younger peers.
Tracklist:
Heavy Fire
When The Night Comes In
Dancing With The Wrong Girl
Who Rides The Tiger
Cold War Love
Testify Or Say Goodbye
Thinking About You Could Get Me Killed
True Blue Kid
Ticket To Rise
Letting Go Of Me

Length: 40:00
Label: Nuclear Blast Records
Release date: February 3rd 2017

Reminiscing when summers used to be endless and drinks seemed to be bottomless Thin Lizzy are undisputed as one of the best Heavy Metal bands of all time. Sadly, gifted singer and lyricist Phil Lynott would not remain with the band causing for the Lizzy name to never quite be the same again. Having laid these ghosts to rest, resident guitarist and hook genius Scott Gorham has once again brought together another group of outlaws in the form of Black Star Riders and the boys are indeed back in town.
Perfectly epitomising Gorham's timid lead lines that leant to his previous bands success, "Cold War Love" has a sense of melancholy to it. Characterised by the bashful use of notes in its verse that only a veteran of the heart would understand. Contrarily, in a world where technology has become totalitarian, Black Star Riders invite you to instead put the phone down, draw the curtains, walk out the door and live a little! Sending out messages penned by experience, Warwick's hazy nostalgia influenced paroles a penned with panache. However when the band do open up the throttle "Testify Or Say Goodbye" is an instant classic, pushing vocalist Ricky Warwick's husky chorus further with the inclusion of soulful and incredibly well placed back ups.
Yet instead of seeming like a charity sale style imitation of Lizzy and their legacy the Riders stand proudly on their own two feet, embracing the band's various roots but yet forging their own identity all the same."Ticket To Rise" might be a slight nod to The Beatles but it shares no similarities, being more of a boyish chant. Whilst "Letting Go Of Me" instantly brings the iconic vintage Gorham tones to the forefront. Particularly the driving force behind "Thinking About You Could Get Me Killed" put together in an almost Country aesthetic before being well oiled, greased, doused with Rock 'n' Roll swagger and lit up , especially the set piece solo.
Warwick's lyrics also still retain the air of the Irish storytelling gift; entrancing the listener from the delivery to the choice of words. However what seems more apparent than ever is the sheer get up and go this record has. Tracks like the aptly titled "True Blue Kid" bring to mind some of the classic Blues inspirations. With Heavy Fire, Black Star Riders are by no means punching above their weight. Of course with a reputation such as Gorham's you would expect some of the coat tails to remain but instead of overshadowing each member brings a fantastic classic, old school Rock 'n' Roll element of the band to the table. Igniting the engine in their restored Mustang, the petrol fumes of character seep through. Memorable close shaves whose only claim to fame is a scratch are visible but most importantly, you're reminded that's it's still that brilliant 1965 Mustang you had all those years ago and now has a renewed sense of life.
Heavy Fire sees Black Star Riders deliver absolutely fantastic performance. Short, sweet and to the point an album that'll have you humming the days away
If you like what you read / heard then you can pick up a copy of Heavy Fire here!