Time Waits For No Slave But I Did For Napalm Death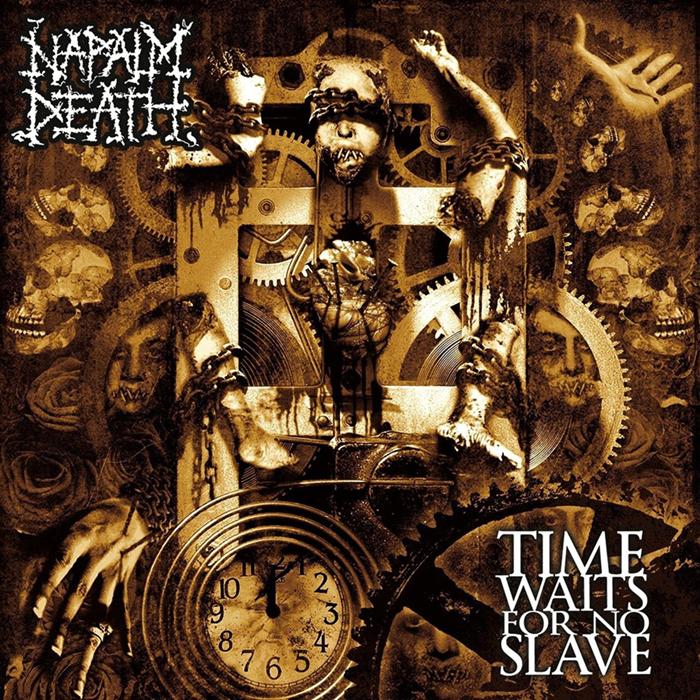 Napalm Death are one of the most influential bands to come out of the Extreme Music scene and they might not be an easy dish to swallow at first but I certainly remember my first mouthful.
I remember a long time ago now, almost ten years if I think about it, wanting to broaden my extreme Metal spectrum but simply not knowing what to do! Back in the days of old, when record shops used to be plentiful in their supply, I was working at HMV in Oxford Circus, now closed down sadly. This shop had one of the best Metal sections I had ever seen. I'm talking huge, huge rows upon rows of Metal. Being a young lad, I had been hooked up to the internet via the fantastic portal that was Limewire. Getting to grips with the very sinful downloading of music, I have since renounced my wicked ways and always buy my own music however Limewire did enable me to have a listen to some of the music I might have seen.
Download the classic record, Scum I thought, why not give this a go. At first I thought it was absolutely crap. I was being fed a diet of full fat Metalcore, I'm talking a full order of Killswitch Engage with a side helping of (old) All That Remains so when I heard the grim, abrasive sound that I now hold so dear to my heart for the first time I was understandably put off. I was slowly turning to the dark side however with my taste getting gradually on the heavier spectrum of metal. Then, when I was working in my aforementioned Metal Mecca one day. Stocking up the shelves when I passed a cover with striking artwork.
This wasn't what you would hear in mid two thousands Metalcore. I decided, hey why not, lets give it a shot. I feel its important to mention I was also flirting with Hardcore at the time, with the likes of Sick of It All and Comeback Kid being on my dietary requirements list. Getting home, I went straight to Limewire (shame on me) and downloaded the record. The next forty or so minutes was an entire awakening. The understanding of this savage beast that is Napalm Death, realising that this was a band that had a message that deserved to be heard. What wholly stood out to me though were those riffs and that voice! Later I would discover that the combination of Shane Embury's genius bass lines, Danny Herrera's relentless drums, Greenway's vocals and Mitch Harris' abrasive guitars would be one of the most important sounds for me in the shaping of my extreme tastes.
When that first impact of "On The Brink of Extinction" first comes through, it had me bobbing my head and still does now. However my real Napalm Death crush comes from frontman Barney Greenway. The iconic singer pens lyrics that are pacifist in their nature yet his delivery is one of the most ferocious vocal performances I have ever heard and there are none like him. This little sheltered sixteen year old just had a big musical awakening. For the rest of the year the relentless playing of "Downbeat Clique" or "Devolution Ad Nauseam" were pretty much the only that would get me to truly want to rip a hole inside the pavement when I was walking around.
From that moment my musical path had been changed. This essential band from Birmingham that so many rave about had found a place in my chargrilled, molten scrapheap of a heart and they haven't left since. Having never seen the band live up until about two years ago when they released their next coup d'etat that was Apex Predator – Easy Meat I ended up seeing the band four times in a year. I can safely say that every single time I have seen them, particularly after their most recent performance at London's Electric Ballroom they get better and better and better. The show featuring a particular high point where an eighteen year old young Tristan would have been reeling, I was able to have a chat with Barney regarding our current political climate. 
Napalm Death will forever be pioneers in the arena of the extreme and will also be forever one of my favourite bands. Their ability to sonically galvanise all the malice, pain and suffering in the world into a musical format makes them untouchable, their heartfelt message of peace gives them a sense of character most would never have but above all their song writing is simply some of the best ever written. Napalm Death are, quite simply, one of the most important bands in Extreme music.