Live Review: Sonata Arctica + Twilight Force + Power Quest
It's yet another power metal spectacular that graces the urban jungle of London, this time in the larger spaces of the Shepherd's Bush Empire. We spent our Saturday evening embracing the power traditions of Power Quest, the epic symphonies of Twilight Force and the Nordic romance of Sonata Arctica.
15th October 2016
Shepherd's Bush Empire
London, UK
Support Bands: Twilight Force, Sonata Arctica
The genre is so popular in Europe, but has truly taken its time to be embedded into what can loosely be defined as metal mainstream popularity in the UK. The Shepherd's Bush Empire tonight is packed to the rafters, and proves that power metal is just about there with the diverse palette that the three bands offer the genre on showcase tonight.
Power Quest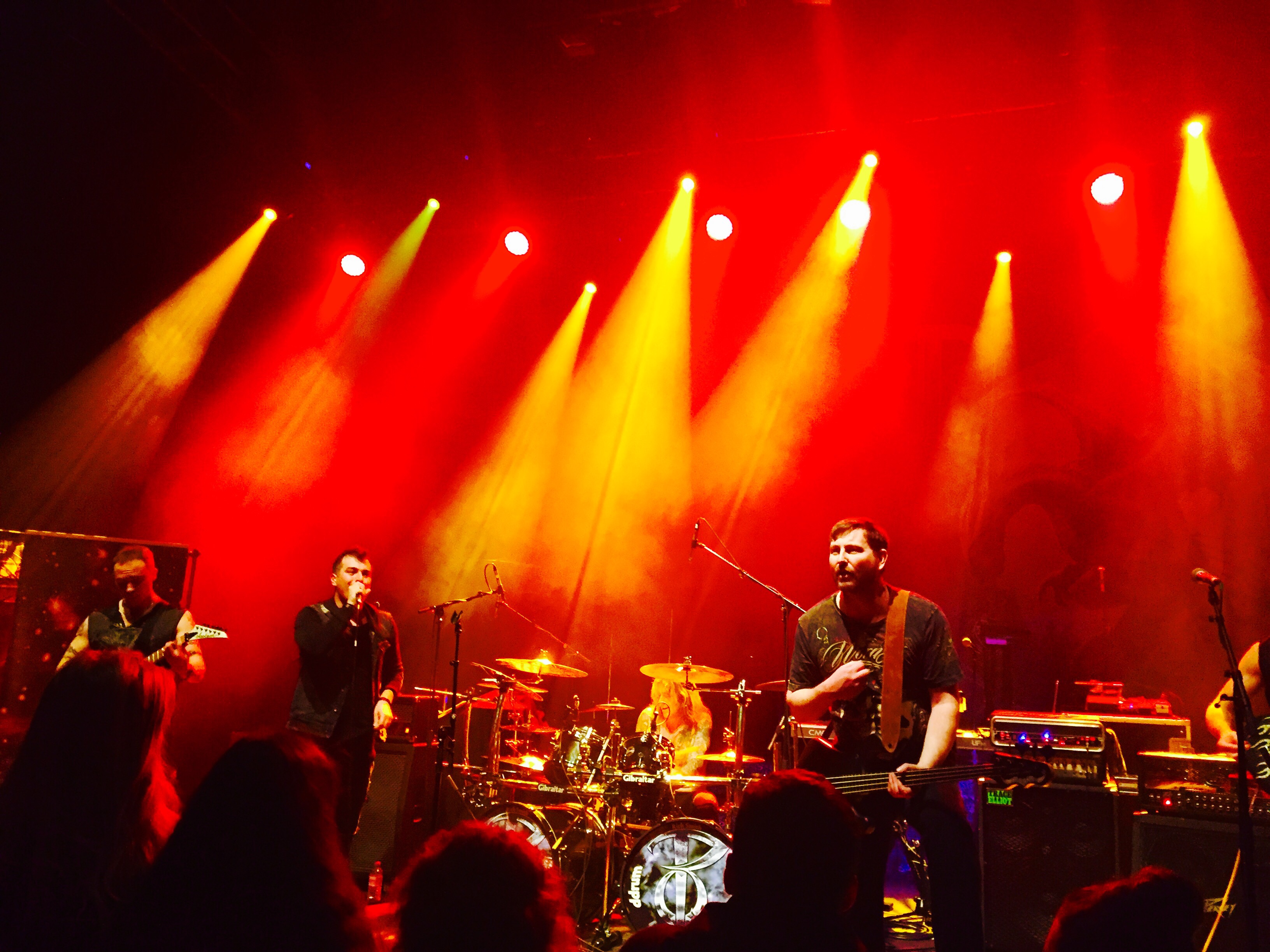 First thing's first. Welcome back Power Quest. It was a sad moment for myself personally when the band announced their end a few years ago. The band had so much of an influence on my general love of power metal, despite the fact they were probably one of the cheesiest and generic bands on the market. They announced a return this year, and that made me very happy.
It was only a short set from the band, and it didn't really help them the fact that they were given a slot to play almost 10 minutes after the doors opened, but stunningly people managed to flock in before the first notes were played. More surprisingly, many people also shared my love of Power Quest. That also made me very happy.
Although the band didn't have time to go back to the classics, the band pumped out a pristine metal sound with their new material in tracks like 'Face The Raven' and 'Coming Home'. The bands new line-up is sounding phenomenal, and given the audience response, big things are in store for Power Quest.
Twilight Force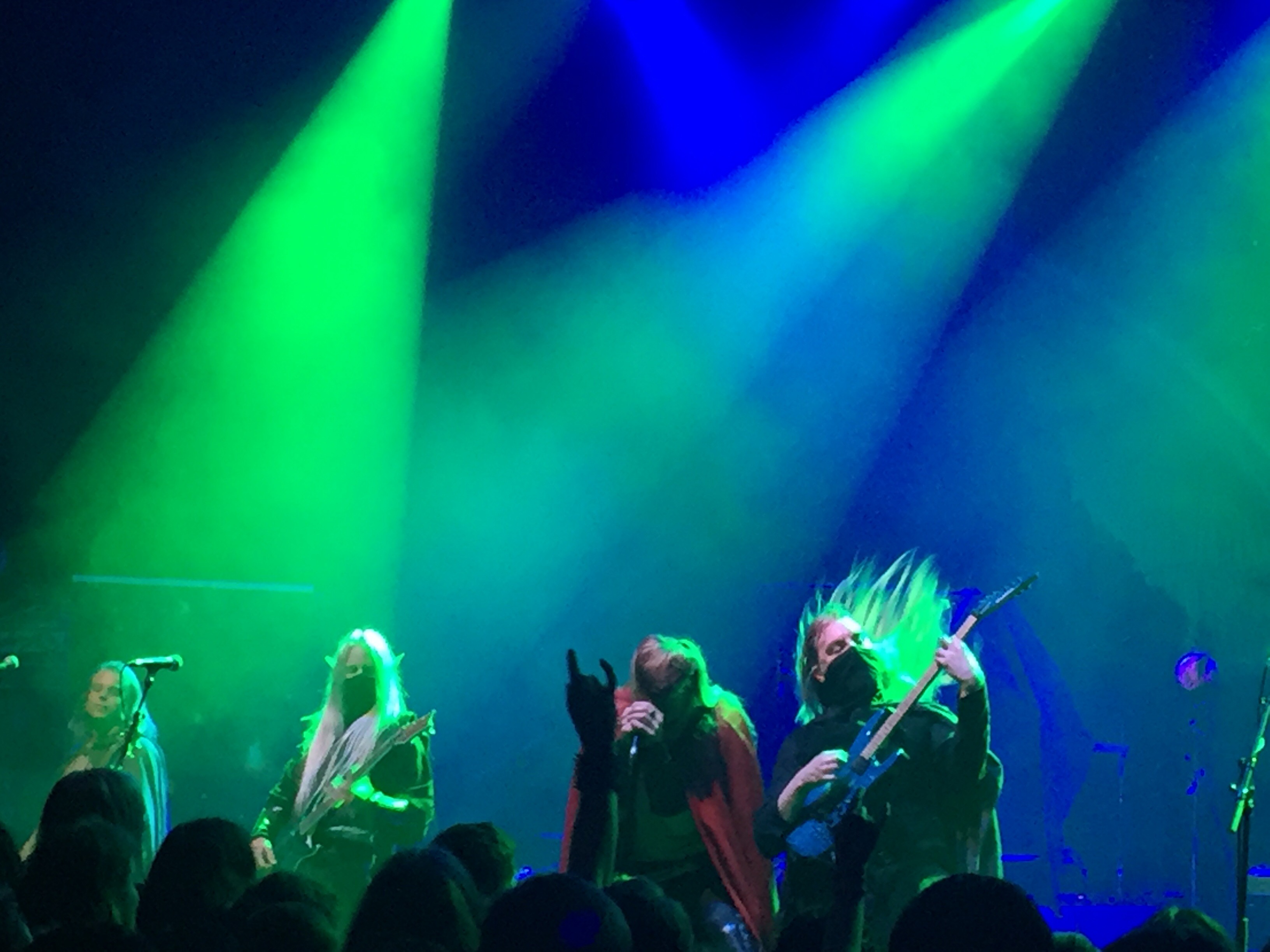 Anybody that has had a musical conversation with me in the last couple of months will know that it doesn't end without me singing Twilight Force's praises at least once. Their latest album, 'Heroes of Mighty Magic' is one of the best power metal albums I have heard in the last decade, and it's well on track to becoming one of my favourites of all time. I've seen this band once in a supporting slot, then I didn't pay much attention to them, but I definitely am now.
And it's all I would have expected it to be and more. Twilight Force simply blew the stage away. Storming in their full fantasy attire, the full epic metal onslaught begins with 'Battle of Arcane Might', with it not taking long before numerous audience members start raising their inflatable sword to their new fantastical heroes.
Symphonies blaring, drums pounding and guitars shredding, the now packed out venue is loving every second of this. Fist are punching the air to every distinguishable line of the epic choruses, with tracks like 'Powerwind' and 'There and Back Again' making a venue worthy impact.
It was a huge show for a band that are shooting to be huge. In the UK, getting away with the sort of gimmick that Twilight Force put on can be very tough, but there's nothing but respect and enjoyment going on here. Watch this space. These Swedes could be huge.
Sonata Arctica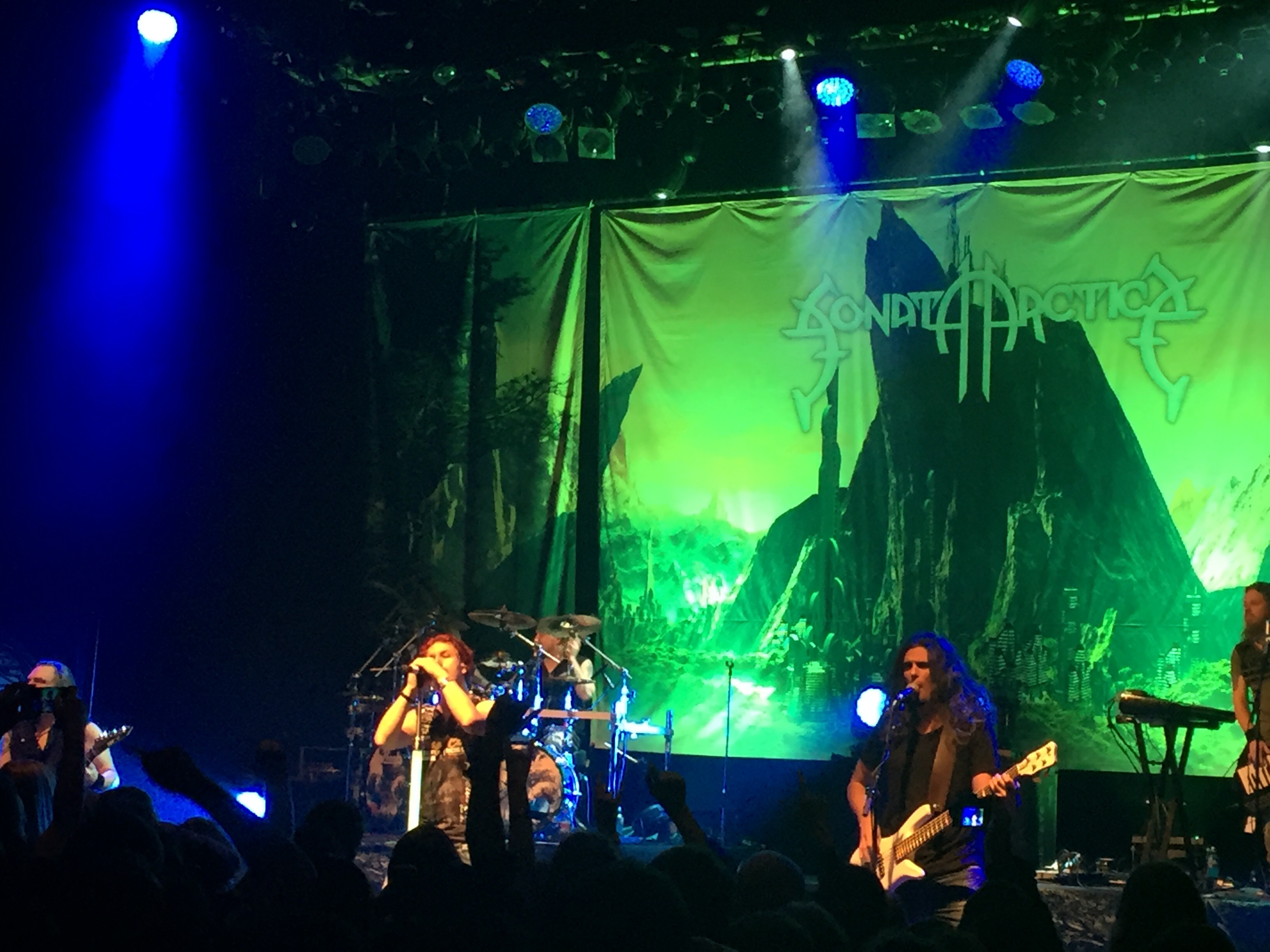 The Sonata Arctica machine is a bit of a paradox to me these days. On their recent string of recorda I end up asking more questions than get answered given their move away from their old traditional power metal sound, but live the band have never set a foot wrong.
It's why I keep coming back to watch this band. Their sound is pitch perfect live, and their setlist always has a pleasing mix of old and new, picking the very best from their discography of 17 years. What is a noticeable difference though, is every time Sonata Arctica play London, there are more and more people coming to watch them. Clearly my questioning of this band's recent musical direction is my own problem.
Showing off their brilliant sound and execution right away, the band belt out the new hits of 'Closer To An Animal' and 'Life', warming up the audiences vocal chords for the Nordic storm ahead with frontman Tony Kakko emitting that mass physical energy as he always has. He is a man with such a natural and engaging stage presence, it's hard not to love every movement he makes on stage.
Sonata grace through a brilliant set of tracks that really brought out their best, including the ballad of 'Tallulah', the classic 'Full Moon' and the transition marking 'In Black and White'. It was also seemingly an expression of what Sonata have truly been capable of throughout their career, and how they should no longer be identified as your average power metal band.
The Finns even included a few surprise tracks in the mix, including that of 'Abandoned, Pleased, Brainwashed, Exploited' and the epic 'Power of One' from the early days. It all had a perfect flow, and washes away any discontent you would have with the band about their change in musical style.
Wrapping up with the fan-favourite 'Don't Say a Word', Sonata Arctica are adamant that they want to be known as a band with their own sound and their own personality. It may not please everyone, especially those fans of old, but watching this band perform live provides that aura of consistency that every band on the divide can agree upon. That's why this band keep on getting bigger.