Live Review: Alter Bridge + Volbeat + Gojira + Like A Storm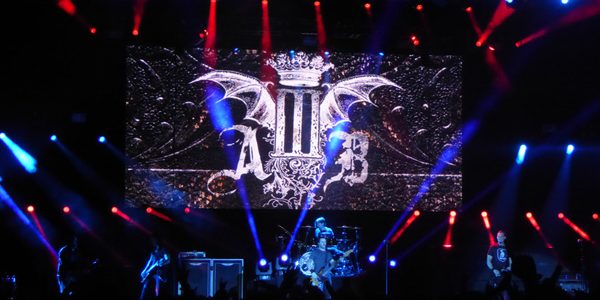 To say the phrase 'what a line up' might be a bit of an understatement here. It's simply colossal. Four bands, three of which could probably fill out an arena on their own, perform as one package in one of London's finest venues. We couldn't resist, and neither could 20'000 others.
It's on a rare moon that a package that contains bands like Alter Bridge, Volbeat and Gojira come around for a variety of reasons, the prime of which is that all three of them have acquired monumental fame in the past few years, and of course each band being their own, throwing great diversity into the billing to provide a serious night of entertainment.
Like A Storm
There's not a lot I know about these New Zealanders besides the fact that they do draw their regional roots into their brand of alternative rock, incorporating instruments like the didgeridoo into the mix. I was pretty sold at that notion, so I arrived at the o2 Arena early just to see what all the fuss is about.
You really don't see too many groups from New Zealand, and it is pretty much the farthest you can go from London. To see them playing on such a large stage with a sizeable audience already in attendance flares signals that Like A Storm mean business, and you better believe they brought the business.
The band's pure alternative image was resonated on the live stage, with the band churning out crushing riffs synchronised with blaring lights and energetic stage antics. To me Like A Storm were a live incarnation of American alternative radio that was so popular in the early 2000's, and I found absolutely nothing wrong with that. A solid live experience from the Kiwis.
Gojira
Oh how the mighty Frenchmen have risen. Shortly after releasing a stunning album in 'Magma' this year, the heavy metal quartet find themselves in one of London's largest venues with the freedom to really exalt their status as a force on the live stage.
Gojira bring the metal straight away truly proclaiming themselves as the evening's heaviest act. The opening tracks of 'Toxic Garbage Island' and 'L'Enfant Sauvage' quickly draw in the bar stragglers to witness one of hottest metal acts in the world.  Sound wise Gojira were excellent with tracks like 'Stranded' making use of the spacious acoustics in the arena synced up with magnificent lighting that played with the wild nature of each of the bands songs they performed.
It was short, but it was certainly sweet. Gojira continue to make a mark on any fan of alternative music with their transferable style of metal, and their ability to rock any venue large or small. Given the amount of fans that had piled in between the start and end of their set, it was pretty certain that Gojira had won a few fans over, even if they were heavier than the rest.
Volbeat
Denmark's premier rock & roll outfit are a band I have never actually seen before despite hearing their music throughout the years. There's actually a reason for it, I'm not the biggest Volbeat fan. While their greaser-like approach bodes well with many, it's not something I've ever really understood. What's undeniable though now is that Volbeat are big, and they have large followings in almost every corner of the world. It's about time I gave them a chance.
That aforementioned statement is justified almost in the immediate opening of 'The Devil's Bleeding Crown'. The o2 is truly packed to the rafters now, and on top of that the front rows of the standing crowd are really moving. The simple yet effective notions of their sound bring to attention pretty quickly that these are the type of environments Volbeat operate best in, it is arena rock after all.
The Dane's definitely know what they are doing, and plan on filling the arena with anthem-ridden joy in tracks like 'For Evigt' and 'Seal the Deal', getting plenty of voices to sing their words back to them. They even got death metal legend Barney Greenway of Napalm Death to sing 'Evelyn' along with the band. Clearly Volbeat have fans that stretch all across the musical spectrum.
Can't really say anything was wrong with this at all. Volbeat are simple, but they do what they do very well, and when you can do that it makes for a consistently good performing band. If you are one of the few like me who have not always been up to scratch with the music, reparations are certainly made on the live stage.
Alter Bridge
When one mentions alternative rock, Alter Bridge are one of those bands that immediately races to mind. That's probably most in part to the fact that you don't really get a much better band in the genre. Built up of industry veterans such as Mark Tremonti and Myles Kennedy, it's difficult to see how a band like this could set a foot wrong in their delivery of their music both on record and on the live stage.  The American quartet sacrifice their Thanksgiving Day to bring us sounds of 'The Last Hero', greeted to a rapturous applause in the opening of 'The Writing on the Wall', Alter Bridge are certainly still at the top of their game.
I knew Alter Bridge were big, but it's band's like these that really remind one that rock and roll is certainly not dead, no matter how insistent the industry may be. I for one never expected the o2 Arena to be close to sold out this evening, but a few songs in and it's not hard to see why. Tracks like 'Addicted to Pain' and 'Cry of Achilles' resonate through the venue with emboldening prowess, at the forefront of what is once again a thunderous light display.
The band power through their set covering classics of new and old receiving a warm reception in what was demographically diverse audience in terms of age – young and old fist-pumping and headbanging to the sounds of 'The Other Side' and 'Crows on a Wire', another show of the mutual respect of hard rock music. Even the ballad of 'Watch Over You' shows the cross of modern day transitions and traditions of the liver performance, with smartphone flashlights replacing the lighter in lighting up the arena.
Alter Bridge are a phenomenal band, and it is underlined by a simple live performance. It's nothing over the top, the band simply let the music do the talking, and proves that rock and roll lives. There's no if or but about it. The philosophical rambling may come across as a bit catchpenny, but anyone who had seen them will agree that they are one of a handful of bands that everyone can agree upon.