Live Review: Dir En Grey + Rise of the Northstar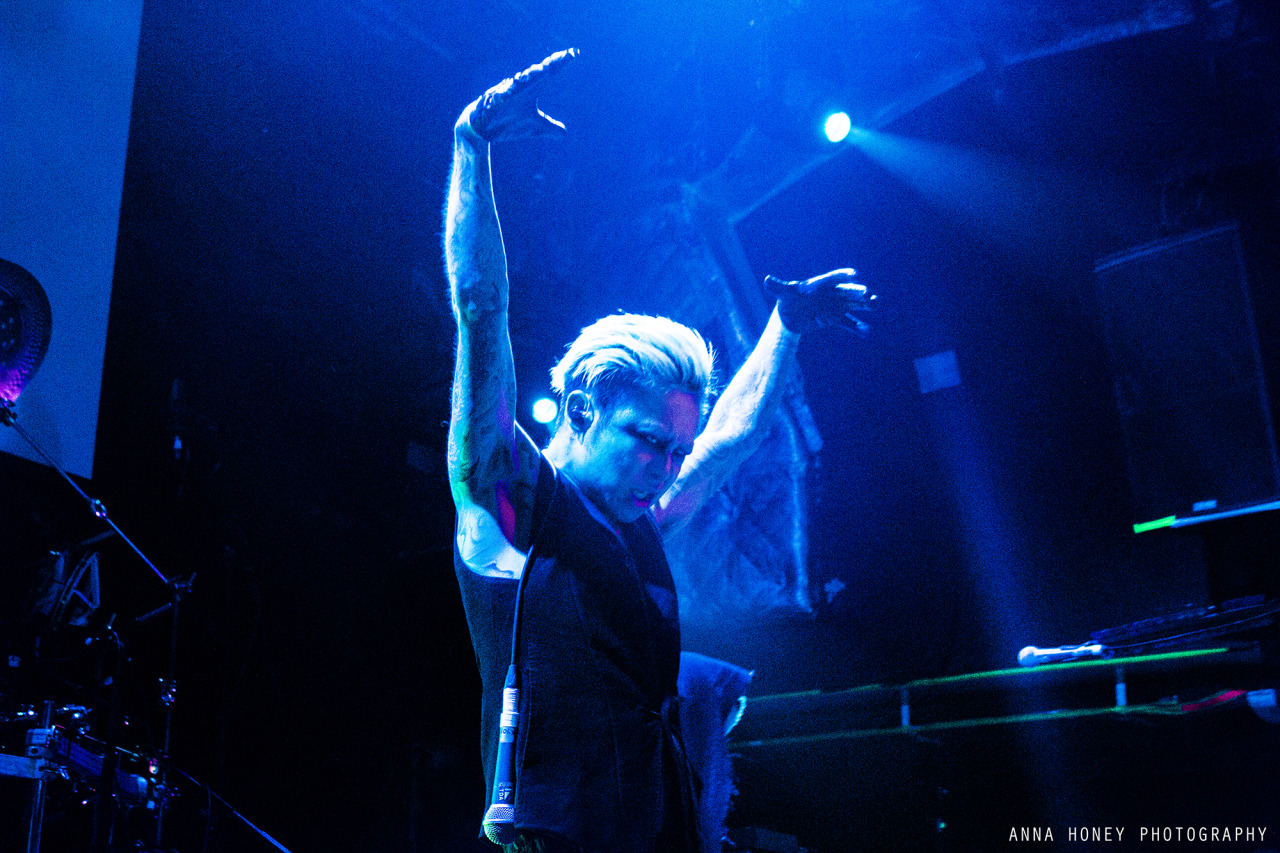 Japan took over London last week with J-Rock dominating Islington as well as MCM Comic-Con expanding into the Docklands. We enjoyed every minute of it, and capped off the week with a performance from titans Dir En Grey, and Japanese-themed hardcore outfit Rise of the Northstar.
23rd May 2015
o2 Islington Academy
London, UK
Support Bands: Rise of the Northstar
Rise of the Northstar
This is a band I have been very interested probably since the beginning of the year when I was introduced to them. They were interesting to me because so little information was available about them, yet they seemed to be gaining quite the underground traction at least within the confines of urban London. The band are a post-hardcore outfit from France that oddly adopt a Japanese theme, and the reasoning behind it seems to be completely unexplained making it all the more interesting. I was very intrigued indeed to watch this band tonight!
With the intro blaring and the stage donning Japanese banners, the band storm on stage to sound of 'What The Fuck' from their debut album. From the instant moment the band kicked into gear, it was pretty apparent that it was everything one would want from a hardcore band – the crunching sound, the custom attire, the no-BS attitude and the involvement. Hardcore in this decade seems to be a dying breed, but it seems Rise of the Northstar have taken it upon themselves to revive it with the classic sound, but a different approach.
While Rise of the Northstar had a tough crowd to face, the band really did the utmost to try and win over the legion of Dir En Grey fans tonight. Most of the fans themselves didn't know what to expect given the minimal and mysterious coverage the band have gotten, but as the show progressed with hangbanging smashers such as 'Welcame' and 'Samurai Spirit', the audience really started to respond. The Dir En Grey fans know all too well about discovering these kind of bands as it is most likely how they discovered the headliner tonight.
By the end of the show the band had people doing what they want – jumping, banging fists and chanting. Rise of the Northstar are one of those bands with a lot of potential with energetic performances and a positive attitude that already puts in them in a high tier of hardcore. Keep an eye on them. They will be burning down larger venues in the near future!

Photo Credit: Anna Honey Photography
Dir En Grey
And here is who everyone wants to see tonight. The experimentalists from Japan that have had phenomenal success outside their home country, and the band does not even string a sentence in English together in their music. Dir En Grey have had an interesting career of playing some radio friendly music threaded with a lot of avantgarde elements that can be a bit odd on the ears. It's hard to explain really why the band, as opposed to other Japanese metal bands, have had this kind of success – but they do have one consistent element, the energy they bring to their shows. It's probably that live energy that has allowed Dir En Grey to sell out 2 nights at the Islington Academy.
I have seen Dir En Grey a couple of times before, both at Wacken Open Air at 2007 and 2011 respectively, and this was still when frontman Kyo was cutting himself on stage. You don't forget things like that, and that is why you keep coming back. It was very interesting to me to see how Dir En Grey would perform on a smaller stage tonight given the gigantic arena stages they are used to in Japan – but here we go, the lights are down and the band have returned to London!
The band always seem to open with a slower song, a bit strange considering you would always expect a band of this intensity to open with a super fast track. They kick off with 'Soshaku' from their new album 'Arche', demonstrating Kyo's wide vocal range and an iteration of very low-tuned guitars. The slow start didn't stop the fans from loosening their heads and arms allowing themselves to be entranced by theatrics of the band and the atmospheric opener. The energy really picked up soon after when 'Chain Repulsion' rang through the PA, and soon after the industrial-esque 'Sustain The Truth'.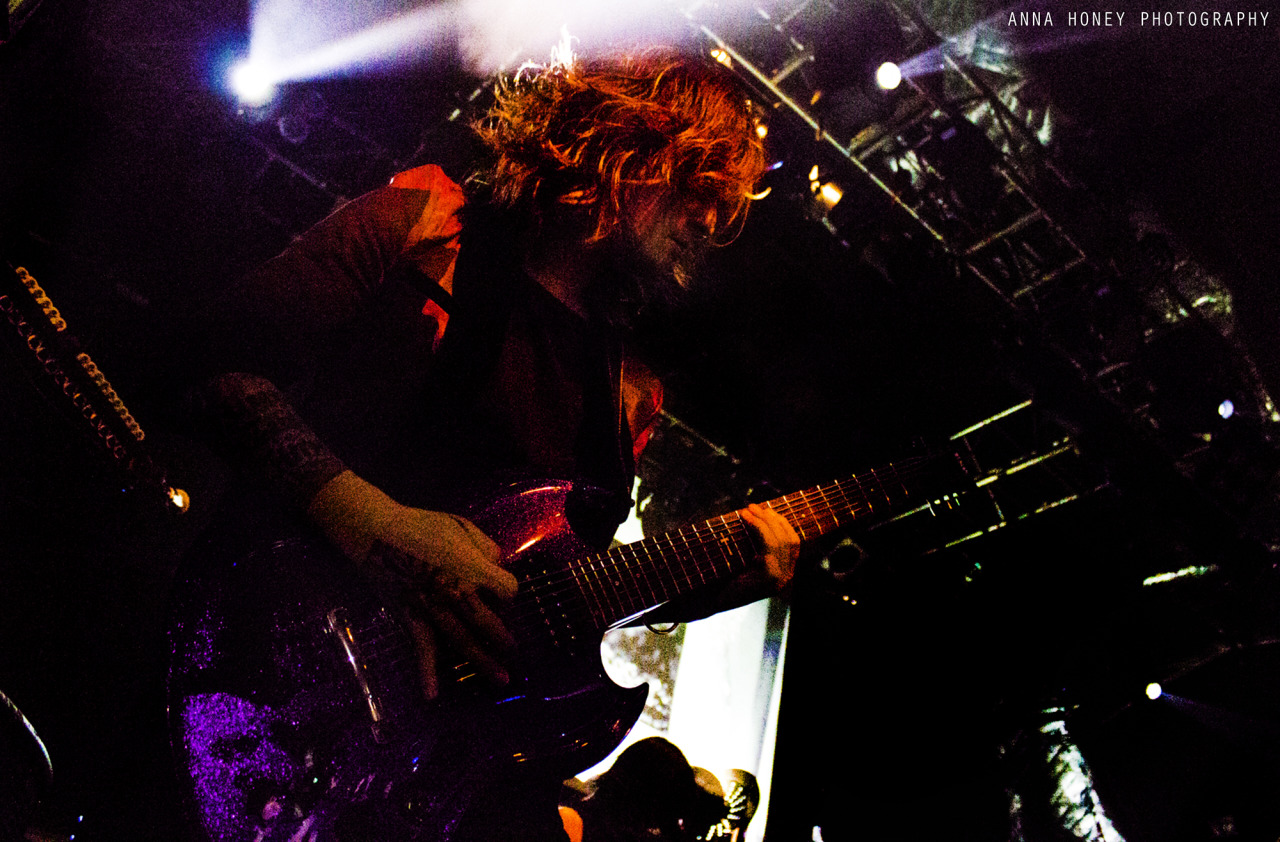 Photo Credit: Anna Honey Photography
What really impressed me about Dir En Grey this time, is that I never gave enough focus to realise what fantastic musicians each member of the band is. It doesn't really register on record, but now watching them close up makes it very impressive to see how these odd flurry of riffs and drum-beats are executed flawlessly to actually make a consistent song. Slower tracks like 'Rinkaku' and 'Behind A Vacant Image' demonstrate some prime avantgarde musicianship and true art, while explosive tracks like 'The Inferno' suddenly take a turn into darkest depths of death metal.
Even more interesting is that the band did not try to communicate with the audience once the entire show, not even getting them involved. While usually that's a sign of a show being a bit lacklustre, in this case the visual performance was dominated by the theatrics and movements of the 5 musicians in this band, and yet it was a perfectly enjoyable live experience. The only other band I know to follow this same pattern is Rammstein, where they let themselves dominate rather than feed off the audience.
After the band wrapped up with the commercial hits of 'The Final' and 'Hageshisa To, Kono Mune No Naka De Karamitsuita Shakunetsu No Yami' (Yes I had to look the name of this song up!), I was left extremely impressed with what I had seen and heard. While the band played good performances at the festivals I had seen them at, the full live show was something extraordinary simply in the way it was executed. There are die hard Dir En Grey fans that will love them no matter what the case, but even if you had no idea about the band, it is a performance that is definitely worth watching – barely any band, even outside metal could pull off an odd approach to a performance like this!