It's Time To Get Wasted Once Again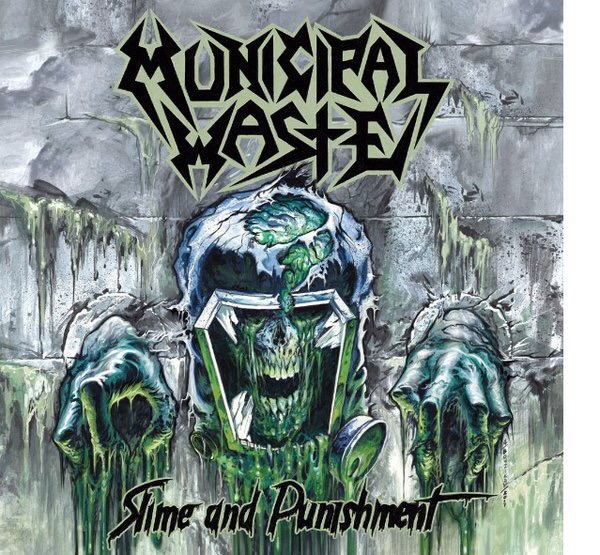 They've been partying, they've been massively aggressive. Now, after their small stint in space, The Waste are back five years on to kick some ass. Here's why it's going to be brilliant.
Five years after their previous record Waste In Space, at long last Municipal Waste are back to bring their compound of toxic thrash to the masses once more. Speaking with Tony Foresta and drummer Dave Witte last year at Download we knew that a new album was lurking on the horizon. Now the band have announced their new record. Titled Slime and Punishment the new album will contain a total of fourteen tracks, which for the band is actually quite a small number comparative to their previous releases. Nevertheless, will this just be another album? We don't think so!
One of the causes could well be diversity in Municipal Waste's arsenal here. With members being in a plethora of other bands, bassist Landphil Hall in Cannabis Corpse, Tony Foresta fronting Iron Reagan each member has had time to grow personally. Using these bands as vehicles for their relevant musical characters now, Municipal Waste will have all its members exactly on the Waste page. Putting all of their energies into the classic Crossover Thrash sound the band a renown for, having had that break enable to cut songs down and well and truly trim the fat.
Releasing their first single "Amateur Sketch" the Punk fervour that the band first showed in their Art of Partying years is still there in the bucketloads. Short, sharp and sweet the song clocks in at a total of one minute fifty two seconds. Working in two halves, the first being the band's signature blend of speed riffing before their infectious half time shift moves more towards their Hardcore style. Working brilliantly together the two style come together form their classic Thrash sound.
Recorded by the band's own Phil Hall at Blaze of Torment Studios, the band have had an even more hands on approach this time around. With only mixing being taken care of by Bill Metoyer, a man responsible for classic Metal acts like WASP and the Thrash underdogs Dark Angel. Though it is of course early days, even despite their already brilliant back catalogue, I feel that Municipal Waste could be getting even better. Listen to the track and find out! Get wasted!
Municipal Waste's brand new album Slime and Punishment is out June 23rd via Nuclear Blast.