Fear Factory Announce US Tour Performing Demanufacture In Its Entirety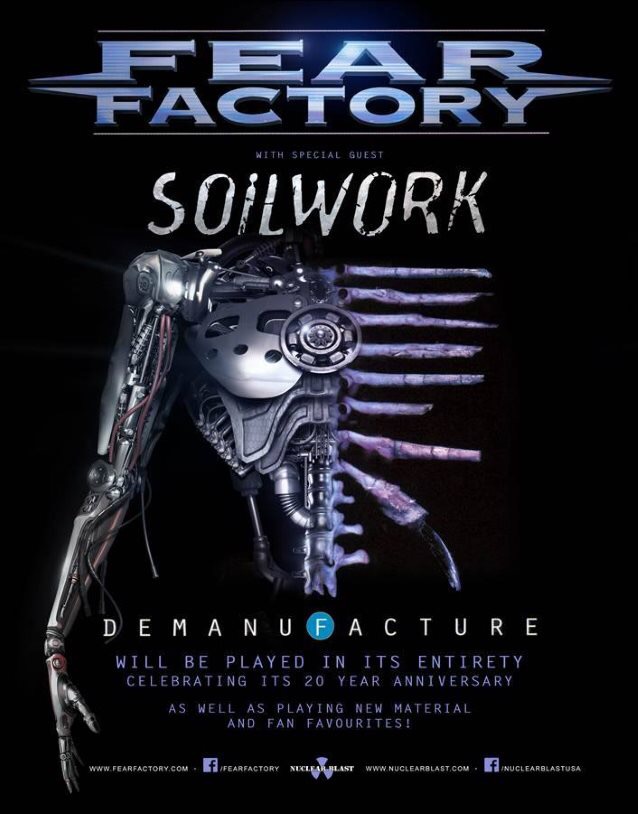 For those unlucky to not bear witness to the band when they performed last year in the UK the states are now getting a chance to hear the classic album in its entirety.
Set to embark on a US tour where the band will be performing their archetypal record Demanufacture, Fear Factory will be mined by none other than Swedish legends Soilwork whilst performing the album the band will also be playing fan favourites along with newer material. Beginning in March and ending in April save for a lone May 7th date in Los Angeles the tour will no doubt be a real treat for fans stats idea who previously were not going to hear the album performed in its entirety.
Fear Factory Demanufacture tour dates :
Mar. 22 – Albuquerque, NM – Sunshine Theater
Mar. 24 – San Antonio, TX – Fitzgerald's Bar & Live Music
Mar. 25 – Dallas, TX – Trees
Mar. 26 – Houston, TX – Scout Bar
Apr. 02 – Fayetteville, NC – Rock Shop
Apr. 03 – Norfolk, VA – Norva
Apr. 05 – Baltimore, MD – Rams Head
Apr. 06 – New York, NY – Gramercy
Apr. 09 – Worcester, MA – Palladium
Apr. 12 – Pittsburgh, PA – Altar Bar
Apr. 14 – Cleveland, OH – Agora
Apr. 15 – Flint, MI – Machine Shop
Apr. 19 – Chicago, IL – Concord
Apr. 20 – Ringle, WI – Q and Z Expo Center
Apr. 21 – Milwaukee, WI – The Rave
Apr. 24 – Denver, CO – Summit
Apr. 27 – Idaho Falls, ID – Hitt Event Center
May 07 – Los Angeles, CA – Fonda