Download 2017 Adds Enormous Amount of Bands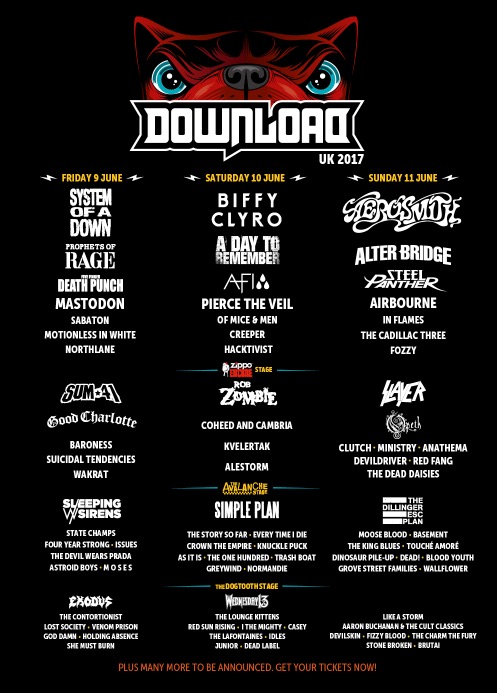 The UK's biggest Metal festival has announced the addition of a further 48 band's this morning and you'll want to check out who.
A Day To Remember
Aaron Buchanan & The Cult Classics
Alestorm
Anathema
As It Is, Baroness
Blood Youth
Brutai
Casey
Creeper
Dead!
Dead Label
Deadskin
Dinosaur Pile-Up
Fizzy Blood
Grove Street Families
Hacktivist
Holding Absence
I The Mighty
Idles
In Flames
Hunior
Kvelertak
Like A Storm
Moose Blood
Moses
Normandie
Northlane
Red Sun Rising
Sabaton
She Must Burn
State Champs
Steel Panther
Stone Broken
Suicidal Tendencies
The Cadillac Three
The Charm The Fury
The Contortionist
The Devil Wears Prada
The Dillinger Escape Plan
The King Blues
The La Fontaines
The Lounge Kittens
Touche Amore
Trash Boat
Venom Prison
Phew! That is quite the list. Personally I'm very much interested in the addition of The Dillinger Escape Plan as well as Touché Amore and of course Sabaton will be brilliant to watch given their entertaining platform they are now on!
Tickets are still on sale so pick them up now! You might as well, it's pay day!