Darkest Hour Announce European Headline Tour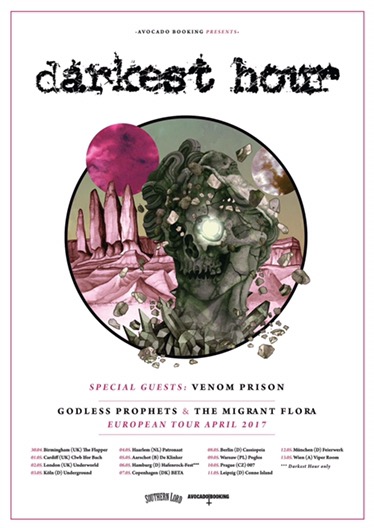 At last! They're coming back!
Announcing their brand new album Godless Prophets & The Migrant Flora, Darkest Hour have just revealed that the band will be heading out on a European headline tour.
Hitting up all the spots you could want the band will be coming to the UK too! The dates kick off at the end of April and run right up until mid May. Not only that but the band will be supported by the much hyped Venom Prison!
This is a fantastic bill and for Darkest Hour, the last time they were in the U.K. was years ago so get yourselves to one of these shows and mosh out!
Check the dates out below :
30.04.17 UK Birmingham @ The Flapper
01.05.17 UK Cardiff @ Clwb Ifor Bach
02.05.17 UK London @ Underworld
03.05.17 Germany Köln @ Underground
04.05.17 Netherlands Haarlem @ Patronaat
05.05.17 Belgium Aarschot @ De Klinker
06.05.17 Germany Hamburg @ Hafenrock-Festival (DH only)
07.05.17 Denmark Copenhagen @ BETA
08.05.17 Germany Berlin @ Cassiopeia
09.05.17 Poland Warsaw @ Pogłos
10.05.17 Czech Rep Prague @ 007
11.05.17 Germany Leipzig @ Conne Island
12.05.17 Germany München @ Feierwerk
13.05.17 Austria Wien @ Viper Room