Damnation Reveal Line Up For 2016 Festival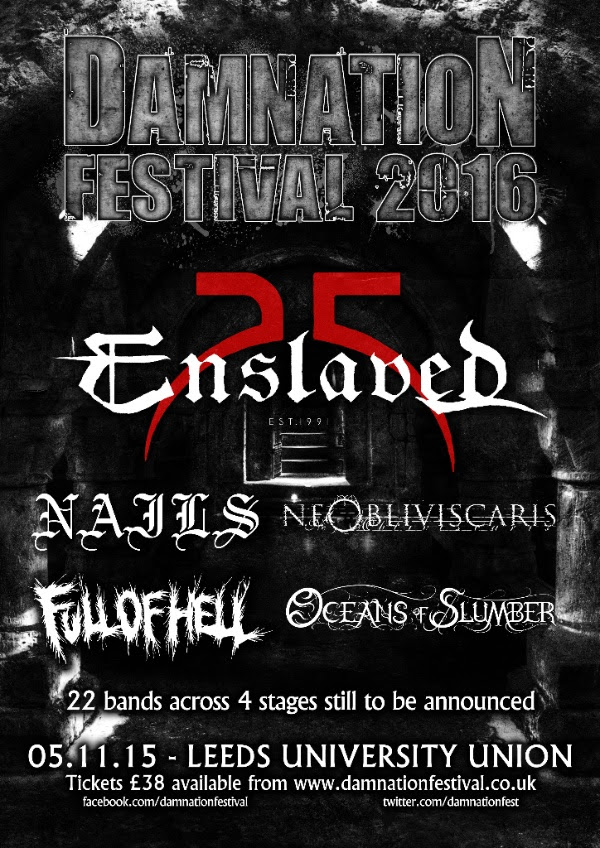 And its just as good as you might expect…
Last year we attended our first ever Damnation Festival. Headlined by At The Gates with direct support going to High on Fire and the like and it was an absolutely albeit slightly confusing festival. Now they have once again revealed their hand for this upcoming year.
Headlining the festival will be Enslaved who are currently in the process of celebrating their twenty fifth anniversary as a band, starting with a thee date performance in the capital this past weekend. Performing their Spinning wheel ritual set (Vertebrae until In Times) bare in mind this will be their only other performance in the UK so its not going to be one to miss! Joining them will be revolutionary Aussie Progressive Metallers Ne Obliviscaris along with grind genius Nails, newcomers Oceans of Slumber and Full of Hell. Well played Damnation.
Yet another varied yet somehow cohesive line up so far with no doubt even more brilliant additions down the line. As ever the festival will be held at Leeds University Union and will be taking place on November 5th 2016.